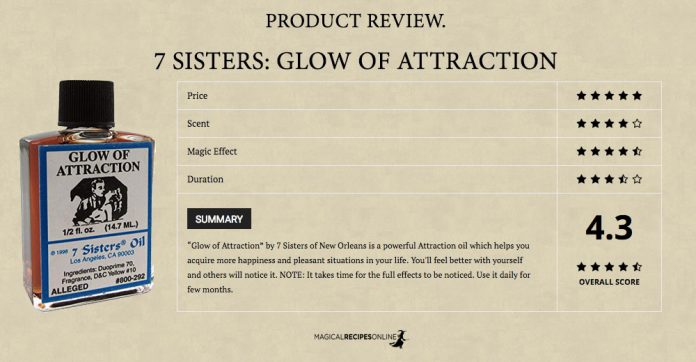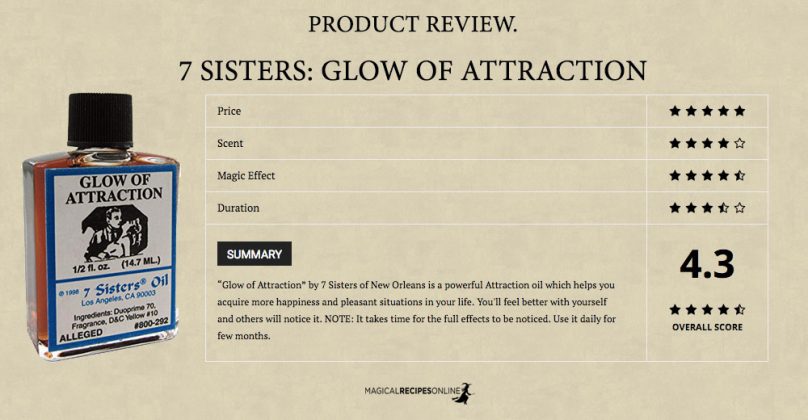 I was checking out an online store with magical oils and recipes and it just happened to look at this oil. Is it just another notorious hoodoo recipe? "Glow of Attraction" from 7 Sisters of New Orleans, is something I bought with much prejudice; I was pretty sure that I just spend few euros more. I was wrong.
Does 'Glow of Attraction' Work?
The gentle tones of rose made me think… "at least it smells nice!" and I tried it. Through the description you"ll find out that using this oil makes you gain more in popularity and vanity matters. There are more. With the first few drops you'll feel better. You"ll feel more comfortable with social activities. You'll probably have a sense of inner beauty, of inner well-being. I think that"s why you'll find yourself more popular.
The catch is that (because of the nature of the recipe I guess) the effects of this oil are more likely to be noticed after few days continuous use. My advice is to use just this oil for a month. Every day. Every morning you go to your work. Every evening you hang out with your buds and lovers. Persistent use of this oil will help you attract many benevolent events in your life. You can get it here!
Things you don"t expect. Things you can't control. I think the description once again is misleading. This is a really powerful attraction oil and by attraction I don"t mean only the "romantic" aspects. I mean it attracts to your life many pleasant situations, people and other conditions. Makes things better slowly yet effectively.
IN FEW WORDS: "Glow of Attraction" by 7 Sisters of New Orleans is a powerful Attraction oil which helps you acquire more happiness and pleasant situations in your life. You"ll feel better with yourself and others will notice it.
NOTE: It takes time for the full effects to be noticed. Use it daily for few months. Get it here!
Note: Don't use it with commanding oils such as "Follow me Boy". This oil is only for external use!