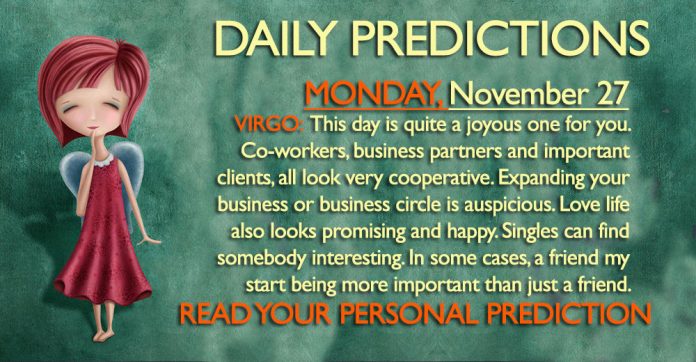 General Daily Predictions: Today, Moon from Pisces forms a triangle with Jupiter in Scorpio, conjuncts Neptune in Pisces, and forms a hexagon with Pluto in Capricorn. This is going to be a very good day for almost everybody. A powerful Pluto can cause some problems to those suffering from depression, or other mental and psychological issues. If this is your case, then please do take good care of yourself.
Pisces, Scorpio and Capricorn will be the luckiest zodiacs of the day. Virgo, Taurus and Cancer will be the less lucky ones, but still not really unlucky.
Daily Predictions for Aries:
Intuition, empathy and imagination are very active and productive today. If you are using your imagination in your job, or hobbies you'll have a very creative day. Energy healers, spiritual healers, psychologists and similar professions will also have a very successful day.
Daily Predictions for Taurus:
Expanding your business, creating new business and finding business partners are all auspicious today. Internet based business are favoured the most. Also, writers, poets, reporters and everyone working with words will have a very positive day.
Daily Predictions for Gemini:
Your work and your financials receive many blessings today. Investing money for future profit, or releasing yourself from debts are more favoured than immediate raise of income, but even this can happen. Finding a new job is also very possible for those seeking one.
Daily Predictions for Cancer:
Long distance relationships look happy today. Visiting your important someone, or them visiting you, is both possible and advisable. If you are in a long distance relationship and you can make this visit happen, at the very least, arrange it today. Travelling for other reasons is also auspicious. Students will have a very nice day.
Daily Predictions for Leo:
Opportunities to create a better foundation work wise and money wise will appear today. This can happen both by receiving external help, and by coming up with good ideas and strategies. Your sex appeal is also heightened today. Libido, too.
Daily Predictions for Virgo:
This day is quite a joyous one for you. Co-workers, business partners and important clients, all look very cooperative. Expanding your business or business circle is auspicious. Love life also looks promising and happy. Singles can find somebody interesting. In some cases, a friend my start being more important than just a friend.
Daily Predictions for Libra:
Work seems quite profitable and lucky today. Demanding, too, but not unsatisfyingly so. Acquiring new sources of income, finding new sponsors and things like those are possible. If you are looking for such means, this is the day you should be search most intensively for them.
Daily Predictions for Scorpio:
This is a happy day for you. Good luck and happiness is all around you. Focus your mind on what you want to achieve, and good luck and blessings will flue your goals. Meeting friends and having a nice time with them is also possible and pleasant, at the very least.
Daily Predictions for Sagittarius:
This will be a mostly calm day for you. A pleasant kind of calmness, not the boring kind. Most things will go according to your schedule. Even more, you'll most probably manage to do them in a easier or more pleasant way than you thought. Selling property is auspicious today.
Daily Predictions for Capricorn:
This can be a very social day for you. Every form of socialisation is favoured, including via internet. Taking care and promoting your web pages or social media profiles can be the start of growing more audience and whatever comes through this in your case.
Daily Predictions for Aquarius:
All money matters are auspicious for you today. Raising of your salary, or income, paying back debts, or receiving such kind of money from those who own you and whatever else, are all possible. If you are a gambler, your luck today can be better. Of course, as always, do remember that the stars raise your possibilities. They don't secure your victory.
Daily Predictions for Pisces:
This is a very strong day for you. You radiate power today, and this summons good luck, too. Focus your mind and energies to whatever you want to achieve, and either you'll achieve it, or start achieving it. Positive energy will fill your goal. Whatever has to do with studies, technology and the web is even more favoured.
Astrology and Magic:
All magic is strong today. Good luck magic is very potent for all zodiacs. Love magic is exceptionally promising for Virgo, Cancer and Taurus. Money magic is so for Sagittarius and Aquarius.
That's all. Have fun and enjoy your day.