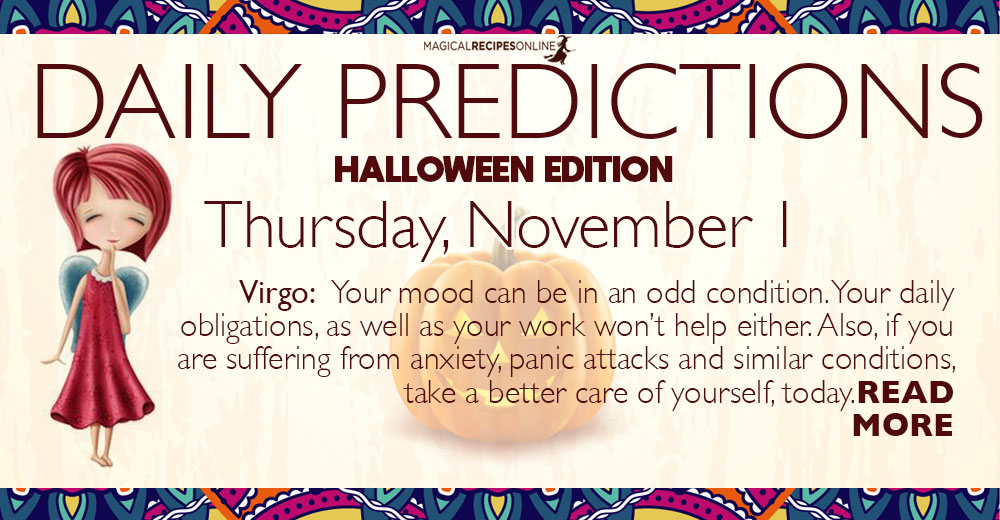 General Daily Predictions: Today the Moon from Leo opposes Mars in Aquarius.
Also today Jupiter from Scorpio accurately trines the Retrograde Chiron in Pisces which brings more attention to the karmic lessons Samhain awakened.
So, this is going to be a challenging day. People and situations can easily get on our nerves, and accidents can easily happen. Be extra careful if you are doing a dangerous job, or practising a dangerous hobby, as well as when you are dealing with fire and iron.
Scorpio and Pisces will be the luckiest zodiacs of the day. Leo, Aquarius and probably Taurus will be the ones receiving the most stress.
Daily Predictions for Aries:
Try to avoid crowded places today, if possible. Also, your social interactions, face to face, or via internet can be less fulfilling that you are expecting them to be.
Daily Predictions for Taurus:
Home and family needs can become a bit demanding and time-consuming. Finding the balance between taking care of these and your work obligations can be a difficult task.
Daily Predictions for Gemini:
Travelling and transportation need some extra attention today. In fact, avoid them, if it's possible. Also, communications and studies can give you some stress.
Daily Predictions for Cancer:
Avoid risky money decisions at all costs today. Money can be tight, or unsatisfactory, one way or another and expenses can appear "out of nowhere".
Daily Predictions for Leo:
Colleagues and partners can be annoying, unpleasant, or difficult to work with, today. In some cases your other half can play a similar role, just not so intensively.
Daily Predictions for Virgo:
Your mood can be in an odd condition. Your daily obligations, as well as your work won't help either. Also, if you are suffering from anxiety, panic attacks and similar conditions, take a better care of yourself, today.
Daily Predictions for Libra:
People can annoy you, or stress you quite easily today. Therefore, avoiding companies of many as well as places where you'll be amongst many people is a wise policy.
Daily Predictions for Scorpio:
Career obligations can be stressful and demanding today. In the same time, home and family can demand your time and attention. Finding the balance between the two, as well as time for yourself, can be a challenge.
Daily Predictions for Sagittarius:
Studies, and especially the practical ones can be quite stressful. The same goes for those studying abroad, or trying to. Also, it would be a wise choice to avoid travelling today, if you can. In any case, be extra careful when driving or you are in the streets.
Daily Predictions for Capricorn:
Many things can feel unpleasant today. Your financial situation is one of those. Risky investments should be avoided today, even if your gut instinct says otherwise.
Daily Predictions for Aquarius:
Depending on your business partners and colleagues is not advisable today. In fact, they can stress you even if you don't depend on them. Maybe, they depend on you more than they should.
Daily Predictions for Pisces:
There is enough stress regarding work. Your other obligations can add some pressure. Make sure you get enough time to rest, calm your mind and relax, especially if you are having anxiety and similar problems.
That's all. Have fun, enjoy your day!