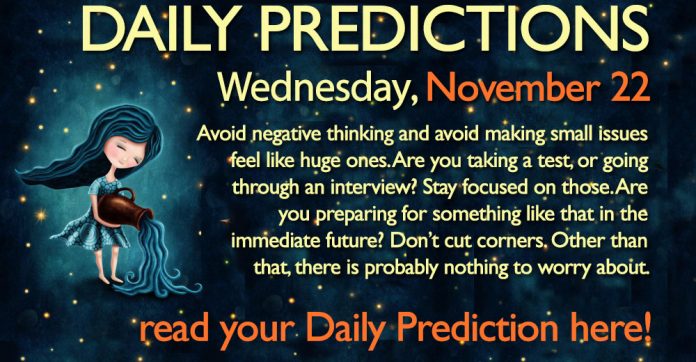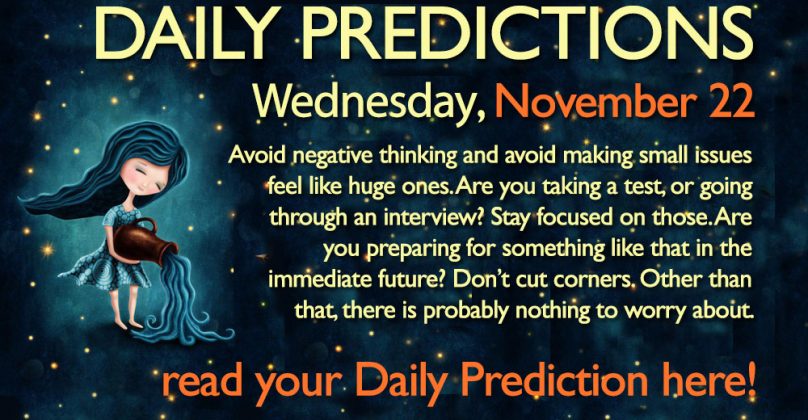 General Daily Predictions: Today, the Moon from Capricorn forms a hexagon with Jupiter and one with Venus, in Scorpio. It also forms a hexagon with Neptune in Pisces, and a conjunction with Pluto in Capricorn, of course. And these are the auspicious aspects. It will also form a square with Mars in Libra, and this is the only inauspicious aspect.
Also, Sun today, enters Sagittarius and Neptune turns in direct motion. Now only Uranus and Chiron are in retrograde motion, but their time slowly approaches. Chiron will turn direct during the coming waning Moon and on the 3rd of January Uranus will do the same. We'll enjoy then almost three months with all planets in direct motion. This will be a period that things happen more easily, and a general luck is present. Now, with only one of the major planets, or two, including Chiron, in retrograde motion, we can already feel this easiness and luck to a degree.
Also, Venus, barely, starts forming a conjunction with Sun today. This is good, as Jupiter's conjunction with Venus will stop acting tomorrow. This keeps Venus lucky, but changes the way this luck is expressed. We analysed this in the New Moon's article.
So, this is going to be a very good day, with a little stress and maybe a little irritability.
Sagittarius, Scorpio, Capricorn and Pisces will be the luckiest zodiacs of the day. Libra and probably Aries will be the less lucky ones.
Daily Predictions for Aries:
Magic and, even more so, intuition are very capable today. For those who gamble, this day has more possibilities of a positive outcome. Money and most career matters, as well all love matters receive many blessings and luck today. Stress may come from dealing with business partners, or the law.
Daily Predictions for Taurus:
Most aspects of your life receive a decent amount of luck and blessings. Health, though, can be a little sensitive. You also are keen on accidents, even more so, work related ones. So, be extra careful whenever you are doing something dangerous, or potentially dangerous.
Daily Predictions for Gemini:
This is a very good day for most aspects of your life. If you engage in sex, be safe. Also, if you have such plans, then there may be some difficulty in making them happen. Also, the love life of a child, or a beloved one, may stress you, but not that much.
Daily Predictions for Cancer:
Money don't receive any focus today, for good or bad. Family and family obligations can be quite stressful. But, other than those, all other aspects of your life seem lucky and happy.
Daily Predictions for Leo:
Your phone may be on fire today. Not really pleasantly, and of course, not literally. You may also need to move around a lot because of your job. A better scheduling may reduce the unnecessarily long hours you'll spend on the streets. But other than those, everything else seems moderately good, to really good.
Daily Predictions for Virgo:
Money may cause you some stress. You may spend some of it in a wasteful manner, or you may realise you have done so. But, even this won't be enough to spoil the general good mood and luck of yours.
Daily Predictions for Libra:
Today you seem to be irritated without a good reason. You also produce much stress, again without a good reason. In the same time you may feel bored. It is the way you see the situations that cause any negativity. The situations, on their own, are from uninteresting to good.
Daily Predictions for Scorpio:
Most aspects of your life are good and lucky. Your fears and insecurities drive you to make some mistakes, though. Also, people's words hit you harder than they need to, or intend to. Protect yourself from that. Other than that, all things are good and lucky.
Daily Predictions for Sagittarius:
Your spouse may has to deal with some financial problems. Or, at least, you think so. Also, keep your eyes open to avoid scams. All the rest aspects of your life are good and lucky, and receive enough blessings.
Daily Predictions for Capricorn:
This is a good and beneficial day for you. This can be expressed in any, or even all aspects of your life. Career may stress you, but even there, you advance and have a beneficial day.
Daily Predictions for Aquarius:
Avoid negative thinking and avoid making small issues feel like huge ones. Are you taking a test, or going through an interview? Stay focused on those. Are you preparing for something like that in the immediate future? Don't cut corners. Other than that, there is probably nothing to worry about.
Daily Predictions for Pisces:
Avoid very personal or intimate chatting, especially with people you don't know personally, or well. This kind of chatting may come your way even without your initiating it. It can be a tiresome, stressful, or in other ways negative experience. But other than that, including chatting for other issues, is favoured.
Astrology and Magic:
This is a very good day for all forms of magic, so search our site for what you want or need.
That's all. Have fun and enjoy your day.