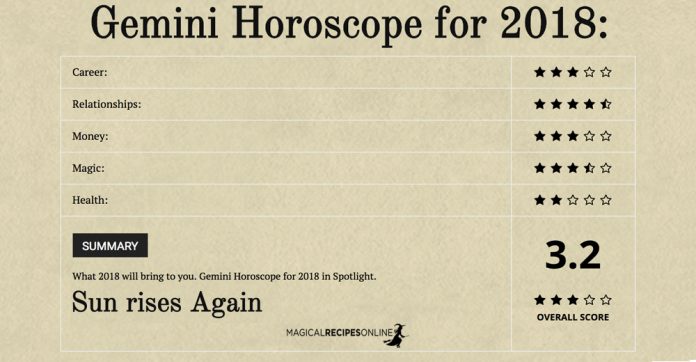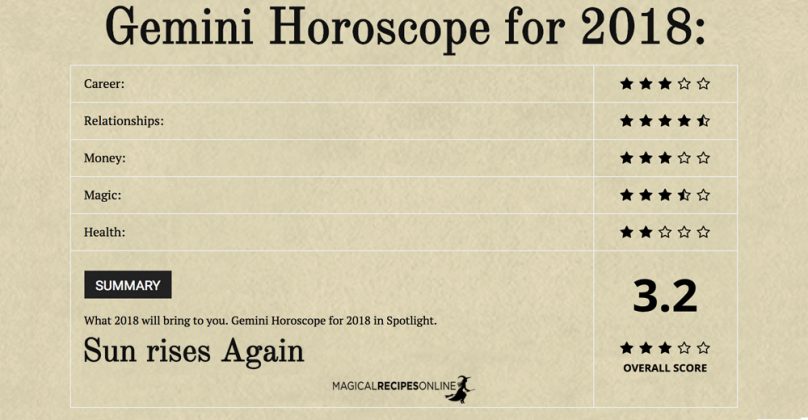 Gemini Horoscope for 2018: 2017 is over now and what is left is a feeling of constant pressure. Yes, it's true that you've been through so much the past years. Hopefully, this is now over and you entering a balancing phase of your life. But lets see one by one the major aspects of new year.
Gemini Horoscope for 2018: Balsam Time
With Saturn right opposite your zodiac sign it felt extremely difficult to get what you want from other people. Your most important relationships received a huge energy boost. Some of you got married, others broke up or separated. Yet all Geminis know that these 3 years was all about the others. Nothing about you. You felt drained. Exhausted. This will now start to change.
New position of Saturn will break and destroy what may hold you back. Although this won't happen easily – as it might push you to your limits, it's certainly a phase you need to go through order to feel reborn from your ashes. The good news however is that other people will now see much more positive and willing to help.
On the bright side, Jupiter is blessing your everyday life helping you to adopt new positive and healthy habits. It's a great time to search what is missing from your life and put some extra fun activity in your daily schedule. Moreover, this is going to be a great time to renew your gym membership. Sports and other healthy activities like yoga can help you meet new exciting people to hang out.
Also, another positive sign is that Mars will stay in Aquarius for about 5 months making this time extremely helpful for your career and evolution in general. If you are involved in education this year you will experience a majestic energy boost in this part.
Furthermore, your career still seem to be a bit misty. Your dreamjob might come closer but is this really what you always wanted? You probably need to take one step at a time and look between the lines. Also, your emotions seem to change rapidly from May till October. Something inside you has been awakened and needs proper direction. What could it be ?
Gemini Horoscope for 2018 in Spotlight:
A balancing year for you guys. The extremely tough and demanding place of Saturn has now changed giving you space to grow stronger. It is a preparation year in which you need to proceed with small steady steps. Fortunately, Jupiter will bless your from October and for a whole new year, giving you new exciting opportunities in almost all parts of your life. New people are attracted to you and provide you comfort and power.
Let's see some more detailed features of Gemini Horoscope for 2018.
Career:
Still things need your attention. Although you may shift between other jobs, you need to be extra careful to what is provided to you. Somethings may be presented as opportunities but they probably are not what they seem.
Relationships:
Responsibilities seemed to bother you the past 2 years but now it's time to have some fun. Especially from October and for a whole new year.
Tip: Now you can embark on your Qooest to find your Soulmate or make New Friends. Join the Free Witchy Social Network and begin your Qooest! Visit Qooest.com
Magic:
Magical powers seem beyond your grasp but they are actually present if you manage to recognize them. Meditation will help you clarify your mind.
Money:
It's time to let go of the past and start building your future. Now that Saturn messes with your financial status you need to find solutions that last. Time to cut off your debts.
Health:
You need to find quality time to recharge your energy. This is a very important advice as your energy levels seem surprisingly low. Meditation and a healthy diet will work miracles!