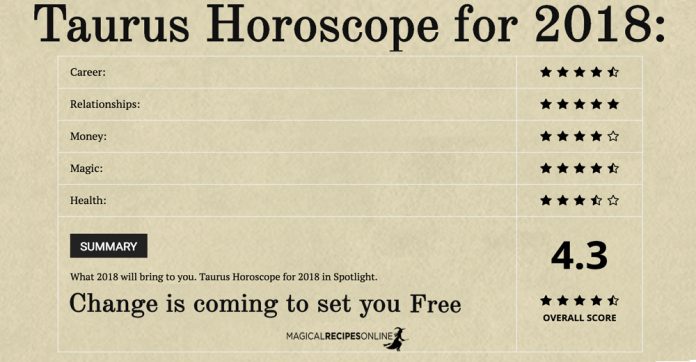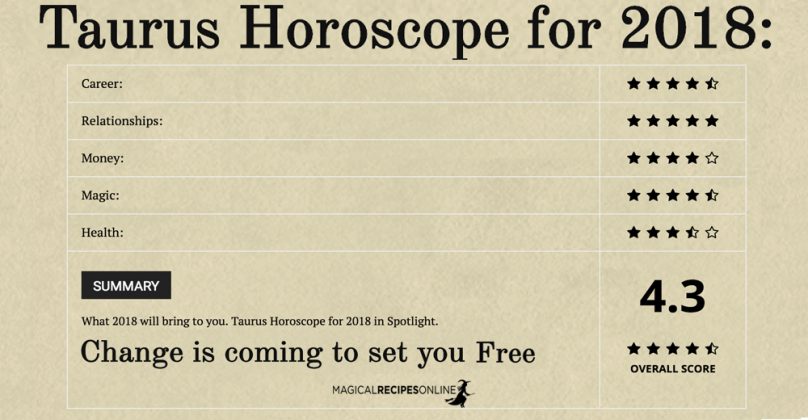 Taurus Horoscope for 2018: A brand new year begins, which looks nothing like the previous ones. Sure this might scare a stable person like you, but this is the catch… It shouldn't!
You see, during this new year you will have the chance to heal your heart and establish a much more fruitful future. Although we all know that you hate changes, now there is a chance to get rid of the poison that filled your heart the past 7 years, while Uranus was messing with your emotions and secret feelings.
Taurus Horoscope for 2018: Change is coming to set you Free
It was not a pleasant time, especially when Uranus was retrograde. But this belongs to the past. I've got good news for you. Now, all this psychological pressure will decrease, when, in May, it will enter your sign. To abolish negativity, thought, you need to breathe the air of freedom. This is what is all about.
I've got more good news. Capricorn for the next 3 years is going to help you stabilize what needs to last. You are going to feel ready to expand your studies, change career, or even relocate abroad! Everything that has to do with international business is favoured.
Moreover, for almost the whole 2018 you will be blessed by Jupiter. This benevolent influence will attract this special someone in your life, or help you heal your most important relationships. Until October 2018 you will have the chance to strengthen your co-operations and also set a stable base for the future. Are you somehow involved in legal matters? 2018 is a very helpful year to get the most out of it.
Taurus Horoscope for 2018 in Spotlight:
Although you hate changes, this year is a great opportunity to leave all what bothered you behind. You need to stop getting used to tears and fears. Now it's time to let these go and begin a bright new future. You hold the key. It's time to get what you've always wanted.
Let's see some more detailed features of Taurus Horoscope of 2018.
Career:
Your career is evolving faster that you expected and now with the benevolent influence of Saturn you will have the chance to stabilize a bright new future. Hard work now pays off.
Relationships:
A Very good year to make achieve greater balance in your personal life too. You see, Jupiter may bless you with this special someone you've always dreamed of.
Tip: Now you can embark on your Qooest to find your Soulmate or make New Friends. Join the Free Witchy Social Network and begin your Qooest! Visit Qooest.com
Magic:
The gates of Power open for you and you can unleash your amazing strength to create miracles. It's time to sprinkle some fairy dust all over.
Money:
It is a rather neutral to positive year for your financial status. You will have the chance to organize your expenses and feel more secure.
Health:
It's a great opportunity to change what have bothered youn in the past years now that Uranus changes signs. Learn from your mistakes and let yourself change for the better.