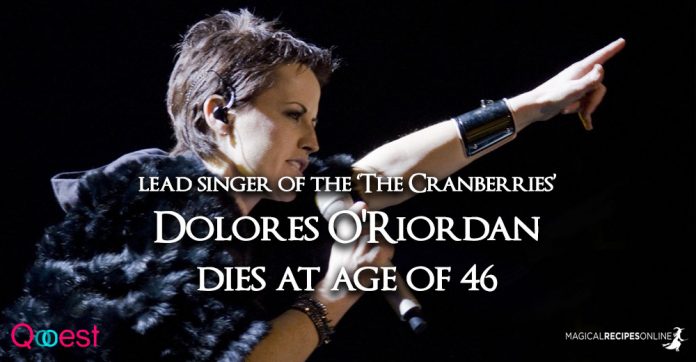 Blue Monday, just got real. Dolores O'Riordan, died few hours ago at the age of 46.Police say they are treating death of singer at London hotel as 'unexplained', as no cause of death has yet been revealed.
Dolores was an inspiring Irish musician and singer-songwriter born in Limerick, Ireland. She successfully led the legendary rock band 'The Cranberries' for more than 12 years. They took a break and reunited in 2009. Due to the information the singer was in London for a recording session on a promising new album.
She recently tweeted via her official 'Cranberries' account "Hi All, Dolores here. Feeling good! I did my first bit of gigging in months at the weekend, performed a few songs at the Billboard annual staff holiday party in New York with the house band. Really enjoyed it! Happy Christmas to all our fans!! Xo"
Dolores O'Riordan inspired many Wiccans due to her love for animals. They performed on the 'Wiccan' inspired TV series, 'the Charmed' ones, playing song from a majestic album 'bury the hatchet'.
We cannot believe the news, being huge fans of Dolores here. We can only listen to her amazing voice.
Her family members are reportedly devastated to hear the breaking news. They requested privacy.
Blessed be Dolores. May the Light be with You! We will not forget you.
Magical Recipes Online.