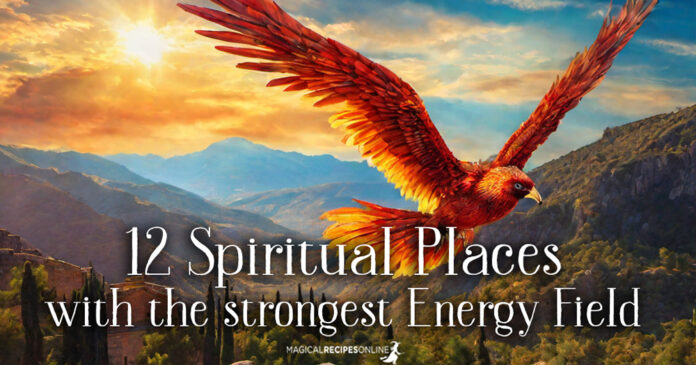 It's summer isn't it. My favourite time of the year as I can actually visit places which normally I don't have time to. But although hitting the beach is a great idea to refresh your aura with sun and sea, another great idea is to visit spiritual places for chakra and destiny alignment. Hence, the idea of visiting spiritual places with strong energy fields is rooted in the belief that certain sites on Earth hold a special spiritual power or energetic frequency. People visit these spiritual places seeking spiritual growth, healing, or insights. Many people throughout millennia swear by the transformative experiences had at these locations.
Spiritual Places and Ley Lines
Ley lines are occult alignments or pathways that connect various sacred or significant sites across the Earth's surface. The concept of ley lines originated in the early 20th century, primarily associated with the work of archaeologist Alfred Watkins and later popularized by authors like John Michell and Paul Devereux. Ley lines according to New Age spirituality and researchers are often believed to be energetic pathways or alignments that connect sacred sites, natural landmarks, and significant points on the Earth's surface.
According to proponents of ley lines, these energy lines are believed to carry spiritual or mystical properties, connecting places of power, such as ancient ceremonial sites, stone circles, churches, and natural landmarks. They are often regarded as sources of Earth's energy, sometimes referred to as "dragon lines" or "spirit lines."
Secret Archeology and Spiritual Places
Ley Lines exhibit very distinctive characteristics such as crossing at specific angles or aligning with astronomical and astrological phenomena like solstices or equinoxes. Some theories suggest that ley lines may also be influenced by underground geological formations or electromagnetic fields.
Spiritual Places and the Cosmic Energy – Chi
Ley lines are often associated with the idea of Earth's energy grid or a global network of energy lines that intersect and intersect again to create a web-like structure. This concept is often linked to other esoteric beliefs, including dowsing, energy healing, and the movement of Earth's spiritual energies or chi (qi).
From a scientific standpoint, there is limited empirical evidence to support the existence of ley lines as a tangible and measurable phenomenon. Nevertheless, ley lines continue to hold spiritual and symbolic meaning for many individuals and are often incorporated into various spiritual practices, including alternative healing modalities, geomancy and fengshui (the practice of divination based on the Earth's energy), and Earth-centered spirituality. They are seen as pathways for energy flow, connecting humans with the Earth and the greater cosmic forces.
So are you ready to explore these places with us? Let's travel…
1. Delos, Greece
Delos is a very small Greek island – a living proof of the glory of ancient Greece. It's a unique – UNESCO listed ancient Greek site and the island on which Artemis and Apollo was said to have been born.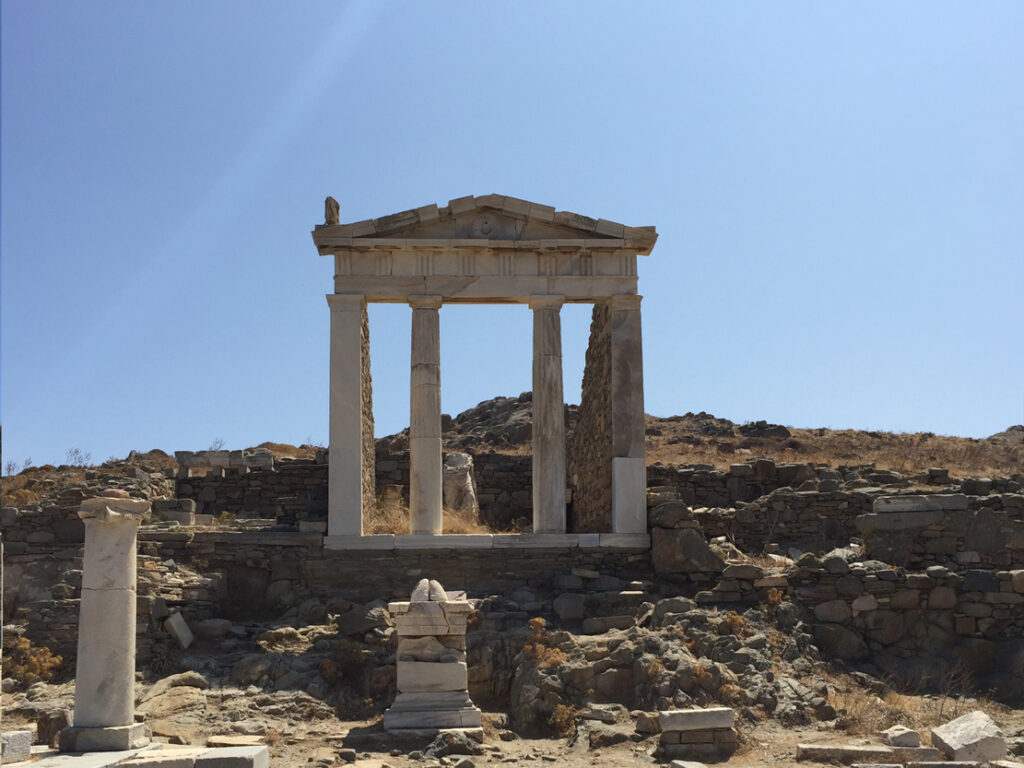 It has been considered a sacred place for millennia. It is believed to be the birthplace of Apollo and Artemis, two of the most important gods in the Greek pantheon. While Delos is not typically associated with strong energy fields, it is considered a powerful spiritual and historical site. Visitors can explore the ancient ruins, including the Temple of Apollo, which was once one of the most important religious sites in ancient Greece. Many people visit Delos to connect with the island's rich history and mythology, seeking a deeper understanding of Greek culture and spirituality.
2. Machu Picchu, Peru:
This ancient Incan site is believed to be a place of spiritual transformation and energetic power. Even these days pilgrims and researchers visit this magnificent place to talk to Gods and channel ancient energies. Remember that our School's Headmistress Davina MacKail loves Peru and we broadcasted our first and most important series of Lessons from there! If you haven't yet- join now (x) !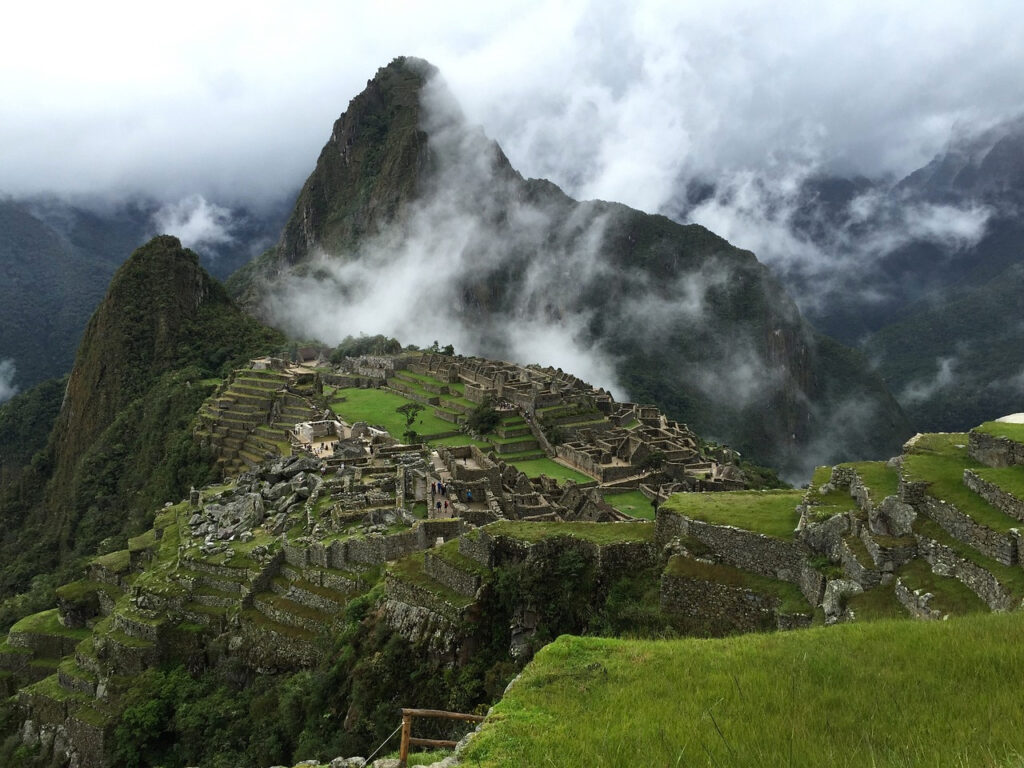 Machu Picchu, a renowned ancient Incan city located high in the Andes Mountains of Peru.  It's believed to be a sacred center where the energies of the earth and cosmos meet – probably the strongest of all Spiritual Places. The layout of the city aligns with astronomical events, reflecting the Incas' deep reverence for nature and the universe. The Incas believed in a sacred connection between the physical world and the spiritual realm. Machu Picchu was considered a link between heaven and earth, a gateway to the divine. The city's unique layout and alignment with celestial bodies, such as the sun and stars, further accentuate this belief. Many believe that Machu Picchu is a place where the energy of Pachamama (meaning "Mother Earth) is especially strong. The site's natural features, such as mountains, rivers, and diverse flora and fauna, contribute to this spiritual energy.
The Intihuatana stone, found in Machu Picchu, is believed to be a sacred solar clock used by the Incas to connect with the sun's energy and cosmic forces. It is thought that this stone helped align the spiritual and physical realms, providing spiritual balance and guidance.
3.Uluru-Kata Tjuta, Australia:
This sacred site of the Aboriginal people also known as Ayers Rock and the Olgas is believed to be a powerful portal to the Dreamtime and the spirit world. It holds great spiritual significance for the Indigenous Anangu people of central Australia as Uluru and Kata Tjuta are central to their creation stories and spiritual beliefs. According to their ancestral teachings, the formations were created by ancestral beings during the Dreamtime, a sacred period when the land, people, and supernatural beings were formed.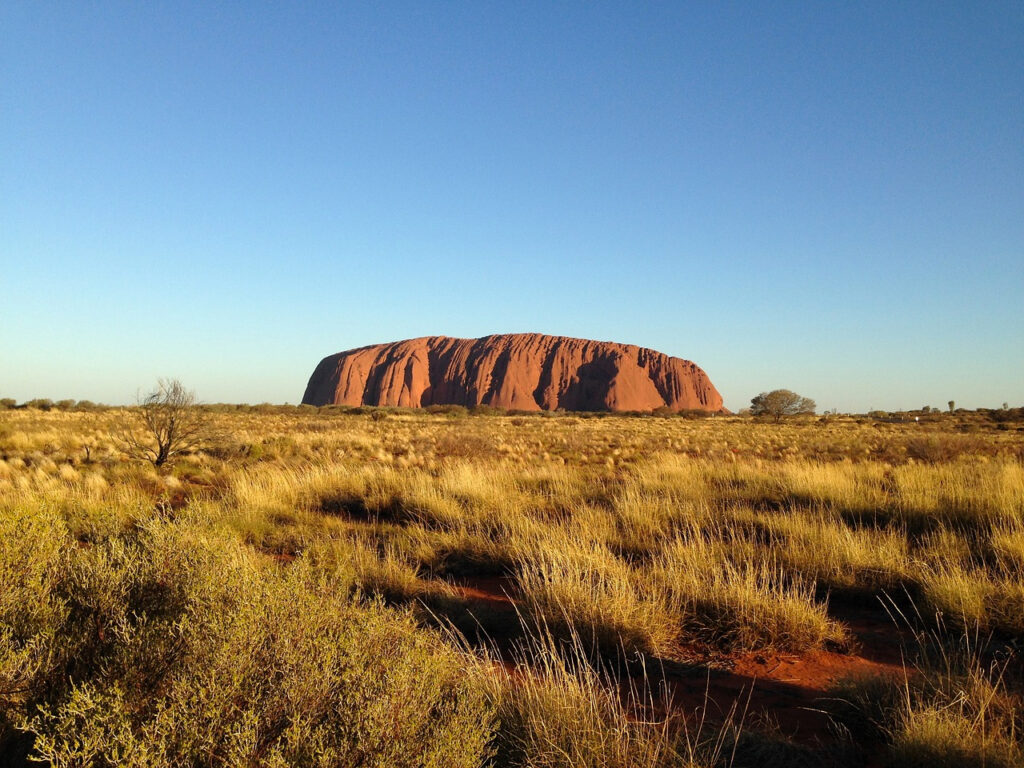 The area around Uluru-Kata Tjuta is a site for important ceremonies and rituals that uphold cultural practices and maintain spiritual connections. These ceremonies are held to pay respect to the land, ancestors, and ancestral spirits, seeking their guidance and protection. Many people sense a powerful energy and presence when visiting Uluru-Kata Tjuta. The rock formations are believed to contain spiritual power and are considered a conduit for connecting with the spiritual realm. This energy is often felt during sunrise and sunset when the rocks undergo dramatic color changes. Have that in mind when you visit spiritual places. Liminal times reveal the energy of the spiritual places as if the veil thins!
4. Mount Kailash, Tibet:
This sacred mountain is believed to be the home of the gods and a place of spiritual transformation. In Hindu religion, Mount Kailash is believed to be the abode of Lord Shiva, one of the principal deities in Hinduism – Trimurti. It is considered a sacred place where Lord Shiva resides and where he performs his cosmic dance, symbolizing creation, preservation, and destruction. It is considered the dwelling place of Demchok in Tibetan Buddhism, a deity associated with compassion, and is regarded as a sacred pilgrimage site. Buddhists believe that circumambulating the mountain, known as the Kora, can lead to spiritual purification and enlightenment.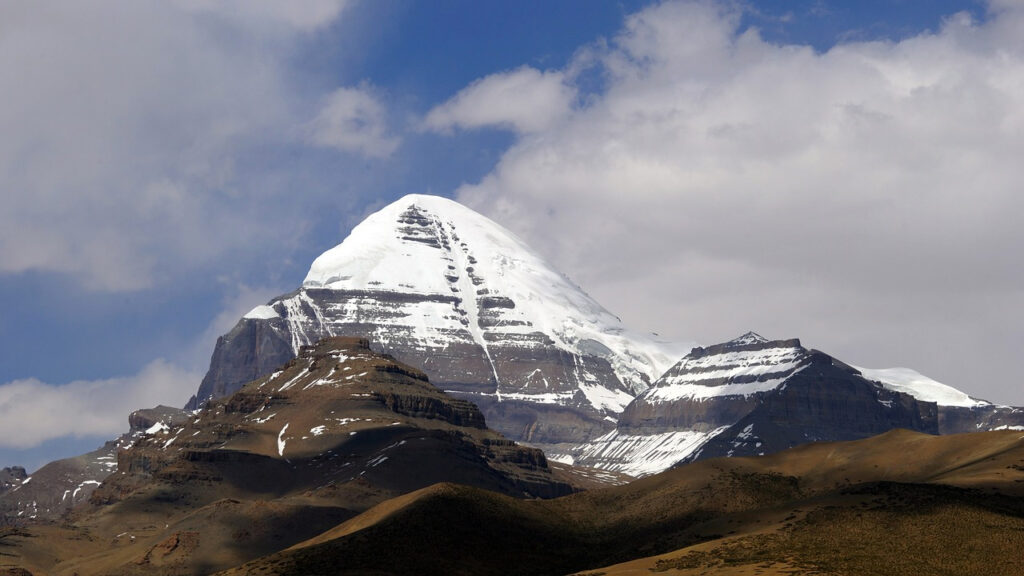 In Jainism, Mount Kailash is associated with Rishabhdev, the first Tirthankara and spiritual leader. Furthermore its symmetrical peak and remote setting amid the rugged Himalayas give it an air of sanctity and awe. The mountain itself is seen as a divine manifestation, eliciting reverence and spiritual contemplation. Mount Kailash is often seen as a symbol of unity among different religions and spiritual practices. The mountain's spiritual significance transcends religious boundaries, serving as a meeting point where diverse spiritual paths converge, fostering harmony and acceptance.
5. Sedona, Arizona, USA:
This desert town is known for its powerful energy vortexes that are said to help people connect with their spiritual selves. Lets begin with the Vortex Energy. Sedona is famous for its energy vortexes, which are believed to be swirling centers of spiritual power. These vortexes are thought to enhance meditation, healing, and spiritual experiences. The stunning red rock formations in Sedona are considered spiritually powerful and sacred.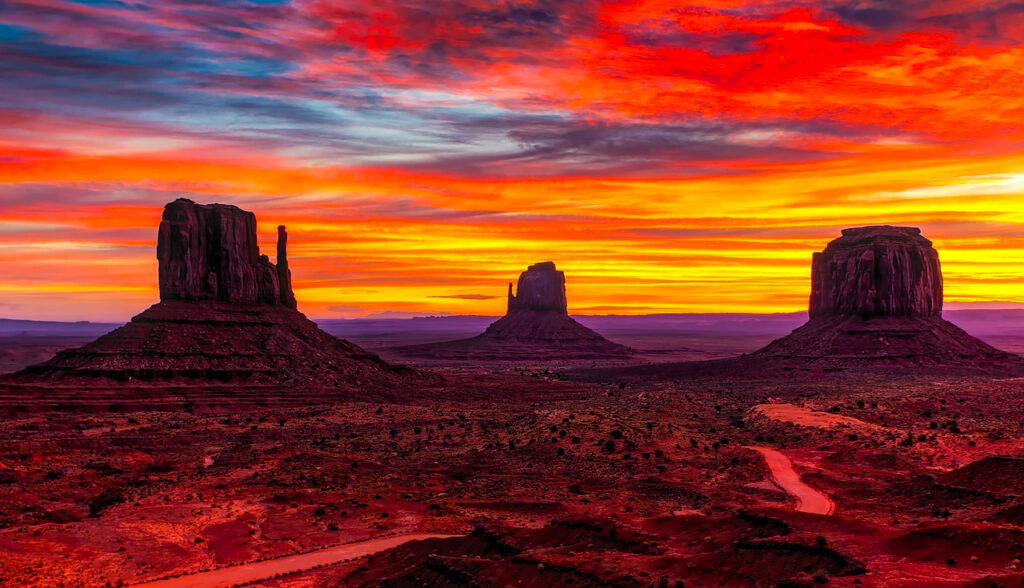 The land around Sedona has long been considered sacred by Native American tribes, including the Yavapai-Apache, Hopi, and Navajo. These tribes have rich spiritual traditions and believe that the area is a place of spiritual convergence, healing, and communion with the earth and sky. Sedona is often experienced as a place of transformation and awakening. The serene environment, combined with the powerful energies and spiritual focus, creates an atmosphere conducive to personal growth, self-discovery, and spiritual awakening.
6. Glastonbury, England:
This town is believed to be the site of the legendary Avalon and the final resting place of King Arthur, as well as possessing strong ley lines that contribute to its spiritual energy. Glastonbury is linked to Arthurian legends, with the nearby Glastonbury Tor believed to be the mythical Isle of Avalon, the final resting place of King Arthur. Well, at least on of the speculated locations, for the isle of Avalon is probably the most magical places in Universe. Glastonbury is also associated with early Christian history. It is believed to be the site of the first Christian church in Britain, founded by Joseph of Arimathea, who is said to have brought the Holy Grail to Glastonbury. The presence of Glastonbury Abbey, despite its ruins, adds to the spiritual allure, attracting pilgrims seeking a connection to the roots of Christianity and the sacred traditions associated with it.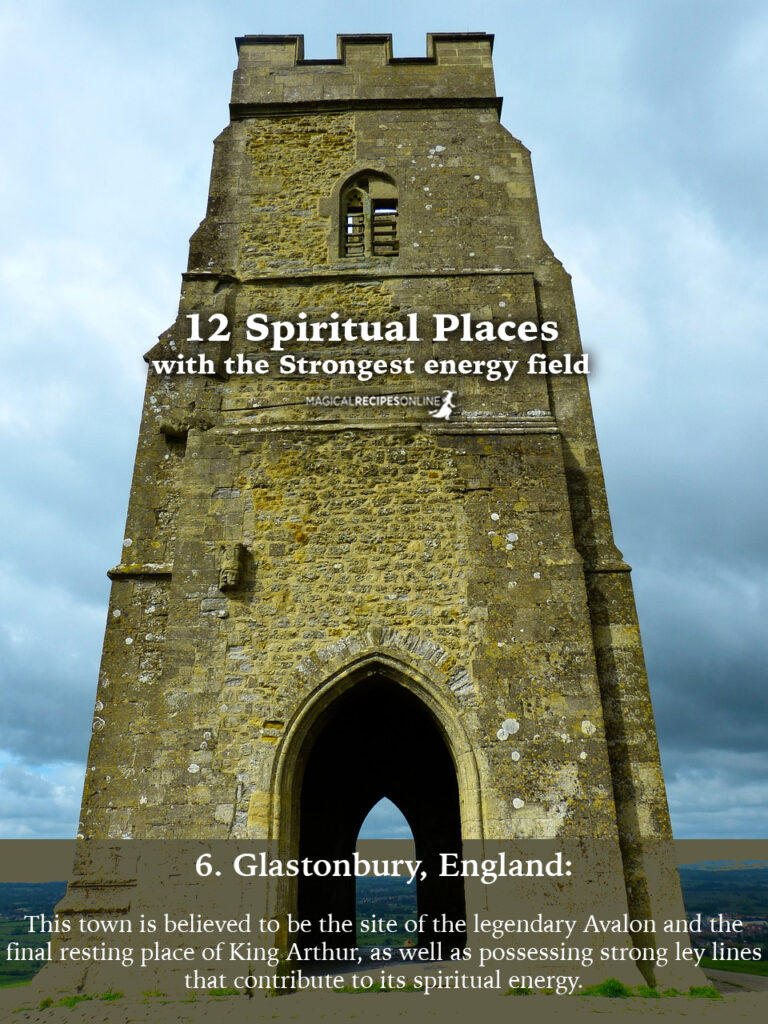 Glastonbury is a hub for New Age and pagan spirituality, drawing in those who seek alternative forms of spirituality and esoteric practices. The town has a vibrant community of healers, spiritual teachers, and mystics, offering a range of holistic therapies, workshops, and ceremonies. The Tor, Chalice Well, and surrounding ley lines are believed to possess energetic and spiritual qualities that inspire spiritual exploration and personal transformation.
7. Delphi, Greece:
This ancient city was the site of the famed Oracle of Delphi and is believed to be a place of divine communication and prophecy. We should probably begin with the fact that Delphi was home to the renowned Oracle of Delphi, where the Pythia, the high-priestess, delivered prophecies and guidance from the god Apollo. Seeking counsel and divine wisdom, people from all over ancient Greece and beyond would make pilgrimages to consult the Oracle. The Oracle of Delphi was believed to have a direct connection to the divine, making Delphi a place of spiritual revelation and enlightenment.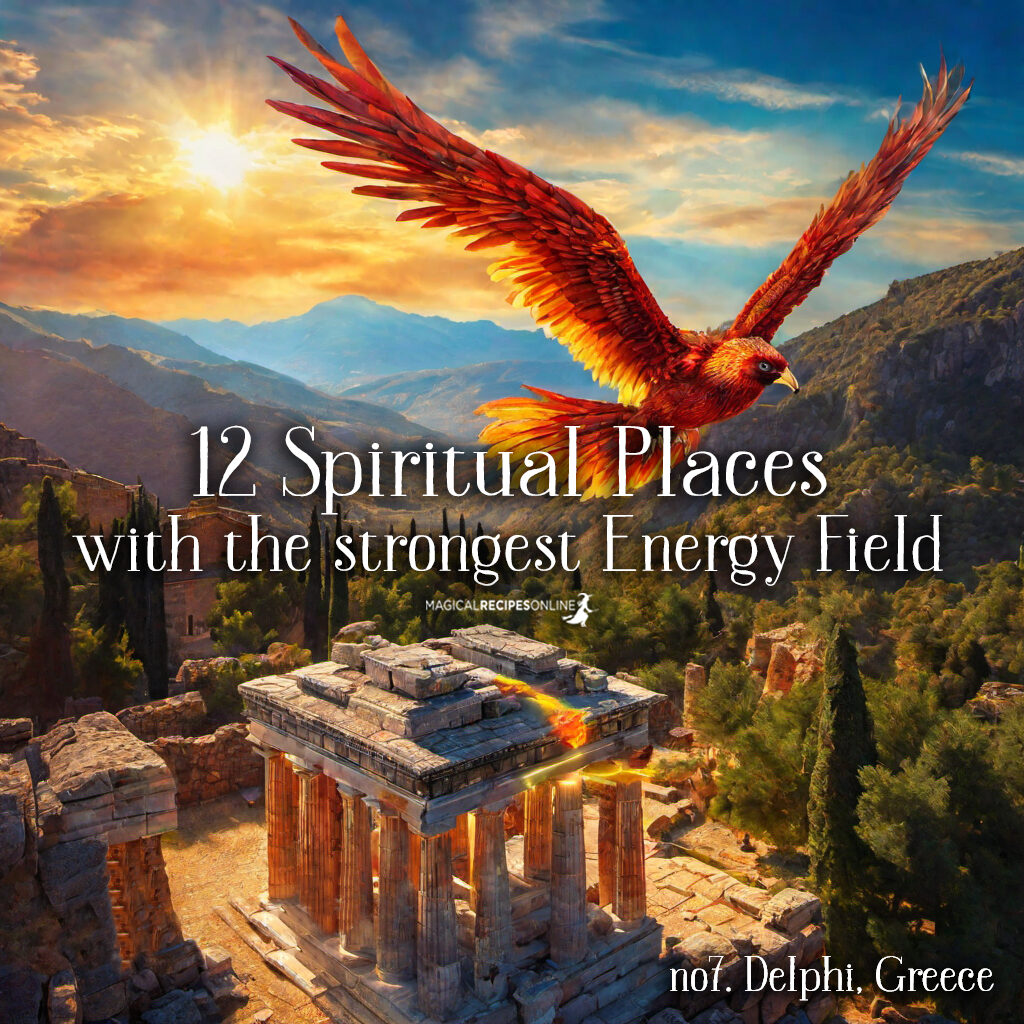 Ancient Greeks considered Delphi to be the center of the world, the meeting point of heaven and earth. The site was believed to be located at the navel of Gaia, the Earth Goddess. This symbolism further enhanced Delphi's spiritual significance, as it represented the connection between human beings and the divine, illustrating the pursuit of wisdom, knowledge, and self-discovery – our inner centre.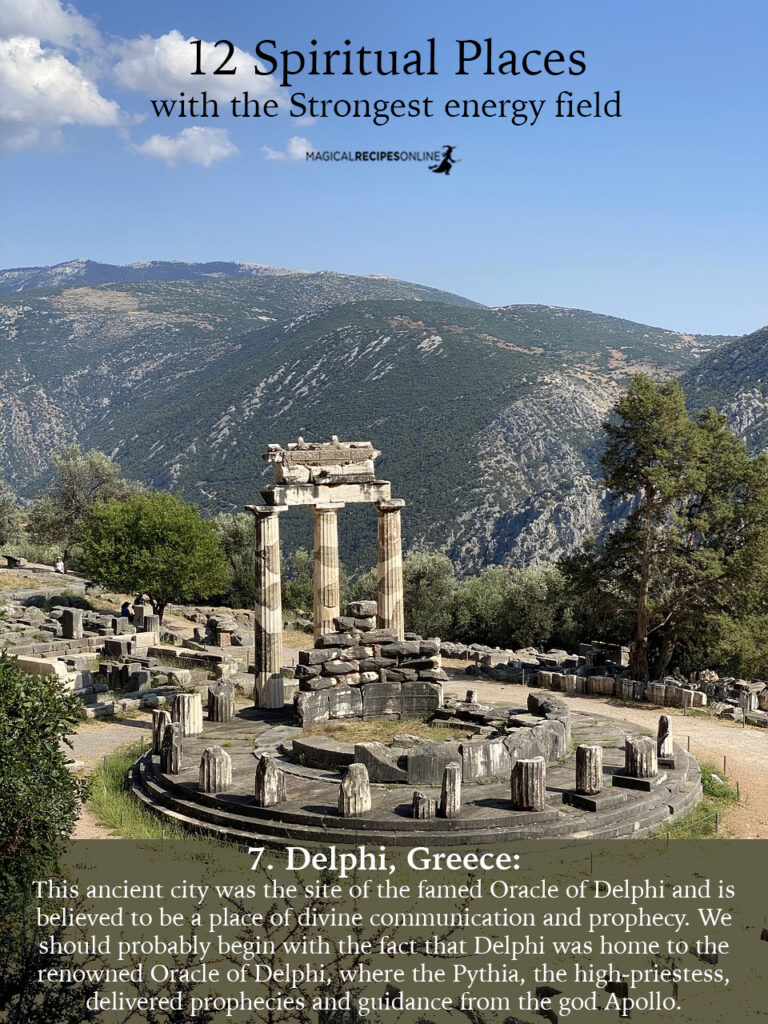 The Temple of Apollo, located in Delphi, was dedicated to the god Apollo, associated with music, prophecy, and the arts. The temple served as a sacred place for religious rituals, ceremonies, and festivals, expressing devotion to Apollo and seeking spiritual blessings. The architectural magnificence of the temple and its location amidst the breathtaking natural landscape added to the sense of spiritual awe and reverence.
8. Bali, Indonesia:
This island is known for its rich spiritual culture, with thousands of temples and sacred sites, as well as the Bali Spirit Festival. Bali is predominantly Hindu, and the island's spiritual fabric is woven with the unique blend of Hinduism and animism known as Balinese Hinduism. The religion emphasizes a deep connection with the divine and the constant presence of spirits in daily life. Bali is filled with numerous temples, shrines, and ceremonial sites where rituals and offerings are performed to maintain harmonious relationships with the gods and ancestors.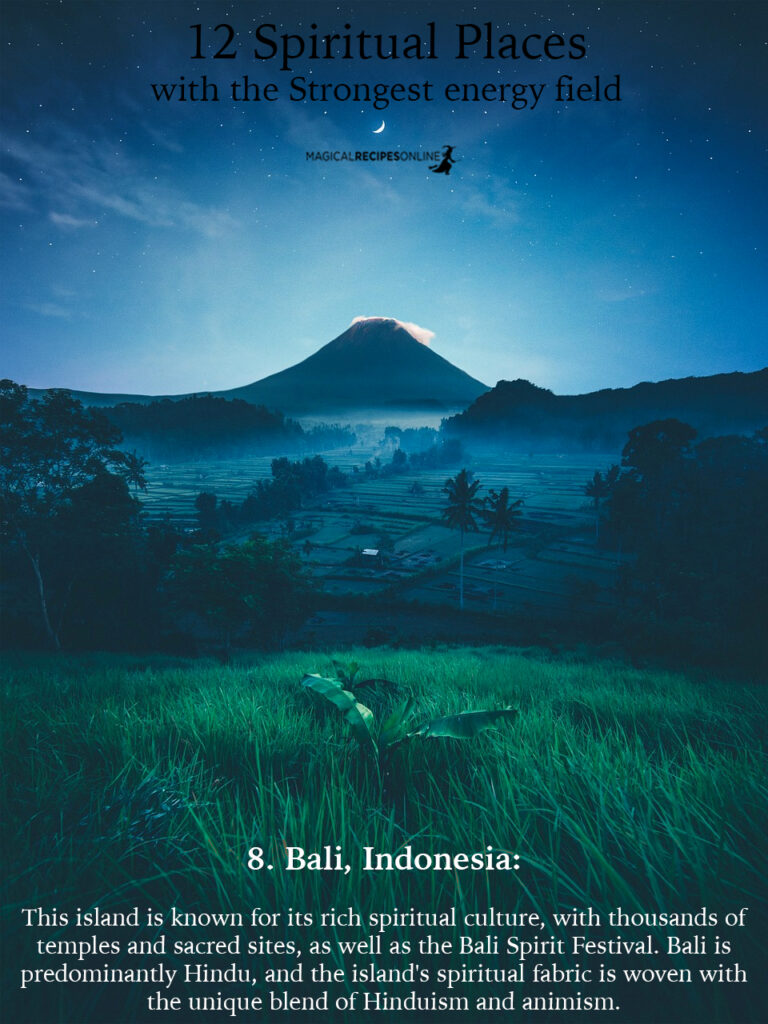 Bali's landscape is adorned with sacred mountains and volcanoes, such as Mount Agung and Mount Batur. These majestic peaks are considered spiritually significant and are believed to be the abode of gods or manifestations of deities. Balinese people hold ceremonies and rituals on these mountains, seeking blessings, purification, and spiritual connection with the divine through meditation, prayer, and offerings. Also, Balinese rituals and ceremonies are elaborately performed, involving intricate offerings, processions, and colorful costumes, creating a captivating spiritual ambiance.
9. Easter Island, Chile:
Easter Island, also known as Rapa Nui, holds significant spiritual importance due to its distinctive culture and iconic stone statues called Moai. Here are three key aspects of its spiritual significance. So, here we can find the magnificent Moai statues on Easter Island. As they are representatives of the island's Polynesian ancestors they are considered ancestral guardians. These impressive stone figures are believed to embody the spirits of the departed chiefs and high-ranking individuals. They are placed strategically around the island, facing inland to protect and watch over the communities. The Moai represent a spiritual connection with the ancestors and serve as a reminder of the island's ancient heritage.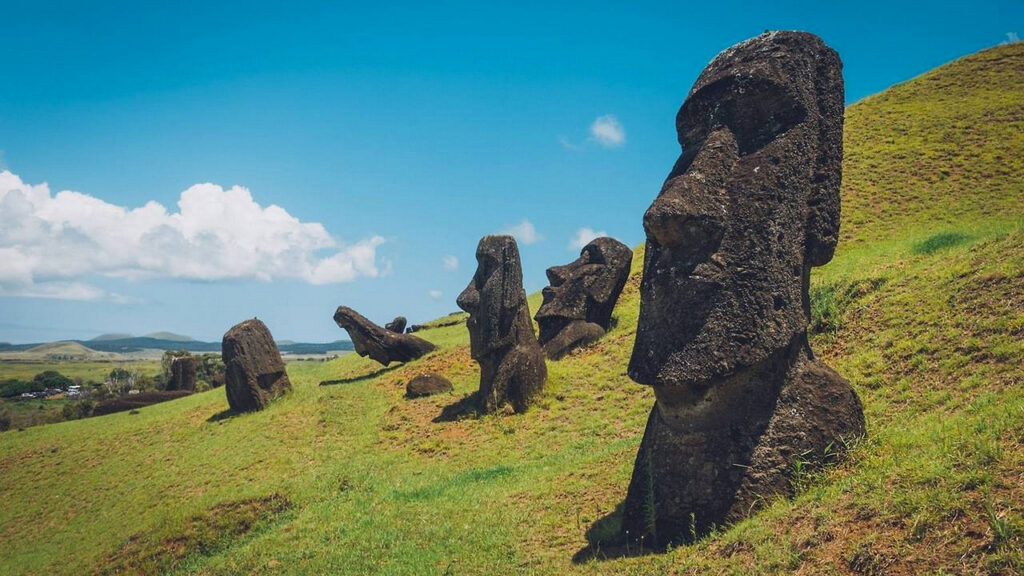 Easter Island retains a concept called "Tapu" meaning sacred or forbidden. The island's natural features, such as the volcanic craters and sea caves, are regarded as sacred spaces imbued with "Mana", a spiritual energy or power. Certain places on the island are revered as portals to the spirit world, providing a connection between the living and the divine. Traditional ceremonies and rituals are an integral part of Easter Island's culture. The most notable is the Tapati Rapa Nui festival, where the island community engages in competitions, song, dance, and crafts to honor their heritage and celebrate their spiritual connection with the land and their ancestors. These ceremonies and rituals strengthen the communal bond and reinforce the island's spiritual ties.
10. Tikal, Guatemala:
This ancient Mayan city is believed to have been a place of great spiritual significance and energy, with pyramid temples that align with the movements of the sun and stars. Tikal was one of the most important cities of the ancient Maya civilization. The towering pyramids, temples, and intricate structures found in Tikal were not only symbols of power and grandeur but also served as sacred spaces for religious ceremonies and rituals. The Mayans believed that these sacred sites were the meeting grounds for the earthly realm and the realm of the gods. Tikal's spiritual significance lies in its historical and cultural heritage, preserving the wisdom, beliefs, and practices of the Mayans.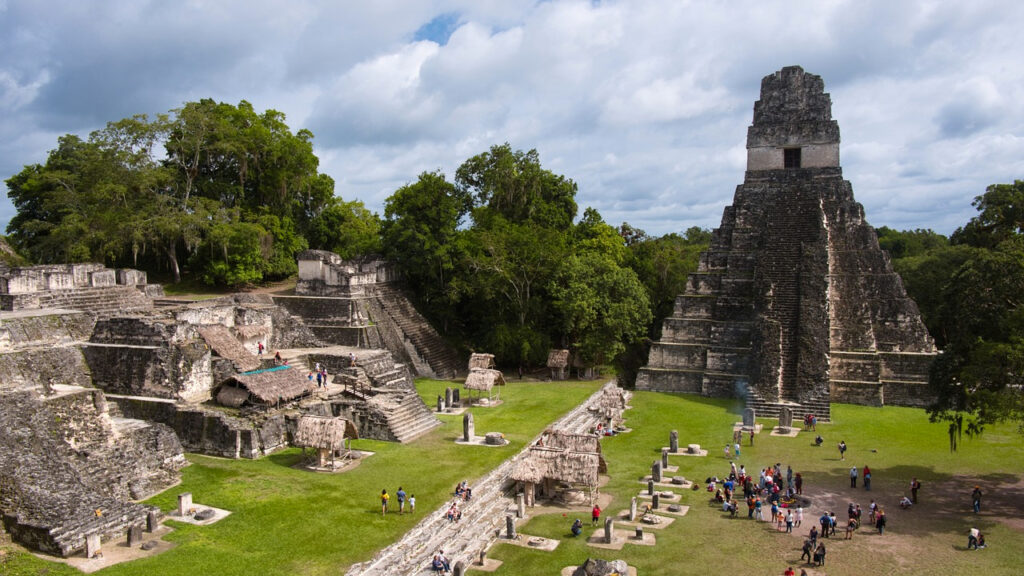 The Mayans were renowned astronomers and had an intricate understanding of celestial bodies. The architecture and layout of Tikal were designed to align with significant cosmic events like solstices and equinoxes. This alignment with celestial phenomena was believed to enhance the spiritual energy of Tikal, allowing for a deeper connection with the divine and the natural cycles of the cosmos. Tikal is nestled within a lush tropical rainforest, and the natural surroundings add to its spiritual significance. The Mayans revered nature and believed it to be imbued with spiritual energy. The rainforest was considered a sacred place where they could commune with the spirits of the land, animals, and plants.
11. Stonehenge, England:
This prehistoric monument located in Wiltshire, England is believed to have been constructed with sacred geometry and to possess strong energy vortexes. Stonehenge is associated with ancient pagan and druidical beliefs. It is believed that the monument was a place of religious and spiritual rituals, possibly related to the worship of nature and celestial bodies.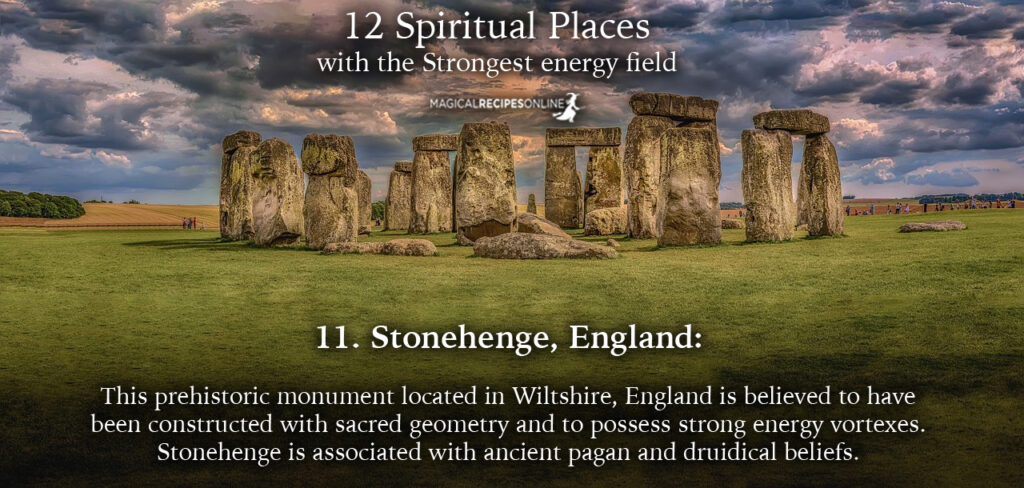 The alignment of Stonehenge with the movements of the sun and the moon is one of its most recognized features. During solstices and equinoxes, the stones are perfectly aligned with the rising or setting sun, suggesting a spiritual connection to the cycles of nature and the changing seasons. Some people believe that Stonehenge sits atop intersecting ley lines (as many other Spiritual Places),which are said to be energetic pathways that connect spiritual, historical, and sacred sites. It is thought that these ley lines contribute to the spiritual energy and significance of the area. Stonehenge is often seen as a place to honor and connect with ancestral spirits. The monument's ancient origins and human-made structure evoke a sense of connection to those who came before, fostering a spiritual bond with their wisdom and guidance.
12. Kom Ombo, Egypt
Kom Ombo is a temple located in Upper Egypt, about 30 miles north of the city of Aswan. The temple is unique in that it is dedicated to two gods: Sobek, the crocodile god, and Horus, son of Osiris and Isis, the falcon-headed god. It is considered one of the most well-preserved ancient Egyptian temples. And its power probably resides in cosmic balance.  Sobek represents chaos and Horus order. Many visitors come to the temple to seek healing for ailments and to connect with the ancient wisdom and spirituality of Egypt. The temple's dedication to Sobek, the crocodile god, is also said to represent the power of the Nile and the connection between the physical and spiritual worlds. Finding solutions through chaos, that's the tagline of Kom Ombo amongst other Spiritual Places.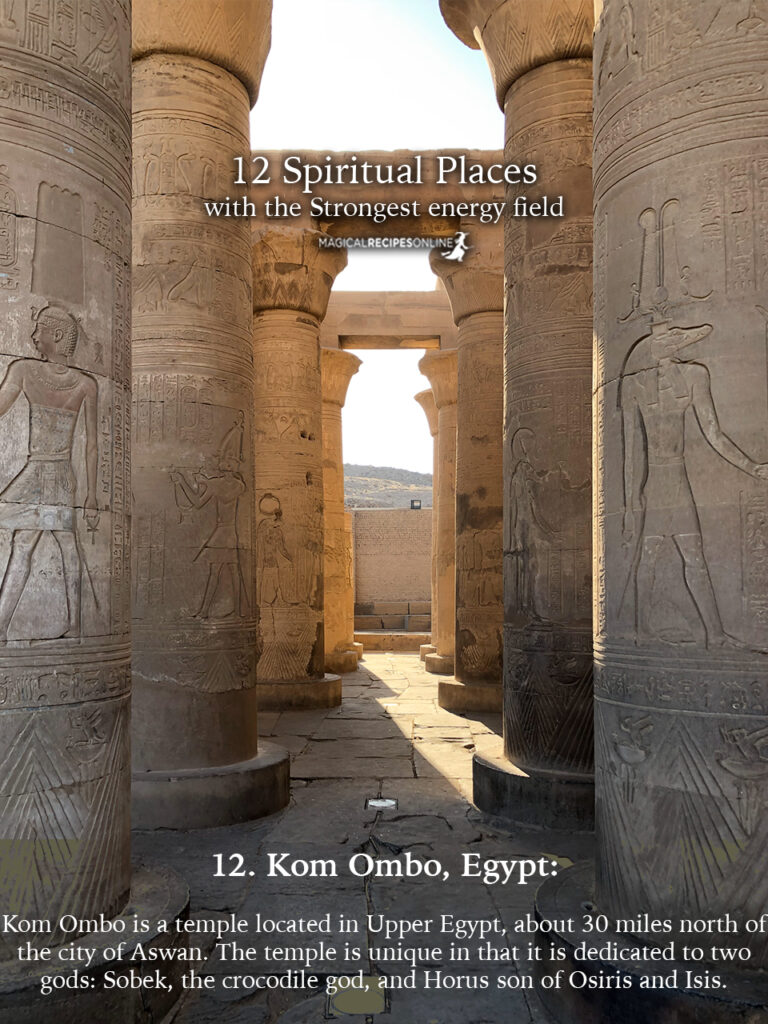 Some visitors to Kom Ombo report feeling a strong sense of peace and energy while visiting the temple. Others feel a sense of connection with the ancient spirituality and the gods worshipped there. While the extent and nature of the energy fields at Kom Ombo are not scientifically proven, many visitors still feel transformed by the spiritual power of the site.