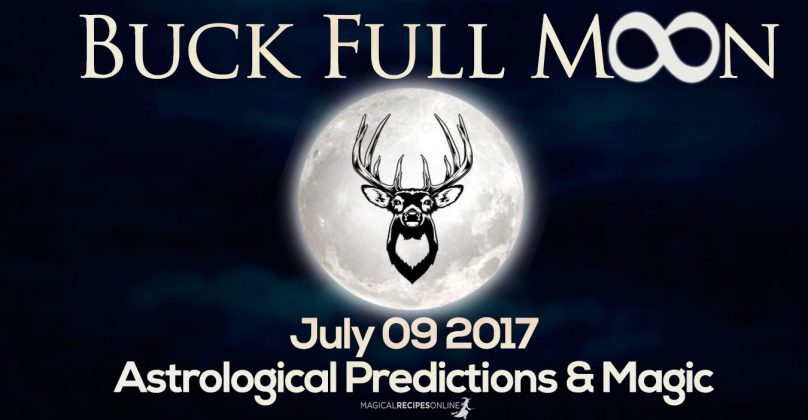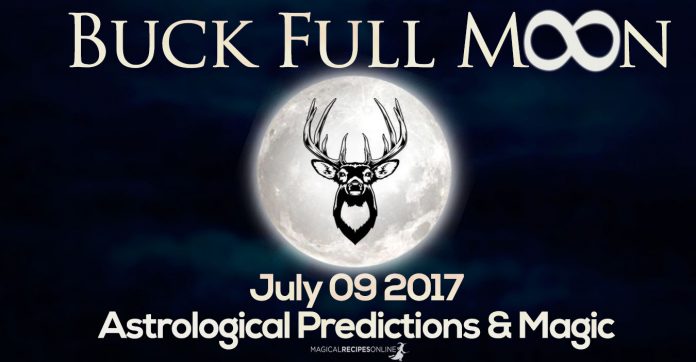 The Buck Full Moon occurs on Sunday July 9, 2017 is at 17° Capricorn where the closest fixed star, Vega, is 1 and half degree away creating a not to intense conjunction. However this conjunction will bring some good luck in negotiations and global politics.
The Night of the Buck Full Moon
During the night of the Buck Full Moon, Pluto, the planet of intense changes and instinctive feelings will conjunct with the Moon causing a huge release of energy. It feels like women are more empowered and play a more drastic role in Human history. These women, famous or not will change forever what already know. During the Night of the Full Moon ask help from Female deities and entities. They are far more effective right now!
A Battle of Sexes and Nations
Moreover, Mars, the planet of action and … wars, will also conjunct with the Sun creating at the same time an opposition with Pluto and the Moon. Unfortunately this is a very strong aspect to neglect. Wars are coming. This is a very dangerous time to play with fire. Fire should not be mocked as its power is tremendous and can back-fire very easily. Peace must prevail. Join us to a Worldwide Meditation for peace!
A Divine intervention
Additionally, Jupiter will trine Neptune. Hence, Jupiter's power will bring Good Luck and hope even in the darkest places. During Buck Full Moon: Aries, Cancer, Libra and Capricorn should be extra careful and make wise choices avoiding fights and confrontations.
The Buck Full Moon and Magic:
You can tap into the Lunar Magic by creating some Lunar Water – the magic water of the Moon. Click here to se how! Moreover, the energies of the Buck Full Moon can be used for any success spell. Use it to charge charms to help you succeed in everything. Use the Buck Full Moon to take control of your life. Read more here! 
Astrological Predictions for all Signs
Aries:
The first zodiac sign is deeply affected by this Buck Full Moon, especially when it comes to career and all advances that have to do with their job and the relations with their superiors and their customers.
A crazy couple of days are coming. You guys need to learn to remain calm and try to manage your emotions. Meditation might help or listening to this song which is proved to relax anyone who listens to it!  In conclusion, miracles can happen only if you keep hope and peace alive within your heart. Read the Complete Astrological Predictions of 2017 ! 
Taurus:
Taurus is extremely favoured during the power of the Buck Full Moon as the energies of the great lady will help them evolve in any way they want to. Although these guys are very unwilling to change the sweet energies of this Full Moon will give them a helping hand to hold and move on.
Everything that has to do with foreign countries and commercial affairs is favoured! In conclusion, everything you do has a greater chance to succeed! Take your chances! Read the Complete Astrological Predictions of 2017 ! 
Gemini:
A full moon with real magic in the air. Gemini, you are blessed with an awakening of your magic and powers – click here to orchestrate a more focused Power Awakening. Moreover, the Buck Full Moon will shed some light upon their secretive nature and instincts.
Their governor, Mercury is in their friendly Leo making them even more talkative and seductive. Their inner talents in flirting and persuasion are increased making them unstoppable. Read the Complete Astrological Predictions of 2017 ! 
Cancer:
Happy Birthday! This Full Moon shines to you and help you cleanse your most important and old relationships. If you are married this is a chance to clear your mind and set some new ground rules which have to apply in the future.
Make sure you think of all the details of the issues that bother you in your relationships and partnerships.Tap into its magic with some Moon Water! 
The Lunar Energy is focused on you and it may make you anxious and nervous but it can also help you replenish your energy! Read the Complete Astrological Predictions of 2017 ! 
Leo:
This is a Full Moon which affects your everyday life. It is a chance to look what you might be doing wrong in your routine and chance the way you interact with your body.
It's a great opportunity to start a diet and detoxify your body and heart from alcohol, anxiety and negative emotions. This is a great new chance to go out, flirt some more and live more intensely. Read the Complete Astrological Predictions of 2017 ! 

Virgo:
This is a lucky Full Moon as it happens in your friendly Capricorn. Moreover, your Governor from Leo will help you uncover what is really bothering you. Something in your guts is telling you what you hear or see is not as it seems.
Trust your guts and search for the truth. Uncover what is lying beneath. Confront the lies and set yourself free. Finally, go out, flirt and flirt some more! You are unstoppable!  Read the Complete Astrological Predictions of 2017 ! 
Libra:
This Full Moon is not very easy for you guys as it brings on the surface everything you try to hide. Moreover, this Full Moon will help you realise that home is where your heart is in peace. Remind yourself that you have to remain calm.
Do not engage in dangerous activities and please remain calm at all time. Things in your home may cause anxiety. Your vital energy is depleted. Consult with your medical doctor if suspicious signs are presented. Please try to find a way to banish this fear. Start meditating!  Read the Complete Astrological Predictions of 2017 ! 
Scorpio:
This is a Full Moon of great power for you guys! It happens in a friendly sign of yours giving you the chance to tap into Moon Magic and get the energy you want to change your social and romantic life. Is there something missing there?
Pay close attention to the ones you call "brothers and sisters" no matter if you are related to them by blood. These are the ones who can help you move on with your life to next chapters. Read the Complete Astrological Predictions of 2017 ! 
Sagittarius:
A Full Moon of great importance as far as your financial status is concerned. Many things are taking place in this troubled… so troubled area of your life.
Expenses are increasing and you are making everything that's humanly possible to bring some balance in your pockets. However, this might be a great chance to increase your income! A new job? Look for signs! Read the Complete Astrological Predictions of 2017 ! 
Capricorn:
The Buck Full Moon happens in your sign and this is an omen of absolute power! However, great power comes with great responsibility.
During the next days, make sure you are ready for this power which might make you anxious and nervous. Meditate to receive the best from this Moon. Try to remain calm and do not engage in dangerous activities and fights. Read the Complete Astrological Predictions of 2017 ! 
Aquarius:
A Full Moon which happens in the darkest and most secretive place of your heart. This means that all the emotions you thought you've freed yourself are now back, haunting you and your sleep.
Moreover, you may notice a great deal of nightmares or vividly impressing dreams. You are very close to project in the astral plane if you manage to calm yourself. Finally, this is a very important time for you as you will have the chance to get in touch with your emotions! Read the Complete Astrological Predictions of 2017 ! 
Pisces:
This is a very helpful Full Moon when it comes to social circles and friendships. Have you neglected your friends in the past? Maybe you were not that good to them when they needed you? Probably you wanna get in touch with them more?
This is your chance to change all this and become the center of attention! Bring out all your love and sweetness and you are going to attract new interesting people! Excited? You should be! Read the Complete Astrological Predictions of 2017 !