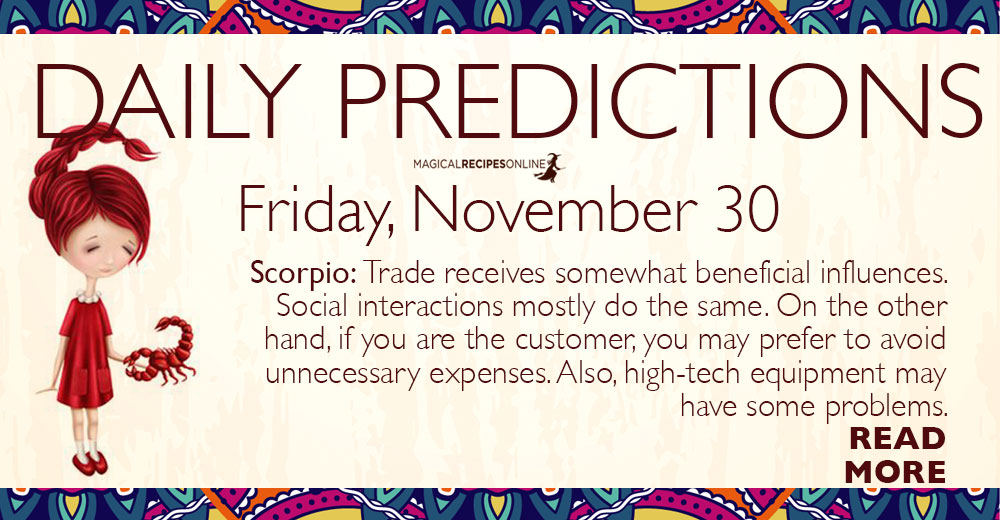 General Daily Predictions: Today, the Moon from Virgo squares the Sun in Sagittarius and opposes Mars and Neptune, both in Pisces. It also form a triangle with Saturn and Pluto, both in Capricorn.
So, this is going to be a mostly difficult day.
Daily Predictions for Aries:
Work receives some beneficial influences. If there was some uncertainty there, now it becomes more secure. Nonetheless, this is quite a stressful day and, also, your health needs some attention.
Daily Predictions for Taurus:
Love life needs some attention. Also, your kids and your friends can give you some stress. In some cases more than just some. Studies, though, seem easier and mostly pleasant.
Daily Predictions for Gemini:
Family can give you some stress today. Especially your spouse and your parents. Those working in a family business, they'll experience this more intensively. But this tension can help your relationships evolve.
Daily Predictions for Cancer:
Work can be quite tiresome and stressful, today. Especially international trade. Also, health may needs some attention. On the other hand, partners, both business and life alike, seem quite supportive and cooperative.
Daily Predictions for Leo:
This is a good day for work matters. Your income also receives beneficial influences, but money is somewhat stressful, nonetheless.
Daily Predictions for Virgo:
This is a mostly happy day for you. Your home, your family, and especially your parents and your spouse may stress you, though. They can also become discouraging.
Daily Predictions for Libra:
Your health, both physical and psychological, need some attention today. In most cases things are not as bad as you experience them, but do take a proper care of it.
Daily Predictions for Scorpio:
Trade receives somewhat beneficial influences. Social interactions mostly do the same. On the other hand, if you are the customer, you may prefer to avoid unnecessary expenses. Also, high-tech equipment may have some problems.
Daily Predictions for Sagittarius:
Most business and career matters receive beneficial influences. Your income does so also. Expanding your business, though, as well as starting a new one are not very auspicious. Also, family can give you some stress.
Daily Predictions for Capricorn:
This is a mostly good day for studies and for the arts. Travelling on the other hand, receives mostly stressful influences and so does international trade and whatever has to do with other places.
Daily Predictions for Aquarius:
Meditation is quite promising today, both for understanding yourself and for more creative and healing reasons. On the other hand, money is somewhat insecure, or so you feel about it. Also, computers, smartphones and the like can cause you some expenses. Buying such things if you don't need them right away is not suggestible.
Daily Predictions for Pisces:
This is a mostly good day for taking short-term and relatively small scale decisions about work matters. Deciding on thing that can transform your career greatly isn't advisable. Also, be a bit more careful as about with whom you are sharing your dreams and inspirations, as not everybody will support and encourage you.
Astrology and Magic:
Philtres, perfumes, oils and potions are promising today.
That's all. Have fun and enjoy your day!