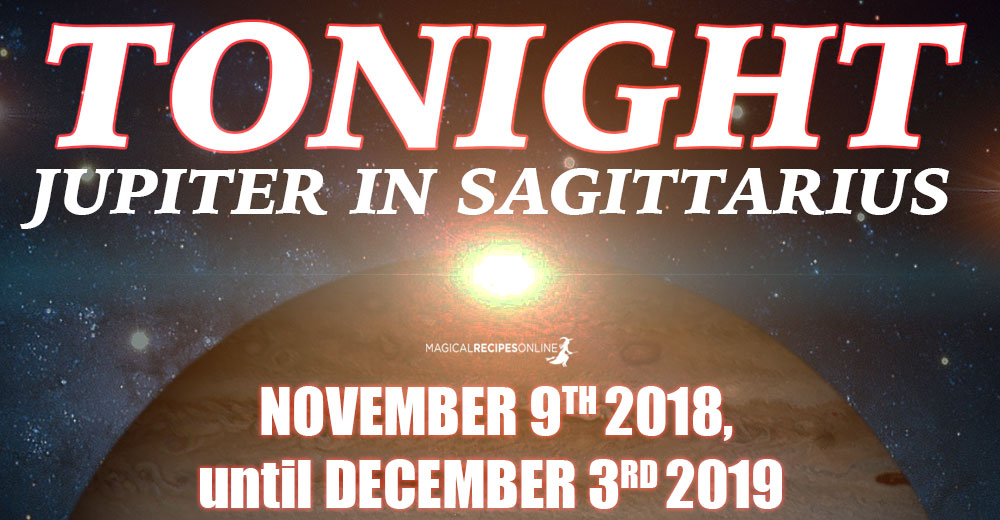 After 12 months from Scorpio, Jupiter has taught us how to handle our libido and tap into our sexual energy and our darkest secrets and passions. Jupiter is a great teach and with him we learn our lessons in the most prosperous and fun way. However, in Scorpio things were not that clear, probably because he wasn't in such good mood with all these retrograde chaos.
Jupiter in Sagittarius 2018-2019
However, as from tonight, Jupiter is in Sagittarius(November 8th-9th 2018, until December 3rd 2019). This is game-changer! Jupiter in Sagittarius feels like home. Thus he is ready to give the world the most of his blessings. This new position will:
Broaden the global awareness towards ourselves, people who suffer and nature.
New medication will be invented in order to give hope who suffer.
A new religion may be founded.
All Spiritual Paths are actually empowered. Spirituality comes back to this world.
Traveling and new means of transportation are favoured!
Aries: A new Era began !
A new day has come today my dear. All the energy of the World is now focused on you personal evolution, your life's goals and your education. You are empowered with an aura of optimism and you feel ready to conquer the world. From today on and for the next year, traveling is favoured as well as contacting people from foreign countries! New goals can be set and old ones are completed. In general, today begins a great year for you!
Taurus: Your Career boosts!
The Realm is changing for you and today you feel it deep inside. Jupiter is helping your professional life with so much more opportunities that you are probably ready to expect. Moreover, there is something inside you that is changing for one year, empowering your life's force and your instincts. You are more passionate and closer to the source of your personal magnetism!
Gemini: Relationships become prosperous!
Today is a very important day for you as Jupiter gets a new position for a whole new year, and that new position is right across your Zodiac Sign in the Seventh Solar House affecting all your relationships. Hence, both your personal and your professional relationships expand the effect on your life. This is a chance to bring harmony and create a steady and fruitful environment.
Cancer: Your Body & Spirit heals!
Today and for the next 12 months, the influence of Jupiter sheds light on your everyday life and your professional life. Your daily habits seem to change, to be empower or you also attract something new. Moreover, your health and your vitality is stronger again! Make sure you start a healthy and balanced diet along with a healthier life-style. This is your chance to detox your body!
Leo: Happiness in your Heart and all over!
The New Position of Jupiter for a whole new year brings good news in your heart and the way you feel about nearly everything. Happiness and satisfaction are the key-words for the next twelve months and god knows how much you need this right now! Flirting, romantic encounter and everything that can bring joy to your life is favoured!
Virgo: The foundations of a better life!
For the next year, Jupiter's new position in Sagittarius is a great opportunity to change things in your home and your family. Somehow, during the next 12 months you will create a steady basis for your future. Everything that has to do with buying or selling property is favoured!
Libra: You are inspired!
The new position of Jupiter creates a vortex of power in your mind and your spiritual powers. You are smarter – if that's possible – and you attract more and more friends who seem to be able to help you especially when they are needed most. Traveling is favoured as well as education.
Scorpio: Cash-out!
Jupiter has just left your zodiac sign who was by your side for a whole year. However, most of you didn't have the chance to feel this 'light' effect of the King of Gods as other, challenging aspects have also been influencing you all this time. Now for the Next 12 Months you will be focused on your financial status and how you can create a steadier and more prosperous future!
Sagittarius: A new & wonderful beginning!
Yeah! Welcome Jupiter in your Zodiac Sign! From today and for the next 12 months, something great is coming. This is your year and this your chance to create the perfect future for you. So don't hold back anymore. It's time to create, risk and live your life. Good luck and prosperous opportunities are already waiting for you. No time to waste!
Capricorn: Your Guardian Angel
Today a circle closes. A circle of 12 years. Where were you 12 years ago? What did you begin? Anyway, today and for the next 12 months, Jupiter's new position has a 'guardian angel' effect. You may not always see it clearly but good luck is by your side although confined by the limits of your perception. Time to get rid of anything unwanted and toxic. Because in one year from now, a great power is coming!
Aquarius: Your social circles expand!
The new position of Jupiter is one of the most wanted for your Zodiac Sign as it empowers you very essence which is interconnected with everyone and everything in this world. Traveling and meeting new and interesting people is favoured as well as attracting influential and wise teachers for your life.
Pisces: Promotion and good news at work!
Today, Pisces, a new era begins for you and your professional status. For the next 12 months you will have the chance to feel ready to reach for a promotion or for your dream job. Opportunities await for you even from today so don't hold back and be ready to focus on the prosperous future of your career!
Astrology and Magic:
Balancing, grounding, aura cleansing and gentle therapies are the most promising practices.
That's all. Have fun, enjoy your day!