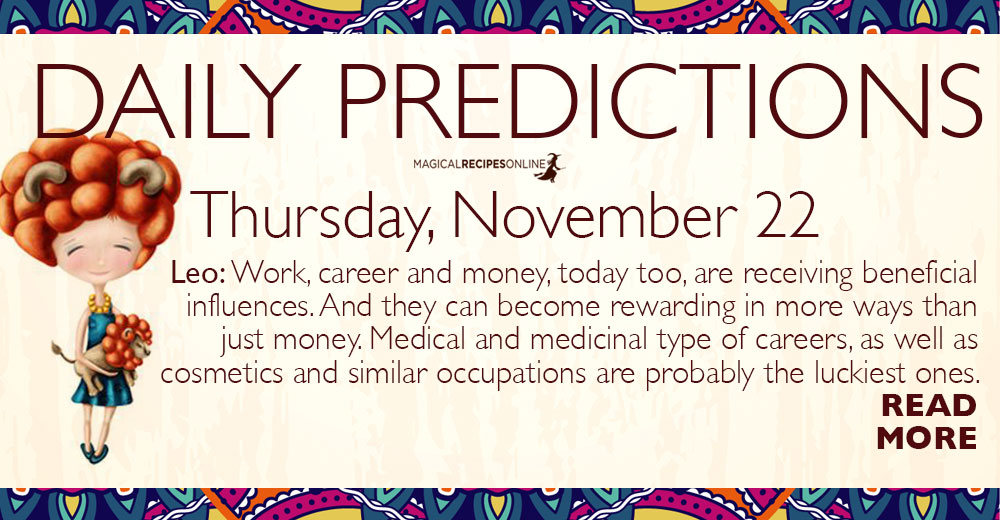 General Daily Predictions: Today, the Moon from Taurus forms a hexagon with the retrograde Neptune in Pisces and a triangle with Pluto in Capricorn. Then from 9:59 UT until 4:11 of the 23rd the Moon will be void of course.
Also, today, the Sun enters Sagittarius.
So this is a mostly good day. More or less a continuation of yesterday, with more focus on what happens inside of us, than what happens around us. The greatest problem of the day is the very long void of course Moon period, which is inauspicious for new contracts and beginnings.
Taurus, Capricorn and Pisces will be the luckiest zodiacs of the day.
Daily Predictions for Aries:
Work and money matters are still supported. Gabling, though, only slightly, today. Also, unless you somehow do it before the void of course Moon period, starting a new business is not advisable, but getting the small details ready for a later time, receives auspicious energies.
Daily Predictions for Taurus:
This is a good day for you, mostly. Less tiresome, than yesterday, most probably. Expanding your social circle and re-enthuse your existing acquaintances on your favour, both receive helpful influences.
Daily Predictions for Gemini:
Your magical powers are quite strong, today. It's also a good day to look inside you and understand what you want from your life and yourself, and this may lead you to answers you may not expect. All careers and career matters receive favourable influences, too, but take in consideration the void of course Moon, if you have the luxury to do so.
Daily Predictions for Cancer:
Colleagues and business partners can become very agreeable, or inspiring. In some cases, both. This influence can manifest even more intensively if your special someone is this colleague or partner. Also, this is a good day for expanding your social circle.
Daily Predictions for Leo:
Work, career and money, today too, are receiving beneficial influences. And they can become rewarding in more ways than just money. Medical and medicinal type of careers, as well as cosmetics and similar occupations are probably the luckiest ones.
Daily Predictions for Virgo:
This day can be even more pleasurable than yesterday. The harmonising energies are still present, but the need of satisfaction is also present today. This can help you avoid compromising in ways that will be unhealthy for you in the long run.
Daily Predictions for Libra:
Health, either yours or of a family member receive positive influences. Those dealing with psychological and mental kind of problems, though, can also feel, a little, the negative side of the Plutonian activity. Also work seems to be both pleasant and rewarding.
Daily Predictions for Scorpio:
Love life is quite lucky, today. Warming up your own feelings for your other half, as well as theirs for you is possible. If they are already warm, this is going to be a very pleasurable day. Also, you radiate a charm, today that can help you find a new love, if you are searching for one.
Daily Predictions for Sagittarius:
The Sun entering your zodiac in a growing conjunction with Jupiter there, is a very auspicious event. A lucky period starts, and it will last until the 9th of December, even when there will be inauspicious aspects affecting your zodiac. Today, with no such aspects, you should be expecting a good and lucky day for all matters. Work and money, even more so.
Daily Predictions for Capricorn:
This is quite a good day for you. Love life receives beneficial influences today. Maybe not as passionate, but more romantic than yesterday. Friends and co-workers can also add to today's general pleasantness.
Daily Predictions for Aquarius:
Money receives some supporting influences. Jobs related to water receive this influence more intensively. Also family, and whatever you consider your place in the world seems to support you, one way or another.
Daily Predictions for Pisces:
Socialising is quite strong today, too. Expanding your social circle is possible. Having a pleasant time with, and nourishing, your current one, though, receives even better influences. Trade, and especially of products of health and beauty, receives quite beneficial influences, as well.
Astrology and Magic:
Charms, perfumes, philtres and magical oils for all purposes, and especially for love matters are quite promising today.
That's all. Have fun, enjoy your day!