Through our series 'Tools of the Craft' we examined in detail the use of Besom, the Witches Broom and of course the Witch's Cup also known as the Chalice. Now it's time to learn more about the Witch Bells.
Tools of the Craft – Witch Bells
Many spiritual traditions utilize Bells in their daily practice. We find ritual bells in Christianity, Hinduism, Buddhism, Shinto and of course Witchcraft. It's actually one of the most common ritual ornaments used for many purposes throughout centuries. But first things first.
As all Tools of the Craft are associated with Elements, so does the Bells. Thus, they correspond to the Element of Air, as they signal a message.
Bells correspond to the Element of Air
What are the Witch Bells
You are probably more familiar with huge bells hanging in churches and temples. Witch bells are really small bells which can be easily lifted by one hand.
Use of the Witch Bells
Although we may find a vast variety of uses of Bells in Spiritual traditions, the most common one is that of communication. By ringing a bell we actually call for something.
Casting the Magic Circle
Witch Bells are extensively used in Casting the Magic Circle. They are passed through the 'four corners' summoning the guardian spirits of the Directions and the Elements. Right after lighting the Candles, Witches pass the bells over the flames, gently ringing them to call out for the spirits's assistance.
Summoning Spirits
Witch bells are used to signal and summon the Spirits in many summoning rituals. Just like Witches, many spiritual traditions use them for this exact purpose. To summon the Spirits we want to work with. It's actually a 'spiritual language' because as we are going to see, as apart from invocation and conjuring purposes we use them to deliver more messages to the Spirit Realm.
When witches create bonds with spirits, they can just use their Witch Bells. Only one gentle ringing can instantly summon their friendly spirit.
Exorcism & Banishing Spirits
In the same way, Bells are used to drive away unwanted spirits. The use of Bells for exorcism is not actually exclusive to witches. Christian churches use spell-like inscriptions on their Bells. For example we can see bells inscribed with messages/spells like this "the sound of this bell vanquishes tempests, repels demons, and summons men".
Witch Bells can be used to drive away unwanted spirits or even to signify to our friendly entities, that our work is done.
>
Breaking Spells, Uncrossing and Dispersing remaining energies
In the same way, after sprinkling some Holy Water over a supposed cursed object, we actually pass the witch bells over it and ring repeatedly. Moreover, as we usually gather much energy in our rituals, we sometimes need to disperse the remaining energy and ground ourselves. In this way we keep a healthy energy balance.
Home Protection
Witches love to hang little bells from their doorknobs to scare away unwanted spirits. Usually they enchant them with spells. You can hang three little bells from your doorknob and chant three times the following spell.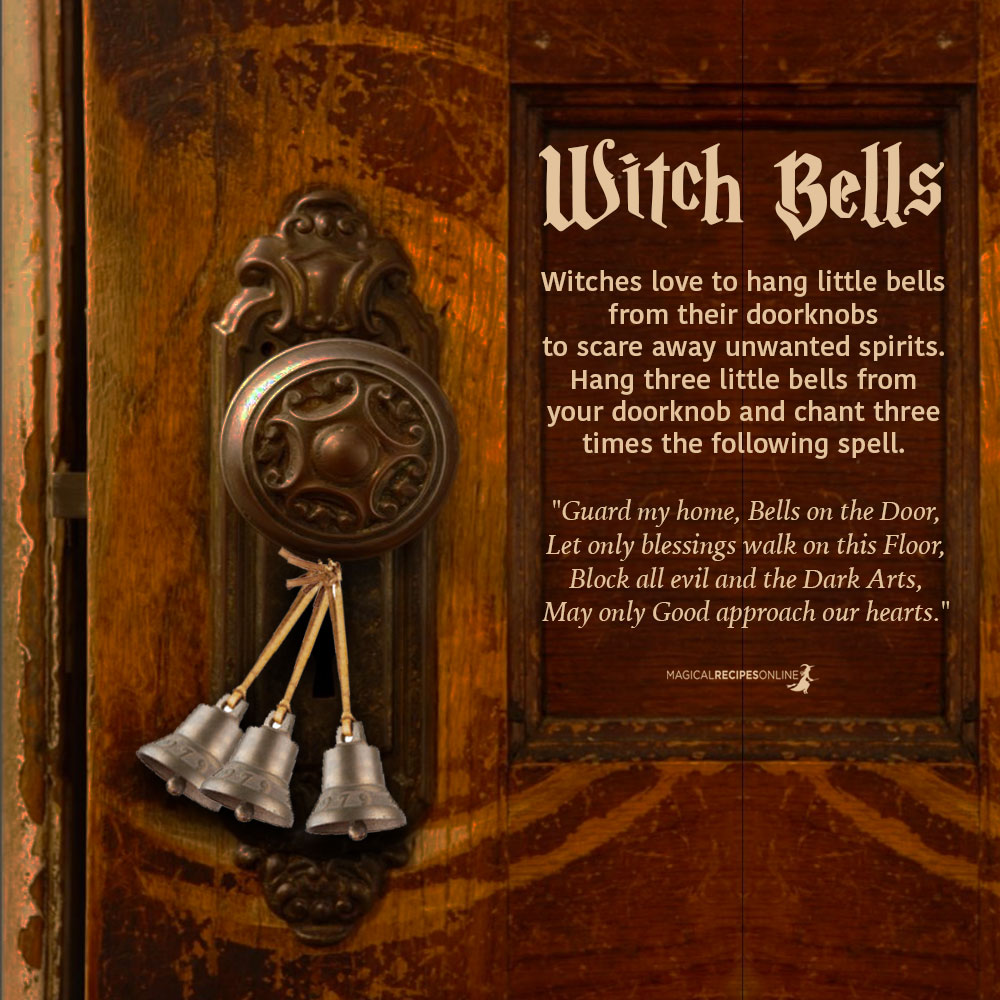 "Guard my home, Bells on the Door,
Let only blessings walk on this Floor,
Block all evil and the Dark Arts,
May only Good approach our hearts. "