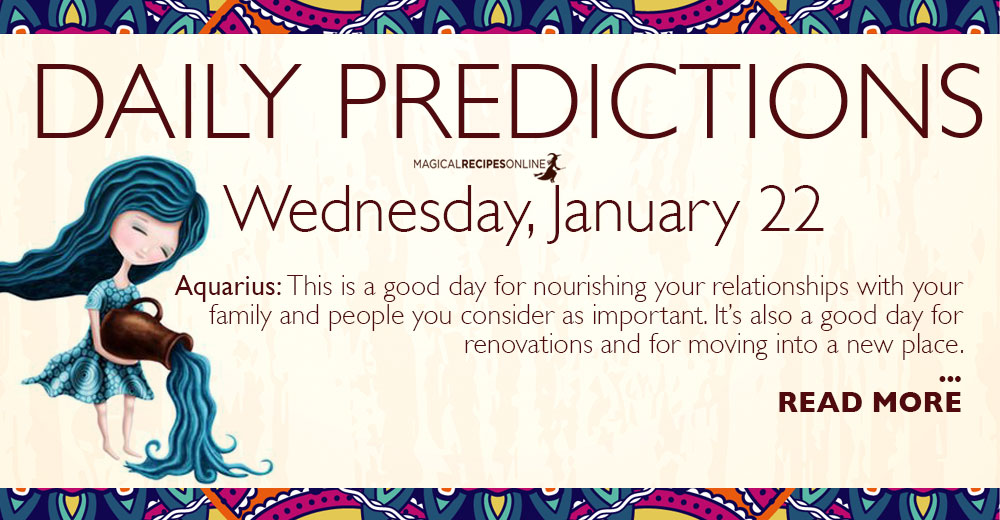 General Daily Predictions: Today, the Moon will be void of course until 05:00 UT. Then, from Capricorn, it forms a triangle with Uranus, in Taurus.
So, this is going to be a mostly good day.
Taurus, Capricorn and, most probably, Virgo will be the luckiest zodiacs of the day. Aries and Cancer will probably be the less lucky ones.
Daily Predictions for Aries:
Work and business matters receive mostly good energies. Money, too receives support. Being a little flexible and innovating in your tactics and methods can be proved quite beneficial, too.
Daily Predictions for Taurus:
Travelling receives some beneficial energies, today. Also, all occupations and avocations of the mins and spirit receive support. Changing schools, teachers and the like is possible and auspicious.
Daily Predictions for Gemini:
Magic and spirituality are quite strong for you, today. Healing, too, is quite strong. Professional healers can have a successful and profitable work day, as well. Also, it's a good day for financial planning.
Daily Predictions for Cancer:
Work can progress quite nicely, today. Partners, colleagues and associates can be more cooperative and helpful than usual, too. Business meetings and similar events can also be quite productive.
Daily Predictions for Leo:
Work and career receive quite beneficial and supportive influences, today. Some things may change, for the best, in your work environment, or routine, too.
Daily Predictions for Virgo:
Love and social life seems quite pleasant, today. Long distance relationships receive even better energies. Also, travelling receives auspicious energies. Especially if it's not for work-related reasons.
Daily Predictions for Libra:
Home and family can play a significant role in your day, today. Repairs, as well as healing problems with your people receive support, too.
Daily Predictions for Scorpio:
Love and social life receive beneficial energies, today. Not as much being with large groups, though, but mostly being with people you consider dear and important. Nonetheless, some additions to this group can take place.
Daily Predictions for Sagittarius:
Work and money matters receive quite good energies, today. Health and beauty related professions can have an even better day. The same is true for online businesses.
Daily Predictions for Capricorn:
This is a mostly good and mostly pleasant day for you, all around. Love and social life receive better energies than professional life. Nonetheless, socialisation can support your work, too. Sometimes, unexpectedly so.
Daily Predictions for Aquarius:
This is a good day for nourishing your relationships with your family and people you consider as important. It's also a good day for renovations and for moving into a new place.
Daily Predictions for Pisces:
Social life can become quite active. Pleasantly and productively so, although, in some cases, equally unexpectedly so. Also, work receives quite good energies and much progress can happen, there.
Astrology and Magic:
Karma cleansing, negative energy cleansing and reversing bad luck all receive a boosting, today.
That's all. Have fun and enjoy your day!