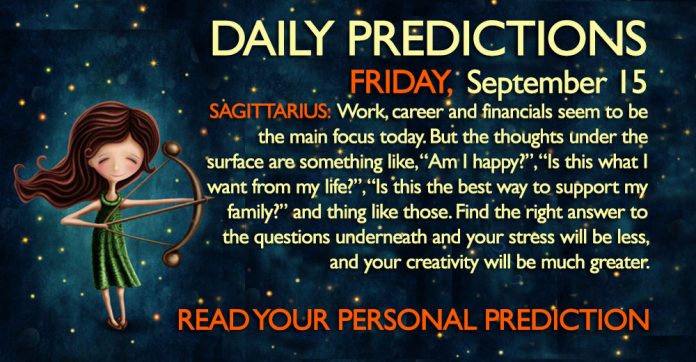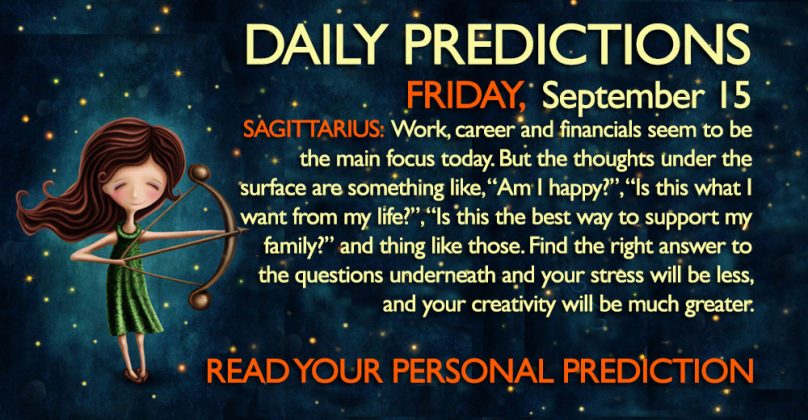 General Daily Predictions: Moon from Cancer will be a little stress-generating today. It will form a hexagon with Sun in Virgo, but it will also oppose Pluto in Capricorn and form a square with Jupiter in Libra and one with Uranus in Aries. These are the bad news. Venus today forms a perfect hexagon with Jupiter. More information about this hexagon you can find in the article about Jupiter's and Saturn's sextile. Remember that even the difficult aspects of Jupiter are usually beneficial, so, I would say that the hexagon's influence is highlighted, stressful, but not malevolent. Thus, I consider this day a good one. Stressed, but good one.
Virgo, and then Capricorn and Taurus will be the luckiest zodiacs of the day. Cancer, Aries and Libra are those who need some extra care.
Daily Predictions for Aries:
Family can be both stressful and supportive. Work proceeds well, but you may feel a little unimportant there. Keep your cool and don't let unimportant things overwhelm your thoughts.
Daily Predictions for Taurus:
Still a happy and social day. Not as social as yesterday. Some appointments may not happen. Some misunderstandings may happen. But overall a happy day for most of you, I believe.
Daily Predictions for Gemini:
Some bad things people think or say about you may reach your ears today. If you think it a little better, you'll realise that this wasn't any surprising in fact. Other than that though, things proceed mostly good. Some challenges may appear, but challenges you can easily overcome.
Daily Predictions for Cancer:
Your self-confidence is still strong and therefore, all things under your control are proceeding mostly good in most ways. Those that are not under your complete control may face some difficulties, but nothing too much.
Daily Predictions for Leo:
Mostly money oriented day. You dream about money, you make plans about it. Some of the plans you have already made seem to go wrong. But, keep in mind that there are other ways to accomplish your financial goals.
Daily Predictions for Virgo:
Socialisation is still a strong tendency of yours today. Not as strong from Universe's point of view, so some of your appointments and plans may never happen today. Internet scheduled meetings can also suffer under this influence. Maybe, even more so.
Daily Predictions for Libra:
Your inspiration about work projects is great. If you have a business of your own you can make or schedule many, beneficial, changes there. If you have partners, then problems may occur. Try to calmly explain to them how you see things. According to the stars, it's not that your partners are against your dreams. It's just that they don't understand your dreams.
Daily Predictions for Scorpio:
If you need to do any research about your job, your studies, or anything else you are focusing on this period, this is a wonderful day to do so. Many useful or inspiring informations may come your way. Some practical difficulties may appear in your job, and some disappointments in your love life. But, as for the latter, don't make haste to feel disappointed.
Daily Predictions for Sagittarius:
Work, career and financials seem to be the main focus today. But the thoughts under the surface are something like, "Am I happy?", "Is this what I want from my life?", "Is this the best way to support my family?" and thing like those. Find the right answer to the questions underneath and your stress will be less, and your creativity will be much greater.
Daily Predictions for Capricorn:
Not as lucky a day as yesterday. A good day, regardless, in most aspects of it. Family members, siblings, cousins, etc, or people you consider as such can cause you some stress and maybe anger. In most of the cases without a good reason in reality. So, keep your silence until you'll have a complete picture of the situations.
Daily Predictions for Aquarius:
Work, routine, and health are all very important today. You may face the need to spend more money or time than you would like to do, but the end result will be pleasant to you one way or an other.
Daily Predictions for Pisces:
A mostly happy day for you. Love life is very favoured, especially for those already in a relationship or a marriage. Singles also receive a great amount of support. Money matters are probably the only really stressful subject of the day. Be optimistic about them, thought.
Astrology and Magic:
Reversing bad luck and wealth and success supporting magic receive the strongest energies today.
That's all. Have fun and enjoy your day.