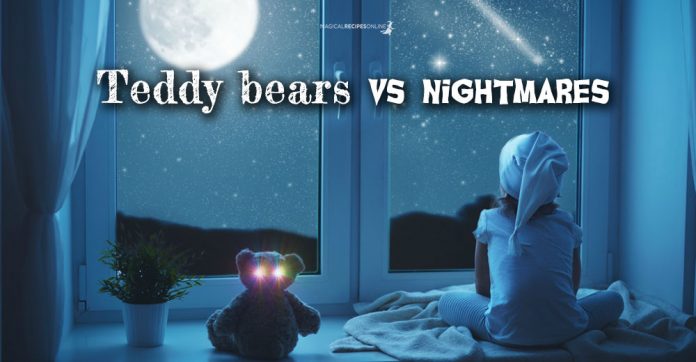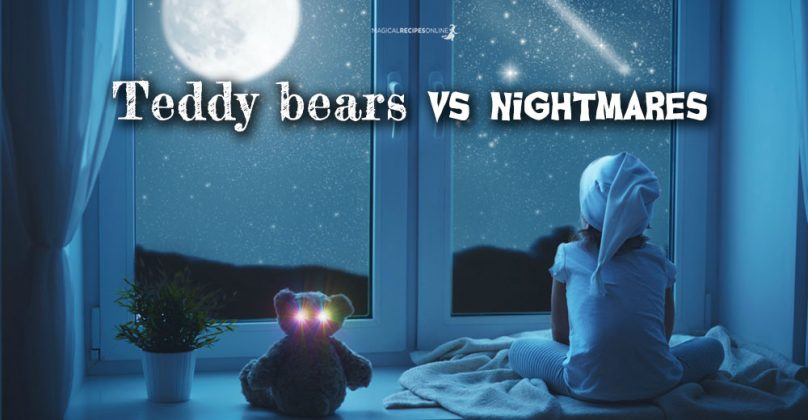 The Fight between good and evil is prehistoric to the point that we all tasted the "fruits" of this war. Once… we were kids and we all remember the "terror" we felt in the night. Shadows moving towards us, chilling emotions on our exposed skins quickly trying to cover it with our blankets. Sometimes running to our parents, crying about the nightmare we've just seen. But we have allies. This a spell about Teddy bears VS Nightmares.
Teddy bears VS Nightmares
You must be thinking, can really be a war of teddy bears vs nightmares? Oh my dear… you can enchant almost ANYTHING you can imagine. In fact, the ancient Priests of Egypt put their enchantments in the most bizarre objects not to attract any attention.
Yes you can enchant Teddy Bears or any kind of stuffed animals or even pillows. Your children (or you) can hug them and feel protected.
You will need for the Spell:
Time: The Night of the Full Moon
Location: Outdoors
Now that you've gathered the ingredients, powder the herbs and mix them together. Put them together in the silver mojo bag along with the amethyst.
Go out (in the woods, on your balcony… wherever you feel safe) and have the ingredients with you. Take the Amethyst and show it to the Moon.
Now chant 9 times: "Glorious Moonlight, shine now bright, send your silver ray, no evil can come this way". 
Put them all together and close the mojo bag. Pour some drops of Moon Water on it. Now place them all inside your Teddy bear, stuffed animal or pillow.
Repeat every Full Moon the chanting, for three Full Moons.
May no nightmare ever come your way!