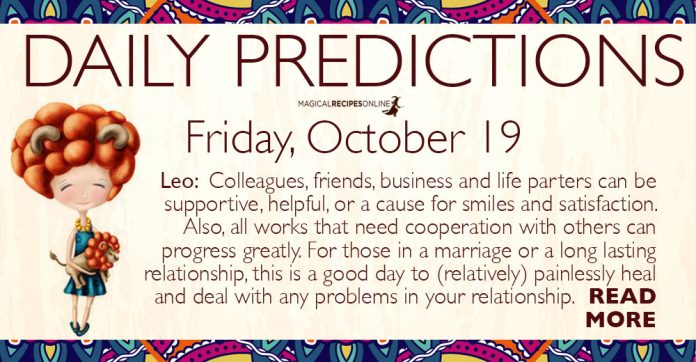 General Daily Predictions: Today, the Moon from Aquarius squares Jupiter in Scorpio and forms a triangle with the Sun in Libra. Then it goes void of course from 12:27 until 20:20 UT. Then from Pisces it forms a hexagon with the Retrograde Uranus in Taurus.
Also today, Mercury from Scorpio accurately trines the Retrograde Neptune in Pisces and squares Mars in Aquarius.
So, this is going to be a mostly good day. Maybe not everything will go perfectly, but most of the difficulties of the day will bring forth the opportunity for even better results.
Libra, Pisces and then Taurus and Libra will be the luckiest zodiacs of the day.
Daily Predictions for Aries:
Anything and everything that needs intellectuality or imagination receive positive and supportive energies today. Also, this is a good day to change or fix your phones, computers and other such devices.
Daily Predictions for Taurus:
Work and career matters are still receiving favourable influences. In some aspects even better than yesterday. Self promotion and dealing with many obligations are some of such aspects. Also, colleagues and partners may still cause you some stress but things are getting done there, too.
Daily Predictions for Gemini:
This is a mostly peaceful and pleasant day for you. As your mind relaxes you are focusing a bit more on work and whatever you want and need to do. They can be discouraging at first glance, but once you start dealing with them, they end up being easier than you thought.
Daily Predictions for Cancer:
Love and sex life still need some care and attention. Today, though, solving problems and misunderstandings there is much easier. Also, work receives some beneficial influences and so does your income and your spouse's income.
Daily Predictions for Leo:
Colleagues, friends, business and life parters can be supportive, helpful, or a cause for smiles and satisfaction. Also, all works that need cooperation with others can progress greatly. For those in a marriage or a long lasting relationship, this is a good day to (relatively) painlessly heal and deal with any problems in your relationship.
Daily Predictions for Virgo:
Work load can be a bit exhausting today, but it won't be so in vain. Also, Money and money management looks good, so opportunities for some extra income or some better deal and things like those can arise.
Daily Predictions for Libra:
This is a very good day for you in most – or all – aspects of it. Love life probably receives the greatest amount of support. The greatest issue of the day is a tendency to overspend in luxuries or unnecessary things. This, try to control.
Daily Predictions for Scorpio:
This day can be a little more demanding and it can awake your insecurities. In the same time, though, it's a good day to go beyond your limitations, where this is what you need. Also, family and your other half are supportive. Finally, love life seems lucky and happy enough.
Daily Predictions for Sagittarius:
This is a good day for trade of all kinds. Of services as well. Also it's quite a communicative day. Not everyone will be agreeable but, more or less, things will proceed in a good way. Also, re-establishing order in your work, place of working and even your home are all possible, at least to a degree.
Daily Predictions for Capricorn:
This is a beneficial day for finances. Both work seems profitable and luck helps, but not so much in gabling. Still, though, overspending isn't advisable and if you need to spend a considerable amount of money, investigate well your options, ask for an expert's advice, or whatever is applicable in your case.
Daily Predictions for Aquarius:
This is still a strong and beneficial day for you. As the day proceeds there is a turn of focus on your finances and most probably this happens for a not so pleasant reason. Nonetheless, it's not a bad day for that matter, either. More unsettling than bad.
Daily Predictions for Pisces:
Both your intuition and your magical abilities are quite strong today. Also, your imagination and your empathy are strong and, therefore, those in a creative line of work, as well as psychotherapists and energy healers will have a successful day. Regardless your occupation, the day can be quite busy and very creative in the same time.
Astrology and Magic:
Good luck, prosperity and – if you are concentrated enough – wish manifestation are quite strong today.
That's all. Have fun, enjoy your day!