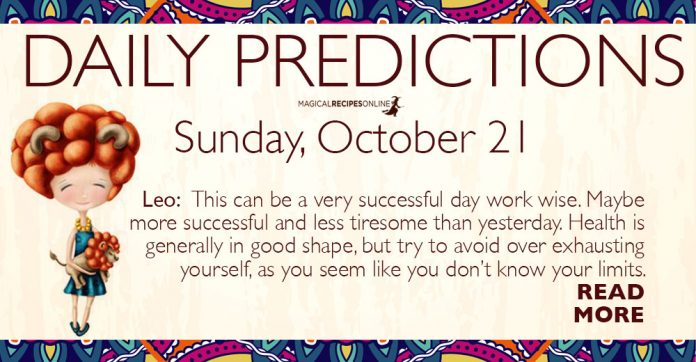 General Daily Predictions: Today, the Moon from Pisces conjuncts the Retrograde Neptune there, forms a triangle with each Mercury and Jupiter, both in Scorpio, and a hexagon with Pluto in Capricorn. Finally, from 23:47 UT, until tomorrow at 06:58 UT the Moon will be void of course.
So, this is a good day. In many ways it will be an even better continuation of the previous. An easier, too. And it is a much stronger day magic wise.
Pisces, Scorpio and Capricorn will be the luckiest zodiacs of the day.
Daily Predictions for Aries:
Today magic is quite strong for everyone and, on top of that, your magical and your spiritual powers are in a very good shape, so do make the most of them. Also, this is a good day for career matters and especially for artists, psychics, psychotherapists and similar occupations.
Daily Predictions for Taurus:
Expanding you social circle is possible, today as well. Also, it's a good day for self promotion and for trade, especially international trade. Studies also receive good vibes, although your attention may not be that focused.
Daily Predictions for Gemini:
All work and career matters and issues receive a good amount of support and good luck today. Money, too, so it looks better than yesterday. Also, those working on becoming more famous should make the most of this day.
Daily Predictions for Cancer:
Today is also a good and pleasant day for love issues. Also, attending weddings is possible. Learning pleasant things for the love life of friends and maybe your kids, is also possible. Also, Travelling is auspicious.
Daily Predictions for Leo:
This can be a very successful day work wise. Maybe more successful and less tiresome than yesterday. Health is generally in good shape, but try to avoid over exhausting yourself, as you seem like you don't know your limits.
Daily Predictions for Virgo:
This is a good day both for those in a relationship and for those seeking one. Friendships can evolve into something more, in some cases. Also, your friends' and siblings' love life can bring you some joy.
Daily Predictions for Libra:
Work and especially money matters receive much support from the stars, today. So does health, both yours and your family's. Also, it's a good day to take care of your home's needs and for searching for a new place of living, if that's what you want.
Daily Predictions for Scorpio:
This is probably a very good day for you. Finding new friends and lovers is possible. Reconnecting with those you have lost contact with is also possible. But even other than those, this day will give you a few reasons to smile.
Daily Predictions for Sagittarius:
Family is supportive. Family and home based business can have a profitable day. Also, this can be a very creative day for those employing their imagination, although it can be more active than you can handle.
Daily Predictions for Capricorn:
This can become a very social day for you. Maybe even without your effort. And this socialising can become a source of success. Also, trade of all kinds receives beneficial influences.
Daily Predictions for Aquarius:
All career and money matters look good today. It's also a good day for decision making on the matters, and for expanding your business, or deciding your strategy.
Daily Predictions for Pisces:
For you, this is certainly a better day than yesterday. Travelling and moving to an other country is quite auspicious. Dealing and connecting with people and organizations from other countries, whether it's for personal or professional reasons is favoured.
Astrology and Magic:
All magic is strong today. Especially success magic.
That's all. Have fun, enjoy your day!