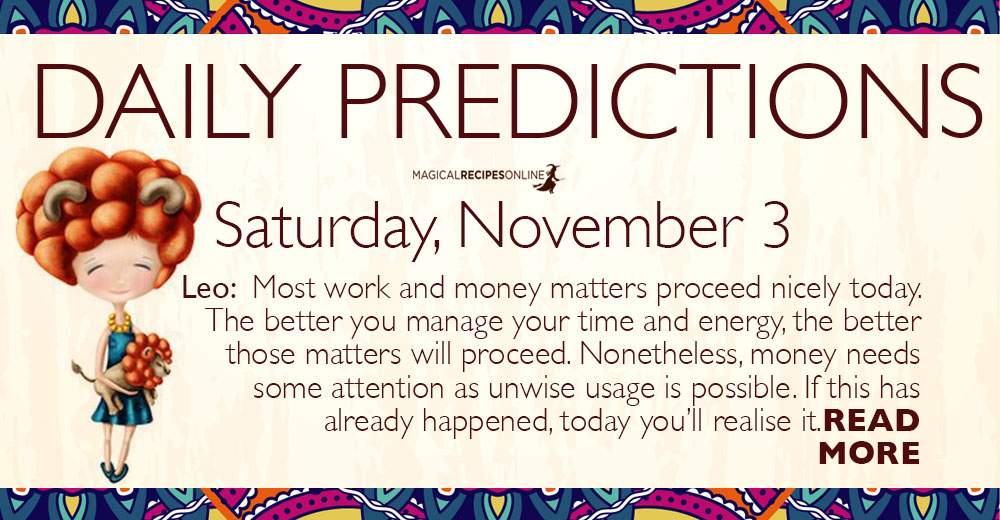 General Daily Predictions: Today, the Moon from Virgo opposes the Retrograde Neptune in Pisces and trines Pluto in Capricorn.
So, the day will have its good and bad points. As always, the extra focus on Pluto can awake negative mental and emotional conditions, despite the fact today it's a beneficial one otherwise. Therefore, make sure to support yourself and your mood.
Capricorn and probably Taurus will be the luckiest zodiacs of the day. Pisces and probably Cancer will be the ones receiving the most stress.
Daily Predictions for Aries:
Psychological health and well being needs some attention. You can also get overly stressed quite easily today. On the other hand, all work and career matters proceed quite well, even if – occasionally – not very easily so.
Daily Predictions for Taurus:
This is a mostly joyful day for you. Party like events and excessive socialisation may tire you, or even it can become annoying, but other than that, things look good. Students can have a pleasant day in relation or not with their studies.
Daily Predictions for Gemini:
This is a good day to dedicate to your family and other important to you people. Bonding deeper and resolving problems in your relationships with them are both possible. On the other hand, business matters can become a bit stressful. Neighbourhood and neighbours can also unsettle you somehow.
Daily Predictions for Cancer:
This can become quite a social day, and pleasantly so. Friends, your other half and even your colleagues and partners want to be in your company. Nonetheless, business meetings and other similar events can be not that easy and pleasant. They will, most probably, be successful, though.
Daily Predictions for Leo:
Most work and money matters proceed nicely today. The better you manage your time and energy, the better those matters will proceed. Nonetheless, money needs some attention as unwise usage is possible. If this has already happened, today you'll realise it.
Daily Predictions for Virgo:
This is a peculiar day for you. Love life seems quite lucky and pleasant for those seeking a relationship and for those in a fresh one. On the other hand, for those in a steady relationship or a marriage things are not so bright. Nonetheless, overall the day is a pleasant one.
Daily Predictions for Libra:
Your mood is quite sensitive. Work obligations, life's obligations, and possibly your health can stress you somewhat. In most cases more than necessary. Family, though can become quite supportive, and a pleasant company.
Daily Predictions for Scorpio:
This can become a very social day for you. Maybe not as pleasantly so as you would expect, but not really bad either. Also, trade receives very good vibes, whether it's of goods or services. Love life needs some attention, especially for those searching for a relationship as today making the wrong move is quite easy.
Daily Predictions for Sagittarius:
All career and money matters receive beneficial influences. Pharmaceutical, para-pharmaceutical and cosmetic type of businesses will experience these blessings even more strongly. On the other hand, your home and family can unsettle you one way or another.
Daily Predictions for Capricorn:
This can become a very busy day. Maybe in a confusing and tiresome, or stressful way. Nonetheless, it will be a productive day. Personal goals also receive support. Finding ways to learn what you need to learn, or enrolling in schools, classes and the like also receive blessings.
Daily Predictions for Aquarius:
Your magical and spiritual powers are quite strong today. Imagination and inspiration are also quite strong and they can help you a lot in your creative hobbies and jobs. Money, though, can be a bit stressful. Keep a positive outlook about it, as today the Universe listens.
Daily Predictions for Pisces:
This is a sensitive day for you, as your self-confidence and enthusiasm are not very strong. Choosing to be in the company of supportive, or inspiring people won't only affect your mood positively, but it can even benefit your whole day.
Astrology and Magic:
Perfumes, potions, philtres and charms are strong today.
That's all. Have fun, enjoy your day!