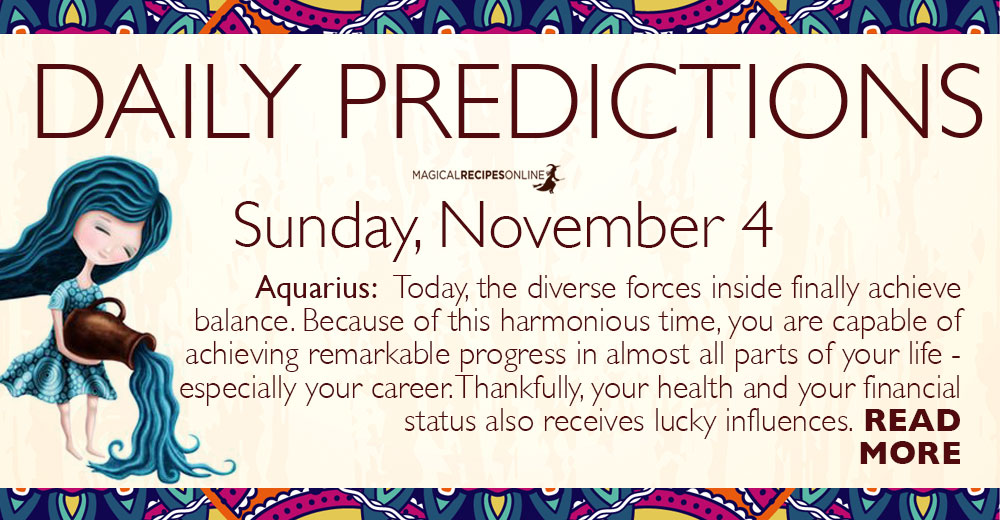 General Daily Predictions: Today, the Moon from Virgo makes two perfect hexagons with Jupiter and Chiron. Later at night the Great Lady will pass in Libra turning our attention towards our relationships and co-operations. This is a day of Healing and overcoming our problems finding amazing ways!
Moreover, Sunday is drenched in the spiritual energy of the Sun trining Neptune. This aspect is extremely favourable for all kinds of spiritual works, spellcasting and rituals as it aligns us with the spiritual world from where we can channel amazing powers!
Capricorn, Virgo and Taurus will be the luckiest zodiacs of the day along with all Water Signs (Cancer, Scorpio and Pisces).
Daily Predictions for Aries:
Everything about your vitality level and your health condition receives your (urgent) attention. However, today, everything seems easier to deal with. A breath of optimism is enough to find solutions that have been bothering your body and your emotions for so long. Spiritual healing is really favoured!
Daily Predictions for Taurus:
What an amazing day that has just begun my dear Taurus. For all I know, this can be a chance to banish sadness and bitter emotions. During the next ours your 'heart' can be healed through joyful meetings and amazing opportunities to hang out with the ones you love. More importantly, good luck is by your side!
Daily Predictions for Gemini:
Today, you tend to focus more on finding peace because let's face it, you've been so much the past months. Therefore, you are advised to rest and invest quality time on doing things you love and hanging out with your family at home. Moreover it's time for healing. Both physical and emotional.
Daily Predictions for Cancer:
This can be such an amazing day for you my dear Cancer as your Governor is in such a great mood today, dancing happily with both Jupiter and Chiron. Therefore, you are destined to see what was going on all this time and find a perfect solution to most of your problems. Interestingly enough, this can also be a great day to meet with friends and people that inspire you!
Daily Predictions for Leo:
Not only you can find solutions in your financial issues, but you can also unblock your wondrous potential by discovering what was holding you back all along. This is an amazing day to attune with the cosmic forces and let them heal you from the inside. Inspiration and Magical powers rejuvenate you.
Daily Predictions for Virgo:
The Moon from your Zodiac Sign, is in such a great mood today my dear. It is highly likely to have an amazing day. Opportunities await to be discovered, as good luck seems to accompany you all the way. Things that happen today, may give you the chance to heal emotional scars of the past. A karmic lesson closes in a good and favourable way. Today you are enlightened.
Daily Predictions for Libra:
Today is a day of emotional healing and vibrating in higher frequencies. The Moon will show you the way to blow some steam and unblock your spiritual potential. Therefore, today you will feel more witchy than before as your are closer to your amazing powers. What spell will you cast today?
Daily Predictions for Scorpio:
Today is an amazing day to meet with friends and rejoice in your social circles. Maybe, you will have the chance to expand them even more and meet new interesting people. Either way, today you feel empowered and capable to explore your horizons even more. Fun, love and laughter awaits!
Daily Predictions for Sagittarius:
Although it's Sunday, you mind is fixed on your professional life and your goals. Today you may have the chance for a major breakthrough in all these parts of your life. You feel empowered, inspired and lucky and this is why you are likely to discover interesting ideas which may change your life forever!
Daily Predictions for Capricorn:
This Sunday is no ordinary day for you. The Moon from Virgo may bring a very interesting opportunity for you that may alter the way you approach your destiny. This opportunity may have to do with education, religion and/or foreign countries and business with people abroad. It is a lucky day for you!
Daily Predictions for Aquarius:
Today, the diverse forces inside finally achieve balance. Because of this harmonious time, you are capable of achieving remarkable progress in almost all parts of your life – especially your career. Thankfully, your health and your financial status also receives lucky influences.
Daily Predictions for Pisces:
This is a very satisfying day for you as the cosmic forces agreed to help you in most parts of your life. For the next 24 hours you will have the chance to heal what needs to be healed. Your mind works in wonderful way as if the spirits are whispering solutions to your ears. You are attuned with the source of all magic!
Astrology and Magic:
Perfumes, potions, philtres and charms are strong today.
That's all. Have fun, enjoy your day!