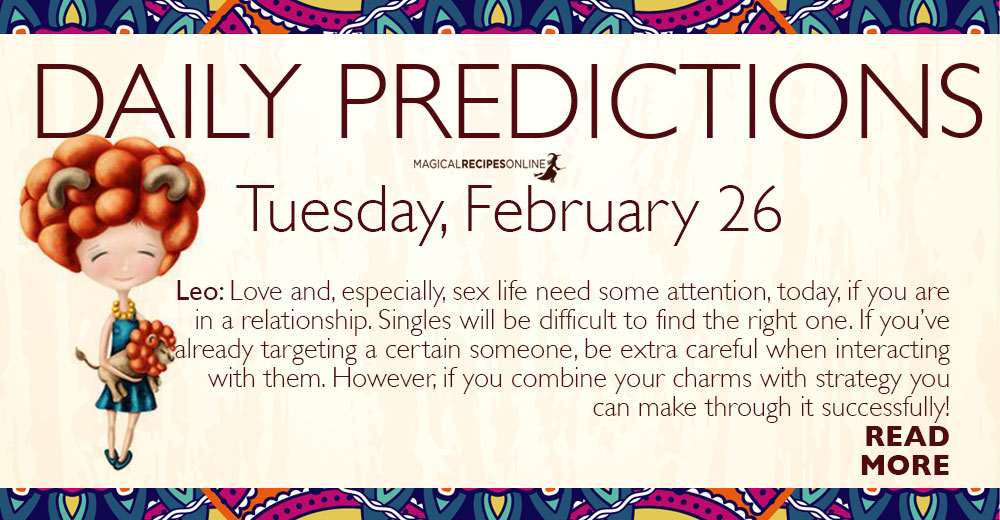 General Daily Predictions: Today, the Moon from Sagittarius squares the Sun in Pisces, forming the Third Quarter
So, this is going to be a somewhat stressful day.
Aries and Aquarius will probably be the luckiest zodiacs of the day. Sagittarius and Pisces will be the ones receiving the most stress.
Daily Predictions for Aries:
Travelling can be a little problematic and stressful, today. Studies and similar occupations can also be stressful, especially if you are doing an important project.
Daily Predictions for Taurus:
Computers, smartphones and the like need some attention and they can cause some troubles. Jobs based on those can become rather stressful, as well. Also, your circle of acquaintances can cause you some stress.
Daily Predictions for Gemini:
Business and career matters can be a little stressful today. If you are going through a job interview, muster your courage and self confidence. A positive outcome is possible, but you'll need to be calm and confident.
Daily Predictions for Cancer:
Work seems somewhat stressful, today. In many cases nothing goes really wrong, though. Just many things don't go exactly how they should. Therefore, a flexible schedule and mind can help a lot.
Daily Predictions for Leo:
Love and, especially, sex life need some attention, today, if you are in a relationship. Singles will be difficult to find the right one. If you've already targeting a certain someone, be extra careful when interacting with them. However, if you combine your charms with strategy you can make through it successfully!
Daily Predictions for Virgo:
Home and family can cause you some stress, today. Your spouse, or special someone can be the centre of it. In most cases a patient and caring attitude can help a lot.
Daily Predictions for Libra:
This can be quite a busy and slightly unlucky day, regarding work and social life. Also, health matters and, mostly, of the legs, the eyes and the brain, can be a little sensitive, or stressful.
Daily Predictions for Scorpio:
This can be a little unlucky and stressful day regarding money. Some unexpected expenses can appear, too, or some expected ones can end up being larger than you were expecting.
Daily Predictions for Sagittarius:
Home and family can give you some stress. In most cases nothing major, though. Just enough to unsettle you. Also, this isn't the best day to start repairs and renovations at home.
Daily Predictions for Capricorn:
This can become quite a stressful day for you. In most cases because of many small things going out of your control instead of something big and bad happening. Also, it can be quite a tiresome day.
Daily Predictions for Aquarius:
High-tech equipment can cause some problems, today. They may malfunction and need repair or changing. If possible, though, avoid doing those, today.
Daily Predictions for Pisces:
Work and career issues can become a little stressful, today. Some unpleasant event, or the thought of it, can trouble your mind, too. Being calm, cautious and optimistic will help. At least, to a degree.
Astrology and Magic:
Reversing bad luck and road opening spells are quite promising, today.
That's all. Have fun and enjoy your day!