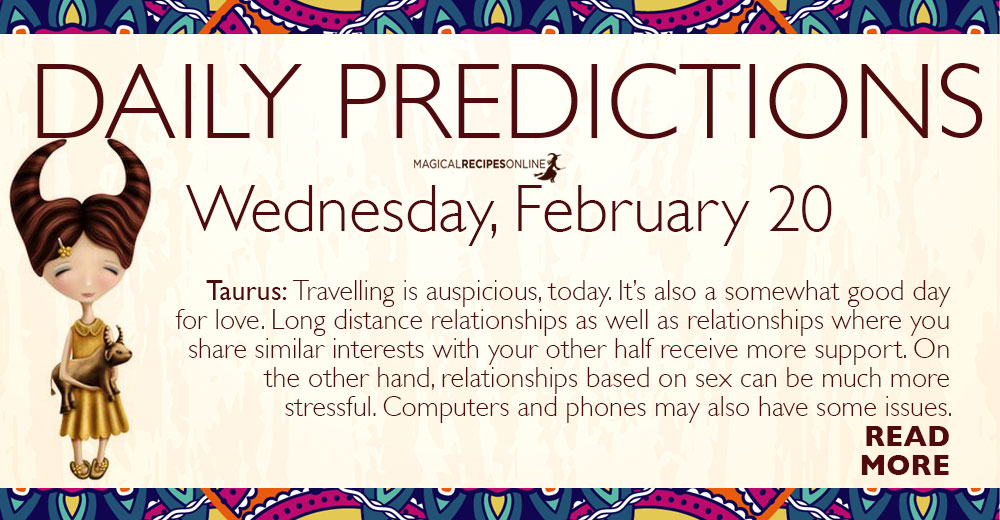 General Daily Predictions: Today, the Moon from Virgo opposes Neptune and Mercury, both in Pisces and squares Jupiter in Sagittarius. It also forms a triangle with each Saturn and Venus, both in Capricorn.
Also today, Mercury's hexagon to Saturn become accurate.
So, this is going to be a mostly stressful day with its good points.
Capricorn and, probably, Taurus will be the luckiest zodiacs of the day. Pisces and Sagittarius will be the ones receiving the most stress.
Daily Predictions for Aries:
Work seems to be the main focus of the day and it does receive enough support. Travelling, though, for work reasons, dealing with other countries and people from other countries as well as important decisions can cause some stress.
Daily Predictions for Taurus:
Travelling is auspicious, today. It's also a somewhat good day for love. Long distance relationships as well as relationships where you share similar interests with your other half receive more support. On the other hand, relationships based on sex can be much more stressful. Computers and phones may also have some issues.
Daily Predictions for Gemini:
Those in marriage or a long term relationship may have to deal with some stress. In some cases, this will be because of external stress, yours or your other half's, entering the relationship. Family can be a pleasant company, as long as they don't have power over your work matters.
Daily Predictions for Cancer:
Work can become quite tiresome. In some cases just as much productive, too. Also, this is a mostly inauspicious day for travelling and trade. Health also receives some stress.
Daily Predictions for Leo:
Work seems to proceed quite nice. Income from work also seems good, but money can become stressful in other ways. Also, financial stress can affect your romantic life, as well.
Daily Predictions for Virgo:
This is a mostly pleasant day for you, at least regarding your personal life and your personal projects. Family and business partners, as well as colleagues can cause you some stress, on the other hand.
Daily Predictions for Libra:
Health and, especially, emotional health and your mood may need some more of your attention, today. Also, communications and transportations can be a bit unlucky and stressful. On the other hand your family and those you consider as such can make your day a much better one.
Daily Predictions for Scorpio:
Trade of all kinds seems to be quite promising, today. There is the possibility that some positive developments can happen there while, in the same time, it won't be just as profitable, though. Also, social life can be either quite pleasant, or quite stressful, depending on whom you are socialising with.
Daily Predictions for Sagittarius:
Most career and business matters receive beneficial influences, today. Especially so when money is concerned. On the other hand, though, starting a new business, and working in a family business or with family members can be quite stressful.
Daily Predictions for Capricorn:
Travelling needs some extra attention and, maybe, preparation, today. Astral travelling is not advisable. Also, international trade can be a little stressful and unlucky. Studies, on the other hand, and whatever job needs a good and clear mind, receive mostly supportive influences.
Daily Predictions for Aquarius:
Magical and spiritual powers are stronger than usual, for you, today. Also, imagination and creativity, artistic and not so, are stronger and more productive. On the other hand, money can become a bit stressful and high-tech equipment can malfunction.
Daily Predictions for Pisces:
Business partners can stress you a little, or more than just a little, today. Also, business meetings can be more bothersome than useful. Your life partner, on the other hand, can be in a good mood and can make your day a better one.
Astrology and Magic:
Meditative techniques, and especially for healing purposes are quite capable, today.
That's all. Have fun and enjoy your day!