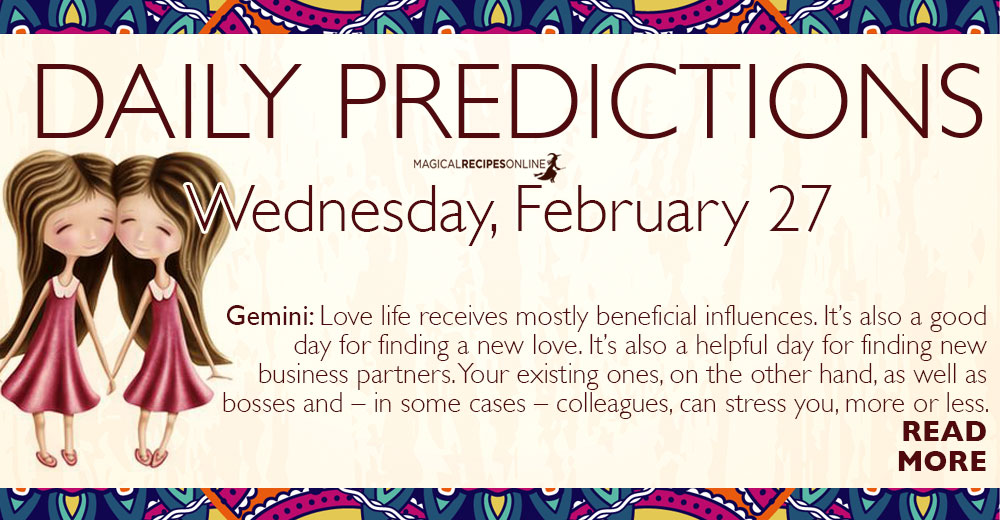 General Daily Predictions: Today, the Moon from Sagittarius squares Neptune in Pisces. It also conjuncts Jupiter in Sagittarius.
So, this is going to be a stressful, but mostly lucky day.
Leo, Aries and probably Sagittarius will be the luckiest zodiacs of the day. Pisces and Capricorn will be the one receiving the most stress.
Daily Predictions for Aries:
Travelling, and especially travelling over water, can be somewhat inauspicious and stressful. Also, self-reflection can become unsettling, but very therapeutic, too. On the other hand, all mental works receive favourable influences.
Daily Predictions for Taurus:
Computers, smartphones and the like still need some attention and they can cause some expenses, or obstacles in whatever you want to achieve. Nonetheless, this is a mostly satisfactory and successful day.
Daily Predictions for Gemini:
Love life receives mostly beneficial influences. It's also a good day for finding a new love. It's also a helpful day for finding new business partners. Your existing ones, on the other hand, as well as bosses and – in some cases – colleagues, can stress you, more or less.
Daily Predictions for Cancer:
Work receives some stressful influences, but, for the most of it, it is proceeding nicely. Luck can also help you, here and there. Jobs and avocations of the mind can be a little more troublesome than the rest.
Daily Predictions for Leo:
Sex life is still not quite right, for those in a relationship, but love life itself is mostly happy. If you are trying to solve problems in your relationship, keep out of the bed, today. Similarly, singles can find someone interesting, but do not rush in bed with them.
Daily Predictions for Virgo:
This is a much calmer day, than yesterday. In fact it can become quite pleasant, too, in some ways. Your special someone, can still cause you some stress, but today it's a great day both for solving problems in your relationship with them and for helping them solving problems in their life.
Daily Predictions for Libra:
This can become quite a productive day. Your enthusiasm, as well as your energy levels can be a little low, or lower than the day demands. Respect your limits. Prioritise wisely and you'll be happy with your day.
Daily Predictions for Scorpio:
Money can be a little stressful, today, but there is much support to it, as well. Earnings, for those whose income depends on the day's work, can be high, or more than you'd expect. In the same time, though, expenses can be many, as well. If you need some financial support, though, today it's a good day to find it.
Daily Predictions for Sagittarius:
You feel quite strong and confident, today, and, this way, you can successfully deal with all the challenges the day may offer you. Progress and successes are also achievable. Nonetheless, your environment can become pressing or stressful. Once again, this, too, will be under your control, though.
Daily Predictions for Capricorn:
There can be quite a stressful day, mostly because things tend to happen in unexpected and unpredictable ways. Therefore, you may feel out of balance, or like you are losing control. In most cases, being flexible can help you see the opportunities the situations offer you. On the other hand, imagination is strong and whatever makes use of it can progress quite a lot.
Daily Predictions for Aquarius:
Repairing and replacing your high-tech equipment, today, still needs some extra attention, but it's not as avoidable as it was, yesterday. In fact, the outcome can end up being better than you'd expect, but it can also cost more than you'd like. Social life, on the other hand, receives quite supporting influences.
Daily Predictions for Pisces:
Work and career matters can keep on causing you some stress, but, at least for the most of it, they are proceeding nicely and receiving much support. Doors of new opportunities may also open before you. If so, be confident, but not careless. Easier said than done, I know, but it's what will help you the most.
Astrology and Magic:
Reversing bad luck and road opening spells, especially for business matters, are strong, today.
That's all. Have fun and enjoy your day!