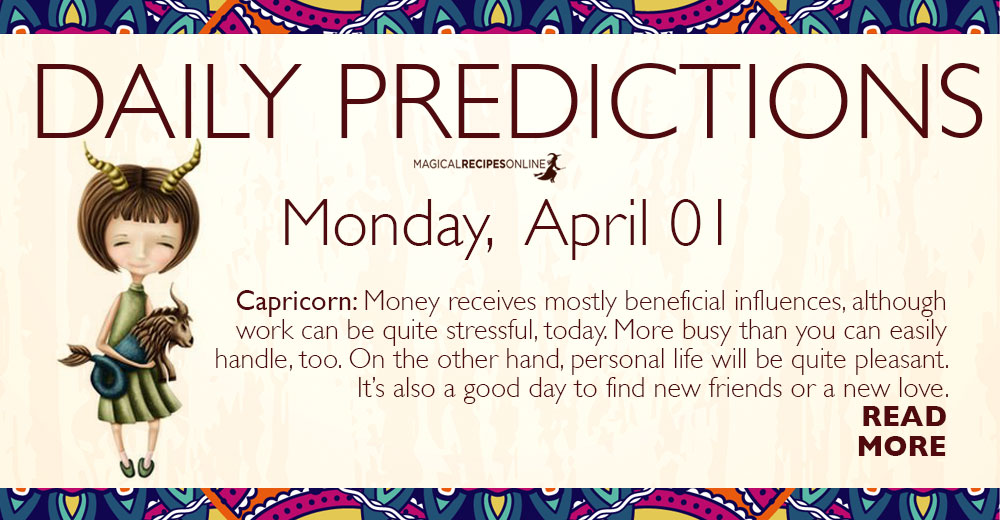 General Daily Predictions: Today, the Moon from Aquarius forms a hexagon with Jupiter in Sagittarius. Then from Pisces it squares Mars in Gemini and forms a hexagon with Uranus in Taurus. Also, from 03:01 UT until 14:48 UT the Moon will be void of course.
So, this will be a mostly good day, with some stressful points. Controlling our carelessness and hastiness, as well as being more careful when on the streets and when we are around fire and metal can help avoid many problems.
Aquarius, Sagittarius and Taurus will be the luckiest zodiacs of the day. Gemini will be the one receiving the most stress.
Daily Predictions for Aries:
Socialisation can be productive and helpful, although, at times, it can also be stressful and annoying. Trade and, especially, international trade receives beneficial influences. On the other hand, travelling needs some extra attention.
Daily Predictions for Taurus:
This is a good day for work and career matters. Business can be successful, too, although, not necessarily money wise. Also, personal projects can proceed and evolve nicely. Expenses and purchases, though, need a second thought.
Daily Predictions for Gemini:
Although this day can become quite stressful, at times, and you may feel people are trying to discourage you, or reject you and your ideas, if you use the information you consciously and subconsciously receive without letting it affect your mood, you can come up with solutions, inspirations and ideas much better than your original ones.
Daily Predictions for Cancer:
Work seems to be nice and successful, today. Health related jobs, as well as trade receive the most supporting influences. On the other hand, studies can be rather stressful, at times, and other occupations and avocations that employ the mind can face some challenges.
Daily Predictions for Leo:
Love life seems rather pleasant and lucky, today. Also, work seems quite successful. Trade, though, can be a little problematic. The internet and your high-tech equipment can cause you some unsettlement, too.
Daily Predictions for Virgo:
Health, both yours and of a family member receives some healing influences. Also, love seems pleasant. It's a good day for discussions with people you share similar interests, too. Business partners and business issues, though, can stress you, a little.
Daily Predictions for Libra:
This is a mostly pleasant day for you. Love life can be happy. Your children can give you some joy, too. Health also receives very good and supportive influences. Your mood, though, can occasionally be a little blue.
Daily Predictions for Scorpio:
Income receives good influences. In the same time, though, your obligations and, maybe, some expenses you didn't expect, can stress you a little, money wise. Also, love receives mostly pleasant and good influences, but sex needs some more care and attention.
Daily Predictions for Sagittarius:
This is quite a productive day. Both work and your hobbies receive this influence. Try to devote most of your time and energy to whatever is more important to you. Health also receives supporting influences. Your other half, though, or your business partners, can cause you some stress. In most cases, nothing more than that.
Daily Predictions for Capricorn:
Money receives mostly beneficial influences, although work can be quite stressful, today. More busy than you can easily handle, too. On the other hand, personal life will be quite pleasant. It's also a good day to find new friends or a new love.
Daily Predictions for Aquarius:
Your mood and optimism are lacking a little. In some cases, because of a not so important cause that affects you more than it should. In fact, most things are proceeding nicely. Work is one of them. It's also a very good day for promoting yourself and your services or products.
Daily Predictions for Pisces:
This is a good day for important career and business decision making. Your mind is quite clear and you are feeling decisive, on top of that. It can also become a very productive day, too. There may be some discouragement coming from your family, or people you trust, but, in most cases, this won't affect you much. Maybe, it annoys you more than it discourages you.
Astrology and Magic:
Success and road opening spells can be quite strong, today.
That's all. Have fun and enjoy your day!