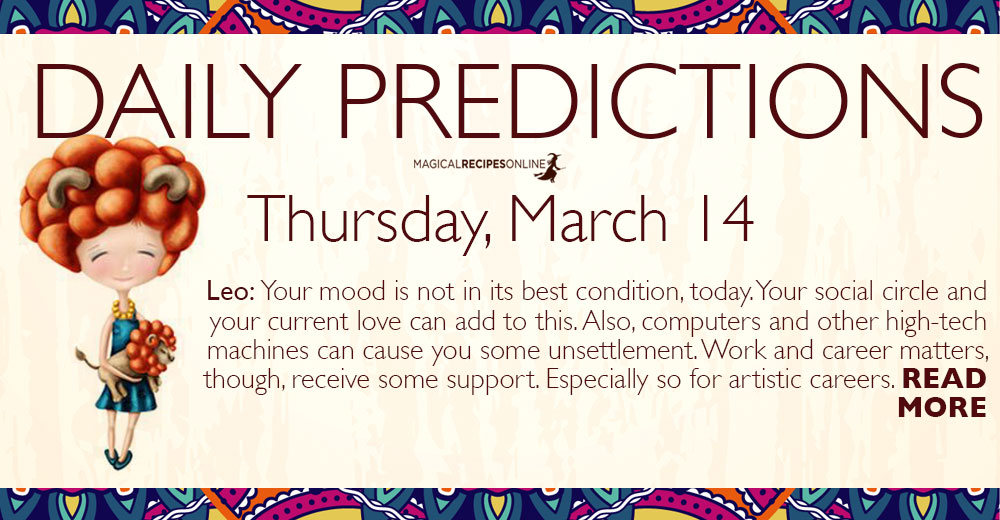 General Daily Predictions: Today, the Moon from Gemini opposes Jupiter in Sagittarius and squares the Sun and the Retrograde Mercury, both in Pisces. Then from Cancer it forms a hexagon with Uranus in Taurus. Also, from 12:30 UT until 21:49 UT the Moon will be void of course.
Also today, the Sun's square with Jupiter becomes accurate and so does Mars' triangle with Saturn.
So, this is going to be a mostly stressful day, that tends to become somewhat better at the end of it. Those in the Eastern Hemisphere will experience the stressful part more intensively, while those in the Western Hemisphere will enjoy the more auspicious part of the day for a longer time.
Cancer and Taurus will be the luckiest zodiacs of the day. Gemini, Sagittarius and Pisces will be the ones receiving the most stress.
Daily Predictions for Aries:
Travelling always can be a little problematic during a Retrograde Mercury, but even more so, today, for you. Also, there may be some stress or uneasiness. Money though, receives some good energies, as the day proceeds.
Daily Predictions for Taurus:
Finances today receive much stress and, maybe, some bad luck, too. Avoid any significant purchase, whenever possible, and especially of computers, phones and the like. Friends and siblings, though, may help you alter either the situations, or your mood.
Daily Predictions for Gemini:
Work is still quite stressful. Especially so for those running their own business, with or without partners. Money, though, and your intuition about it, are getting better. Internet based jobs will feel this more clearly than the rest.
Daily Predictions for Cancer:
Health can be a little stressful today. Scares about it are more possible than actual significant problems. Work can also be a little difficult. Your self-confident and determination are getting stronger, though, and this can help you overcome the challenges of the day, at least to some degree.
Daily Predictions for Leo:
Your mood is not in its best condition, today. Your social circle and your current love can add to this. Also, computers and other high-tech machines can cause you some unsettlement. Work and career matters, though, receive some support. Especially so for artistic careers.
Daily Predictions for Virgo:
Work and business receive some stressful influences, today. Depending on your good luck is not very advisable, either. Promotion of yourself or your business, as well as studies, receive some supporting influences, too.
Daily Predictions for Libra:
Although work receives some stressful energies and some bad luck, there are some good energies supporting it, as well. The Western Hemisphere will enjoy more of the latter. Travelling, transportations and communications need much of your attention and alertness.
Daily Predictions for Scorpio:
Money matters receive much stress and some bad luck. Love life follows a similar pattern. Probably not an equally strong, though. In fact, existing relationships, as well as finding a new love receive some support, as well.
Daily Predictions for Sagittarius:
Both work and family can cause you some stress, today. Business partners, even more so. Nonetheless, work also receives some supporting influences. Successes in the field are possible, too. Health, also receives some healing energies.
Daily Predictions for Capricorn:
Work receives some stressful influences. Health is also sensitive. Emotional health more so than physical one. Nonetheless, this day brings some good luck, as well. Love life will be benefited by it more than other aspects of your life.
Daily Predictions for Aquarius:
Expenses need some careful consideration. Buying high-tech equipment even more so. In fact, if you can postpone such purchases, do so. On the other hand, work can be both stressful and productive and health receives mostly good energies.
Daily Predictions for Pisces:
Career and business matters can become somewhat stressful, today. Family can also be quite discouraging about such issues and especially if you are trying to start your own business or you are trying to change your career. Friend, on the other hand, can become quite supportive, or, at least, a pleasant distraction.
Astrology and Magic:
Healing and changing of all kinds are strong, today.
That's all. Have fun and enjoy your day!