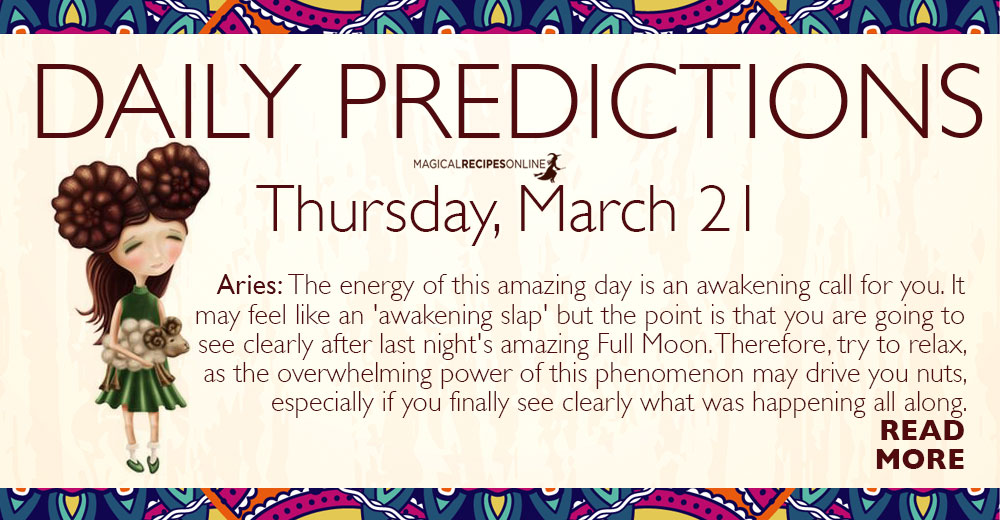 General Daily Predictions: Today, the Moon is still Full. The Energy of this great astrological phenomenon is still affecting the next day and tomorrow.
Full Moon and Spiring Equinox is here and the cosmic forces have been awakened. Do you feel them too?
Daily Predictions for Aries:
The energy of this amazing day is an awakening call for you. It may feel like an 'awakening slap' but the point is that you are going to see clearly after last night's amazing Full Moon. Therefore, try to relax, as the overwhelming power of this phenomenon may drive you nuts, especially if you finally see clearly what was happening all along.
Daily Predictions for Taurus:
Your soul is awakened. For the past weeks you've been living a life that has raised a lot of tension and anxiety. However, now it's time to look at your everyday life and start the healing process. Something that you're doing as a habit may have already cost you a lot of vital energy. Time to change that.
Daily Predictions for Gemini:
What an interesting day for you dear Gemini. Although your governor's backwards course is still slowing down your dreams and goals, it seems that the Universe has blessed you with days of emotional satisfaction and pleasure. So keep an eye on opportunities to have fun, and find inner peace.
Daily Predictions for Cancer:
You are the sons and daughters of the Moon. So during this cosmic storm you were the first ones who felt it. Full Moon actually affects your home and your family predicting changes and news in that part of your life. Redecoration? Changing Address? Something about the member of your family?
Daily Predictions for Leo:
The Sun, your powerful governor has just passed through the shadows and welcomes you to rejoice in the light part of the year. The full moon shows you that your mind is what can inspire or trap you. Use your skills to find solutions and not make things worse.
Daily Predictions for Virgo:
It's about the money right? Well no, it's not. Although the Full Moon brings news related to your financial situation you need to make sure that magic of the Moon will help you exceed the limitations brought from your energy blocks. Unleash your potential!
Daily Predictions for Libra:
The Full Moon occurring in your zodiac sign is an omen for growth and evolution. It's true that Magic runs in you kinda weird the last days. Make sure you meditate enough and see what is holding you back. Nevertheless, it's a great opportunity to leave your troubles behind and move forward. That's the only way.
Daily Predictions for Scorpio:
Your soul is awake and weird messages are incoming. Trying to decipher them may be a bit tricky due to the excessive energy of the day. However, you can use the help of Retrograde Mercury and dig deeper in your soul, for the secrets have been awaiting for you so long. Don't keep them waiting any longer. Learn the truth.
Daily Predictions for Sagittarius:
The Magic of the Full Moon is focused on expanding your horizons through your social circles. You have a magical ability attracting people around you, and this full moon helps you make it even more intense. What are these people trying to teach you?
Daily Predictions for Capricorn:
Magic is all around you dear Capricorn and this Equinox makes it more intense in your home. It's a clear message that you need to focus more on this part of your life. Change the things that need to be changed. Focus on Rebirth!
Daily Predictions for Aquarius:
Now it's time to make things right, and resume on your goals and your long-term plans. The energy of the Full Moon can help you evolve in unimaginable ways. Moreover, anything related with education or travels is also favored and your opportunities multiplied!
Daily Predictions for Pisces:
Today, your financial status is still under Full Moon's magnifying glass. Therefore, any focus on this subject is prone to exaggerate the possible issues, drastically affecting your judgement. Please, make sure you breathe and calm down!
Astrology and Magic:
Long term wish manifestation is quite capable, today. Also, speeding up situations is possible.
That's all. Have fun and enjoy your day!