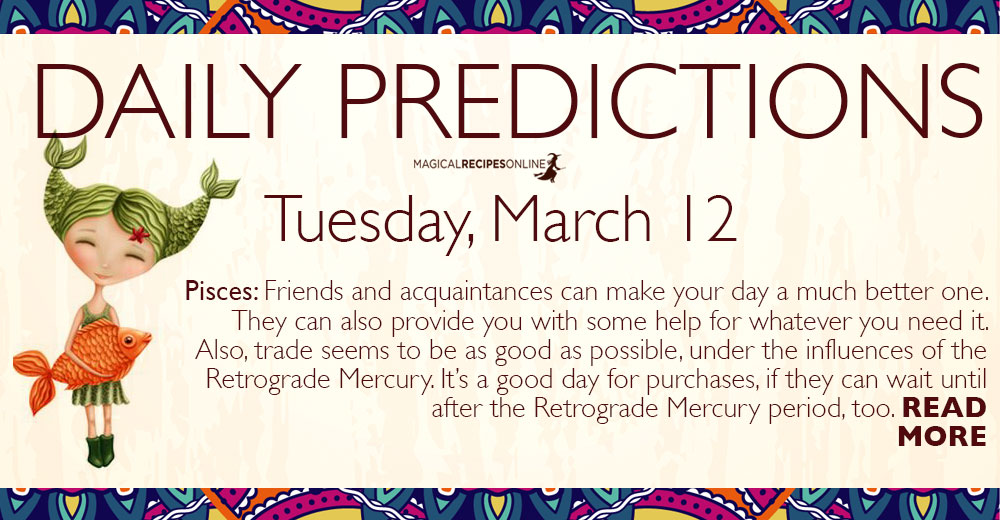 General Daily Predictions: Today, the Moon from Taurus forms a triangle with Pluto in Capricorn and a hexagon with the Retrograde Mercury in Pisces. Also, from 09:31 UT until 15:48 UT it will be void of course.
So, this is going to be quite a mostly good day. The Plutonian hyperactivity, though, can challenge our mood to some point, but not too much, since today's aspect is an auspicious one.
Taurus Capricorn and Pisces will be the luckiest zodiacs of the day.
Daily Predictions for Aries:
This is a mostly good day for all all work and money matters. There is some support for gambling luck, too. As always, though, do remember that the stars don't guarantee your wining.
Daily Predictions for Taurus:
This can become quite a good day. Quite a productive one, too, and, most probably, in a more relaxed way than you'd think. Studies and similar occupations receive some support, and so do selling, and buying.
Daily Predictions for Gemini:
Magical and spiritual abilities are still quite strong for you, today. Also, this is a good and successful day for almost all career matters and for job hunting.
Daily Predictions for Cancer:
Business meetings and similar situations can become a little stressful, at times, but they will be productive. Also, your other half, or other important people of your life can make your day a more brilliant one.
Daily Predictions for Leo:
Work and career matters receive much support, today. Money does the same, just not as strongly. There may be some stress regarding these matters, too, but things will end up better than you may fear.
Daily Predictions for Virgo:
Love still receives mostly beneficial influences. Also, friends can give you some joy. In many cases, because of their love-life news. Work, in comparison to yesterday, is much more harmonious.
Daily Predictions for Libra:
Health issues, both yours and of a family member receive good influences, today. Also, all forms of healing, including medicines and operations, can become much more effective and beneficial.
Daily Predictions for Scorpio:
Love life still receives good influences. Things are calming down, though, as the day proceeds. In most cases, though, in a pleasant and satisfactory way. Those in a relationship will probably feel more connected with their other half.
Daily Predictions for Sagittarius:
Work receives some support. Money, too. It's probably a gentle, rather than a spectacular, kind of blessing. Therefore, you'll experience it more if you do your best. Family's health issues also receive some supporting energies.
Daily Predictions for Capricorn:
This is, too, a mostly pleasant and a mostly lucky day, for you. This influence may calm down a bit, as the day proceeds, but, overall, the day will be a good one, in most aspects of it.
Daily Predictions for Aquarius:
This day is a mostly pleasant one. It can be a little more stressful in its beginning, but it will become better as the day proceeds. Financial matters receive some help, where there are problems there to take care of.
Daily Predictions for Pisces:
Friends and acquaintances can make your day a much better one. They can also provide you with some help for whatever you need it. Also, trade seems to be as good as possible, under the influences of the Retrograde Mercury. It's a good day for purchases, if they can wait until after the Retrograde Mercury period, too.
Astrology and Magic:
Meditation, visualisation, philtres, potions and charms for all reasons are very promising, today.
That's all. Have fun and enjoy your day!