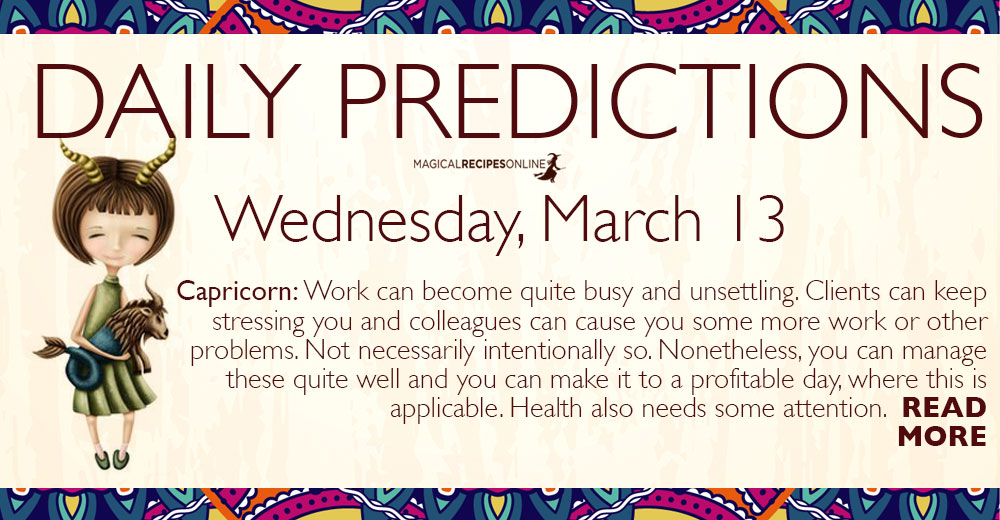 General Daily Predictions: Today, the Moon from Gemini squares Neptune in Pisces. It also forms a triangle with Venus in Aquarius.
Also today, the Sun's hexagon to Pluto becomes a precise one.
So, this day will have its good and stressful points. The way we perceive the stressful ones, how much we allow them to affect us and, of course, how we respond to them, will determine to a significant degree whether this will be a mostly good or a mostly stressful day.
Aquarius, Libra and, possibly, Gemini will be the luckiest zodiacs of the day. Pisces and, then, Cancer and Scorpio will be the ones receiving the most stress.
Daily Predictions for Aries:
This can be quite a busy day workwise. There may be some stress about it and some difficulties may appear. In the same time, though, it will be a a productive day, as well. Also, social life is quite pleasant.
Daily Predictions for Taurus:
This isn't the best day to buy high-tech equipment, or make other significant purchases. Also, your existing high-tech equipment can act oddly. On the other hand work and career matters receive much support, and earnings seem to be good.
Daily Predictions for Gemini:
Work can become quite stressful, but, in most cases, calming down and rethinking the situation can help you make things much better. Also, there may be some worries about your social status, or your place in your world. On the other hand, artistic occupations and hobbies, religious and spiritual ones, as well as studies can give you much pleasure.
Daily Predictions for Cancer:
Your thoughts and feelings are quite important, today. They tend to be somewhat more negative than usual. Even small causes can produce great stress. Control this, and things will be much better. On the other hand, love seems pleasant, and friends and relatives give you much support.
Daily Predictions for Leo:
Partners, colleagues and the like, as well as your other half, seem to be quite helpful and supportive, today. Also, this is a good day for discussing and solving issues and problems with them. Money, though, need some attention. This isn't the best day for big purchases and, also, it's not a supportive day for trade of any kind.
Daily Predictions for Virgo:
Work and career matters proceed quite nicely, today. Careers of health and arts receive even better influences. Business partners, though, bosses, and, in some cases, the law can unsettle you one way or another.
Daily Predictions for Libra:
Health can cause some stress. In most cases, though, things look worse than they are. Mental and emotional health can be a little more difficult. Of course, in any case, seek a professional therapist's advice. Other than that, this is a mostly pleasant day. Friends, co-students and people who share similar interests with you, can make it an even better one.
Daily Predictions for Scorpio:
Love and sex life doesn't seem to be very satisfactory, today. Some unpleasant, or unlucky, events may happen, too. On the other hand, family and people you consider as such can both support you and make you happier. Small-scale redecorations and renovations of your place of living receive auspicious influences, too.
Daily Predictions for Sagittarius:
Friends, life partners, colleagues and business partners can make your day a much easier and much more pleasant one. Also, it's a good day for finding employees and other people you want for some job, project and the like. Applying for a job is also auspicious. Your family, though, can stress you somewhat, and if you have a problematic relationship with your spouse, things can become a little tense with them, as well.
Daily Predictions for Capricorn:
Work can become quite busy and unsettling. Clients can keep stressing you and colleagues can cause you some more work or other problems. Not necessarily intentionally so. Nonetheless, you can manage these quite well and you can make it to a profitable day, where this is applicable. Health also needs some attention.
Daily Predictions for Aquarius:
Money can be a little stressful. Spending it unnecessarily and in luxuries is not recommended. Other than that, though, this is a mostly pleasant day, for you and you can achieve some progress on whatever you are trying to achieve. Love is also pleasant and somewhat lucky.
Daily Predictions for Pisces:
Family and people you consider as such can give you both pleasant and stressful moments. In most cases, healing relationships with them and making them better and deeper receives mostly supportive influences. Asking for their support and enthusiasm receives mostly stressful ones.
Astrology and Magic:
Love magic and especially love charms are quite promising, today.
That's all. Have fun and enjoy your day!