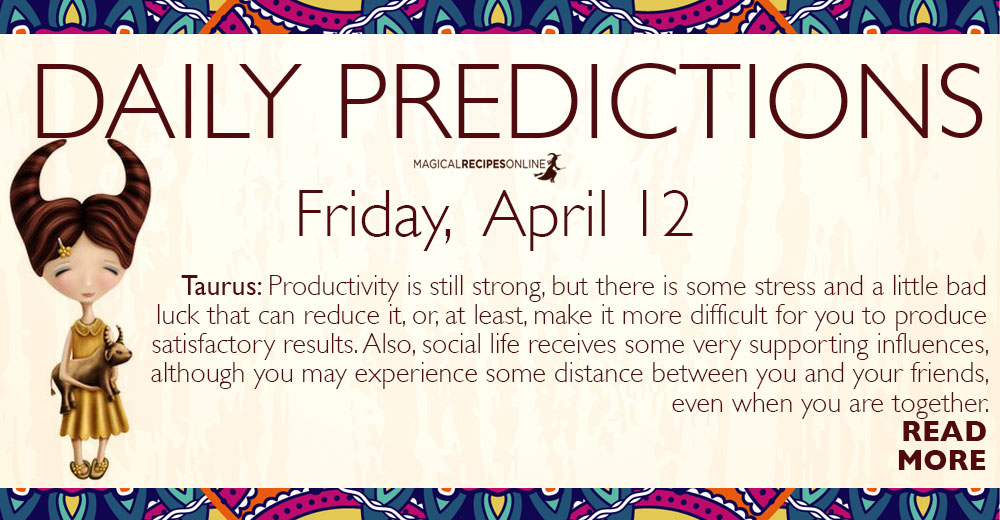 General Daily Predictions: Today, the Moon from Cancer opposes Saturn and Pluto, both in Capricorn and squares the Sun in Aries. It also forms a triangle with each Neptune and Venus, both in Pisces.
Also today, Mercury accurately squares Jupiter, and Venus' hexagon with Jupiter becomes accurate, too.
So, this will be a difficult day.
Pisces will be the luckiest zodiac of the day. Capricorn and Aries will be the ones receiving the most stress.
Daily Predictions for Aries:
Family can stress you a little, but, in the same time, it's a good day to clear misunderstandings and solve issues in your relationships with them. Work can also be somewhat tense. Those working with family members will experience this influences more intensively.
Daily Predictions for Taurus:
Productivity is still strong, but there is some stress and a little bad luck that can reduce it, or, at least, make it more difficult for you to produce satisfactory results. Also, social life receives some very supporting influences, although you may experience some distance between you and your friends, even when you are together.
Daily Predictions for Gemini:
Money can play an important role in your day, today, for good and ill. Both earnings and expenses can come your way. Smartphones, computers and the like can malfunction. They don't necessarily need replacement, even if they look like they do, today.
Daily Predictions for Cancer:
There are many energies gathering on your zodiac, today, both beneficial and stressful ones. Work, seem to be affected the most. It is stressful, but it can become quite good, in the same time. Just focus on making the best of whatever situation there is, instead of expecting a better one to replace it.
Daily Predictions for Leo:
Your moon and your emotional health may need some support, today. Also, studies, artistic jobs and psychotherapeutic ones can faces some stress. On the other hand, your creative imagination is strong, and so are your understanding of others and your spiritual powers.
Daily Predictions for Virgo:
Internet and high-tech can cause you some stress, today. Especially if your job and income is depended on them. Also, love life doesn't feel very lucky. Those in a relationship, though, may have some really good time with their other half, too.
Daily Predictions for Libra:
Work receives mostly pleasant and supporting influences, today. Business partners can cause you some stress. Family can be a little discouraging, or, if you are working with family members, they can cause you some stress, as well. Nonetheless, it will be an overall good day workwise.
Daily Predictions for Scorpio:
Love seems mostly pleasant, today. On the other hand, work can become quite stressful. Teachers and the like can have an even more stressful day, workwise. Also, trade and, especially, international trade can be quite difficult, too.
Daily Predictions for Sagittarius:
Love life receives some stressful influences and some unlucky ones, as well. The latter mostly affects those who are seeking a relationship than those who already are in one. Also, money can become a little stressful. On the other hand, you are feeling confident that you are able to overcome all challenges, and, most probably, you really do that.
Daily Predictions for Capricorn:
Law issues, if you have any, can become more pressing and stressful, today. Divorces are included in to this. Also, business partners and colleagues can stress you. On the other hand, this is a supporting day, if you want to achieve a better balance in your relationship with them.
Daily Predictions for Aquarius:
work can become tiresome and more busy than you feel you can manage. It can also become quite stressful. In the same time, though, it will be satisfactory, successful, ot profitable.
Daily Predictions for Pisces:
This is a mostly good and pleasant day for you. Money, most probably, needs some extra attention, but other than that, things will be good. Also, this is not the most auspicious day for buying computers, phones and the like.
Astrology and Magic:
The whole waxing Moon period is a promising magical period. Even today, healing of body, soul and past experiences is strong.
That's all. Have fun and enjoy your day!