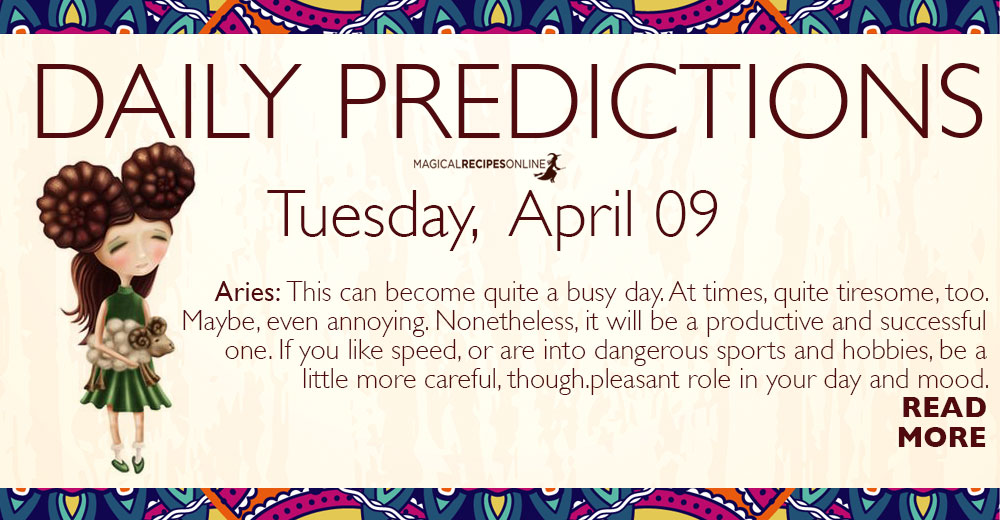 General Daily Predictions: Today, the Moon from Gemini conjuncts Mars, there.
So, this is going to be a mostly good day.
Gemini, and probably Libra and Aquarius will be the luckiest zodiacs of the day.
Daily Predictions for Aries:
This can become quite a busy day. At times, quite tiresome, too. Maybe, even annoying. Nonetheless, it will be a productive and successful one. If you like speed, or are into dangerous sports and hobbies, be a little more careful, though.
Daily Predictions for Taurus:
Money is probably the main focus of the day. It can become a stressful subject, as your needs and expenses may be more that you were expecting. Nonetheless, this is a more helpful than stressful day on the matter.
Daily Predictions for Gemini:
Your energy raises, today. This is a mostly good thing, as it strengthens your self-confidence, your enthusiasm and your health. High blood pressure and feverish conditions, though, may act up a little. And also, some attention is needed in order to avoid the trap of being too confident.
Daily Predictions for Cancer:
Your intuition is quite strong and quite reliable, too. Especially when it comes to decisions regarding your job, your social circle, and whatever has to do with the internet.
Daily Predictions for Leo:
Social life receives some good influences, today. Nonetheless, people who annoy you can become even more annoying, today. Also, this is a good day for all jobs that make use of the internet or technology.
Daily Predictions for Virgo:
All work and career matters receive good and helpful energies, today. Those of you in a higher position may find it easier, today, to influence and inspire those working for them.
Daily Predictions for Libra:
Travelling seems auspicious, although some extra caution on the roads would be advisable, as well. Also, you can achieve some progress, or even a breakthrough, on whatever you are working on, or is troubling you.
Daily Predictions for Scorpio:
Sexual energy seems to be quite strong, today. Therefore, not only your seductiveness is strong, but your self-esteem and self-confidence are also strong. All these qualities can help you in love hunting and in whatever else you are trying to achieve.
Daily Predictions for Sagittarius:
Love life receives some support, and the same is true for all you important relationships, including your professional ones. Nonetheless, already tensed relationships may need some attention, if you don't want to escalate the situation.
Daily Predictions for Capricorn:
Work receives mostly good energies, today. Your organisation skills and your productivity are heightened. Just make sure you won't overestimate your stamina and end up over-exhausting yourself.
Daily Predictions for Aquarius:
Love life seems quite pleasant and passionate, today. Also, it's a good day to indulge in activities you enjoy. Even if this isn't your day off, try to find at least some time for such activities.
Daily Predictions for Pisces:
This day can help you organise your life and priorities, and also to "repair" aspects of your life that needs some effort. Nonetheless, careless and hasty actions can make things worse. Therefore, act, but act wisely.
Astrology and Magic:
The whole waxing Moon period is a promising magical period. Fire magic, today, seems even more capable.
That's all. Have fun and enjoy your day!