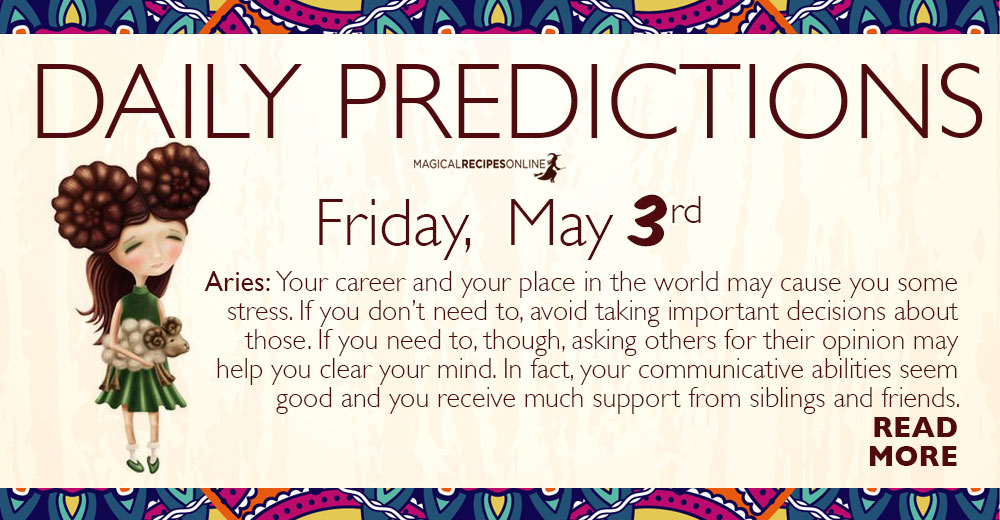 General Daily Predictions: Today, the Moon from Aries squares the Retrograde Saturn and the Retrograde Pluto, both in Capricorn. It also forms a hexagon with Mars in Gemini, a triangle with the Retrograde Jupiter in Sagittarius and conjuncts Mercury, in Aries. Furthermore, from 8:47 UT until 20:18 UT, the Moon will be void of course.
Also today, Mercury's and Jupiter's triangle becomes accurate
So, this will have both its good points and its difficult points.
Sagittarius and Gemini will be the luckiest zodiacs of the day. Capricorn will be the one receiving the most stress.
Daily Predictions for Aries:
Your career and your place in the world may cause you some stress. If you don't need to, avoid taking important decisions about those. If you need to, though, asking others for their opinion may help you clear your mind. In fact, your communicative abilities seem good and you receive much support from siblings and friends.
Daily Predictions for Taurus:
This can become quite a stressful day, as your thoughts tend to focus more on the negatives. Also, studies and whatever employs the mind can be more challenging and difficult. On the other hand, the spirit seems to be very strong and all magical and spiritual abilities are very capable.
Daily Predictions for Gemini:
Trade can become a little challenging. Also, it's not the best day for advertisement. If you are launching a new advertising campaign, nonetheless, try to avoid the void of course Moon. Job interviews cab be stressful, but not necessarily bad. Also, business partners and bosses can be more supportive than you'd expect.
Daily Predictions for Cancer:
Work and career receive both stressful and beneficial influences, so things can become difficult, but, if you handle them calmingly you'll probably have a productive day. Also issues with the law can stress you somewhat.
Daily Predictions for Leo:
Work can be quite stressful, today. Maybe there is an extra load of it. Studies follow a similar pattern. On the other hand, social life seems pleasant. Travelling and love life, also receive mostly supportive influences.
Daily Predictions for Virgo:
This can be a somewhat discouraging day. Mostly because things don't follow your wishes. Also, love life doesn't seem to be lucky. Business and career matters, though, receive more positive energies than stressful ones, so things there are proceeding smoothly, enough.
Daily Predictions for Libra:
Family and family matters can stress you. Your spouse can also do that. On the other hand, close friends, as well as colleagues and business partners seem to be more cooperative and supportive than usual.
Daily Predictions for Scorpio:
Work can be quite tiresome and stressful, today. You may feel like you are spending too much time and energy meaninglessly. Nonetheless, some success can be achieved. Health receives mostly beneficial influences.
Daily Predictions for Sagittarius:
Money needs some extra attention today. Unexpected expenses may also appear. Obligations you've been neglecting can become pressing, too. Love life, though, receives very pleasant influences and being with friends, or otherwise entertaining yourself, too.
Daily Predictions for Capricorn:
There is much stress coming from within, and your environment adds some more to it, too. Work, nonetheless seems to be productive and not that difficult. On the other hand, it's not the best day for buying a new place of residence. Even less so during the void of course Moon.
Daily Predictions for Aquarius:
This can be quite a demanding and stressful day. Your mood is not in its best condition and so whatever challenges you feels worse than it really is, too. Nonetheless, if you manage to "escape" and have some fun with your friends, things will feel much better. Love life also receives some pleasant influences.
Daily Predictions for Pisces:
Money still is a main focus of the sky. Today there is some stress on it, too. Selling high-tech equipment, working by means of those, as well as your personal ones can face some problems. Nonetheless, overall it's a good day money-wise.
Astrology and Magic:
Wish manifestation, and mostly via Fire Magic seems to be quite promising, today.
That's all. Have fun and enjoy your day!