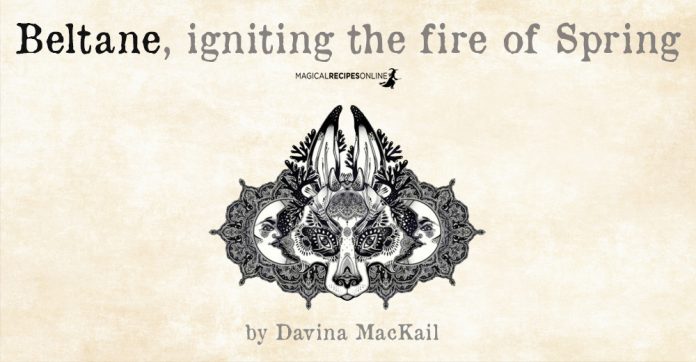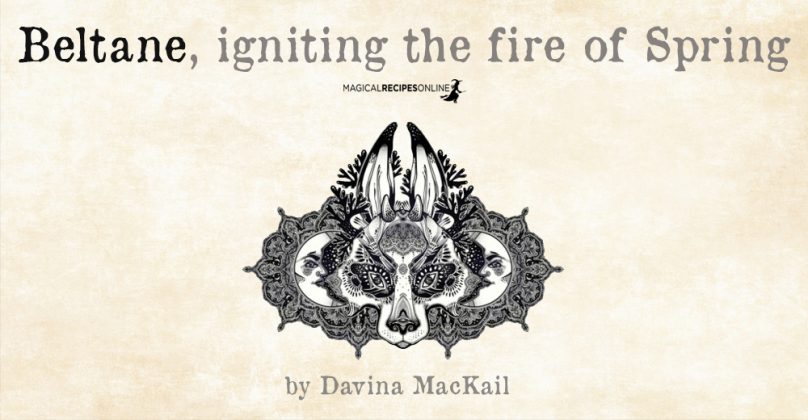 In the northern hemisphere the Celtic pagan festival of Beltane arrives on May 1st. The quarter point between the Spring Equinox and the Summer Solstice. Beltane is about ripeness and fertility. It is time to celebrate the blossoming of summer – to dance and make merry. Bel is a solar fire deity and bonfires are frequently associated with this shamanic celebration. If you're looking to get pregnant, light a small fire in a heat proof pot or even a candle on the eve of May 1st and jump over it with your beloved. Energise the magic with a passionate rendezvous following in the footsteps of the ancient Romans. They celebrated the start of May by paying homage to the goddess Flora, with a three day flower festival of unbridled orgies!
Magic of Beltane
If the blossoms on the trees are not pollinated by the bees they remain barren so our ancestors used this festival to invoke and encourage that fiery, fertile summer energy. On May Day decorate your house with an abundance of flowers to encourage these prosperous energies into your own life. For early risers, ancient tradition records that washing your face in the morning dew on May 1st promotes eternal youth and beauty which sounds far healthier than Botox.
When we pay attention to these natural cycles we can use the energies to assist us to live more in flow and the energies of May are perfect for taking inspired actions towards the manifestation of our dreams. Now is the time to review the seeds we planted earlier in the year. Do our projects and creative ideas need some pollination? Perhaps we need to share our ideas and visions with others or recruit some practical support for our projects.
In the wake of the Scorpio full moon we can expect an emotional few days. Yet the high energies of early summer create a creative and passionate rather than destructive energy. Perfect for intimate liaisons of a romantic nature – although, be warned, Pluto accepts nothing but the truth so relationships that are not working are likely to end at this time. Ride this emotional roller coaster by connecting to the wisdom of your inner shaman and realize that all close relationships teach us about ourselves. Instead of blaming others use Pluto's transformational energy to ask yourself where you also exhibit that bad behaviour with yourself or others. The shaman's way to wholeness is through this recognition of our shadow self. This Scorpionic moon offers that perfect opportunity to take a good look in the mirror of self-awareness.
Beltane Ritual – Kindness Tsunami
To celebrate the official blossoming of summer and the generous, prosperous energy of May let's up the LOVE ante by all practising random acts of kindness – just because we can. Here's some suggestions: Help someone carry a heavy shopping bag, or offer your hard won seat to a fellow passenger on the train. Call a friend for a proper chat or send a small gift in the post. Write your parents a postcard or drop in for a surprise visit. One of my favourites, inspired by the global love letters movement, is the anonymous love letter. Simply write a letter of love and support for some unknown person, sign the letter 'I love you' and place it in an envelope marked "for you". Simply leave the letter somewhere for someone to randomly find. If you're feeling rich you could do the same thing with small sums of money or gift vouchers. For May Day celebrations resurrect an ancient tradition the May Day basket – create small baskets of sweets decorated with flowers and simply leave them anonymously on your neighbours' doorstep. Think what delicious pleasure you will be gifting to someone.
These rituals have a deeper significance in teaching us to learn to give unconditionally especially the anonymous ones. It can bring up our shadow in relation to those unconscious expectations of getting something back, even just a "thank you". But remember a true gift is freely given and as the Q'ero shamans of Peru say "nothing ever goes one way".
So….. let's do this! We're a magical community let's share the LOVE magic. Share with us your random acts and lets start a May Day kindness tsunami…..
Davina MacKail 

Hay House Author, Shamanic Seer, Spiritual Mentor & Educator, Healthy Home & Business Expert, Master Kambo Practitioner