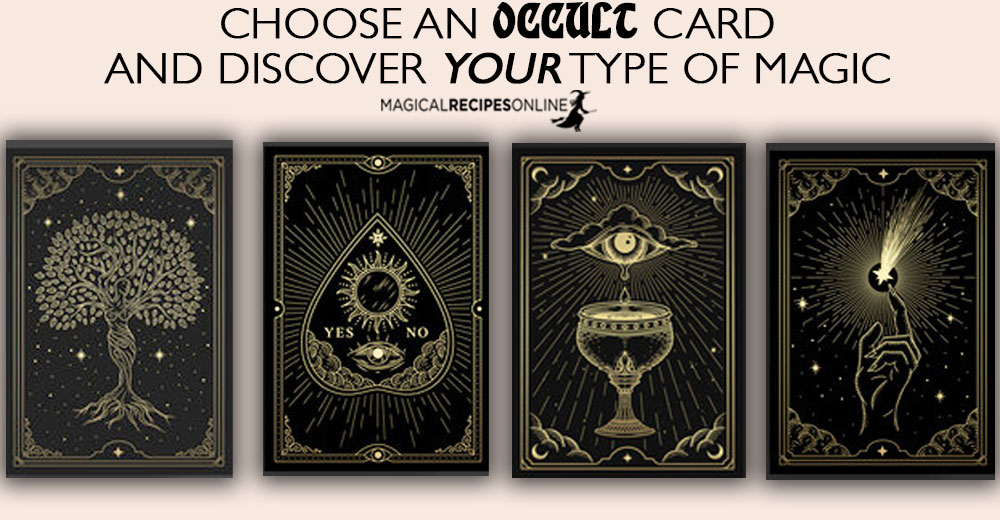 What is magic? We get this question alot. The reason is that you can't actually see it, smell it or hold it. Or can you? Let me tell you a secret. A secret that has been deliberately kept hidden because most people want to hold the true arcane power for themselves. We don't. Magical Recipes Online was created to spread the knowledge. And we did it. Thousands of our articles have been copied – some with our permission, some without – translated in many many languages… but why? Because Magic is real. Arcane power is real. And we are here to remind you that even with a simple 'occult cards test'.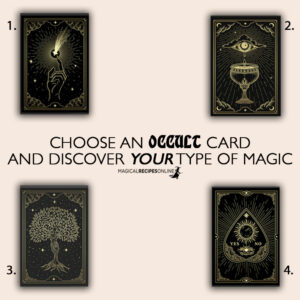 Clear your mind. Look at the picture and tell us… which one attracts you the most? Which card is your card?
What type of Witch are you based on your Zodiac Sign? CLICK HERE
1. Chaos Magic
You've probably been misled by the title or by what you've already heard about this type of Magic. But mark my words. Chaos magic is not evil magic. Why? Because – contrary to the common belief – chaos magic does not intent to bring Chaos upon the World. Despite that misconception, Chaos magic wants to utilize your passion, your spontaneity, the joy of being a child again!
So, instead of using old rituals, gods, goddesses and religious habits, chaos magic says that all you need is you. Because you are the source of all power. And only you know best how to use it. So, if you picked that card, means that you already have what it takes. Make your own rituals, see what it feels better for you. Experiment responsibly because magic is real but also karma!
What type of Witch are you based on your Zodiac Sign? CLICK HERE
2. Sympathetic Magic
Like attracts like. This is the global law of the Universe. All these countless books that becoming best sellers, are based on the same foundation, that foundation us witches know for millennia. So if the Moon waxes (gets bigger) you concentrate on things you want to enhance, or bring forth (for example a new love or money). On the contrary if the Moon wanes (gets smaller) then you need to focus on things you want to abolish, banish or reduce (for example gossip, evil spirits or these extra pounds you want to get rid of). Learn more about the simple magic of the Moon here!
Hence, if you picked this card that you probably need to focus on what is around you and try to mimic the energy of Mother Nature. For example, if you live near a river, go there and focus of what does the flow of river bring to you. Freedom? Cleansing? Something else? Channel this emotion and say something for example 'as the river runs and flows, so my money nurtures and grows'.  Let your heart do the picking!
What type of Witch are you based on your Zodiac Sign? CLICK HERE
3. Low Magic
Once again, let's not get carried away by the names. Low magic is frankly my favourite. Low doesn't mean that it's lower than something. Or that it's evil, drawing it's power from lower realms. No. Low Magic just points out where to look at. It's name implies that all you need to do is lower your eyes and see around you the vastness and abundance of nature. That's your power!
After all, Nature is where we all come from right? So why not tap into the power that created us? Low magic (in comparison with High magic which utilizes spirits) is also known as folk magic. Probably one of the oldest forms of magic. If you picked this card then you probably want to learn more about herbal magic, nature magic and crystal magic!
What type of Witch are you based on your Zodiac Sign? CLICK HERE
4. Ancestral Magic
If you picked the last card then you need to focus on your magical lineage. We've already told you many times that your personal magic is a combination of your DNA – the witches that lived before you in your blood line – and of course your spiritual lineage, the journey of your soul. But this is probably a lock you need to unlock. The power in you may have been blocked or you may have bound them because of a very difficult situation. Remember, you ancestors can help you.
What you need to do is get a white candle. One that has not been used before.  Every night, before you got to sleep, light the candle and ask from your ancestors AND your previous incarnation to talk help you unlock your potential! Every morning right down your dreams on a dream journal! this is very important to keep up with the lessons!
What type of Witch are you based on your Zodiac Sign? CLICK HERE