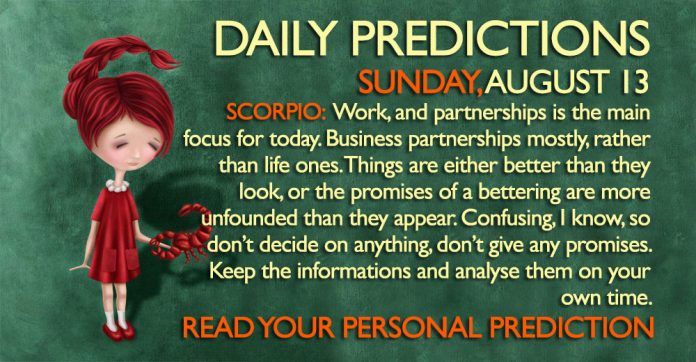 General Daily Predictions: Mercury turns retrograde today and, even worse, by doing so now most of the planets are in retrograde motion. You could say "half", but truth is that the Sun and the Moon can't turn retrograde. And whatever the case, if we count Chiron amongst the planets, we have 6 planets in retrograde motion. And this situation isn't going to change practically, until the eve of the next Full Moon, when the Mercury will turn back in direct motion – Saturn will have turned into direct motion a few days earlier – and the energies of the eclipse will have subdued. So, until then, be extra careful.
The good news is that Sun enlightens Saturn with a triangle which will remain active also until then Full Moon. Of course not as potent as today. Also the Moon will conjunct Uranus from Aries and will continue doing so after entering Taurus.
Leo, Sagittarius and then Aries and Taurus will be the luckiest zodiacs. Gemini, Libra and Scorpio will be the most stressed ones.
Daily Predictions for Aries:
Focus is on your money and your possessions. Are you satisfied with them? Do they express the real you, or the "you" you want to express? This kind of questions, as well as plans on how to make things better will occur in your mind. That's mostly a good thing. Avoid overspending money for whatever reason and also unrealistic plans. With so many retrograde planets, it's better to search inwards and outwards and calmly decide, but act – if possible – after the 5th of September.
Daily Predictions for Taurus:
For the introvert Tauruses this will be mostly a pleasant day. You want to build a wonderful life for you. You are motivated to do so. And you prefer to start doing it in the inner planes. Imagination and magic. This is good. That's exactly what you should do. You may awake some bad memories. Heal them NOW.
Daily Predictions for Gemini:
Planing your day is usually a good thing. Not for today though, as most of your plans will go wrong. Especially the ones that include other people. Try to be patient and calm, as much as possible and also understanding to other people's needs and schedules.
Daily Predictions for Cancer:
A friend or acquaintance may offer their help to benefit your work situations. Be happy about that, but don't hold your breath. In most cases the manifestation of this promise will take more time than you originally imagine. In some cases it will never become a reality. In any case though, appreciate the omen.
Daily Predictions for Leo:
You dream big. Today even more so. That's an innocent sport and if you use visualisation instead of bragging this can actually become the foundation of a very bright future. So, do that. Visualise and work your magic. Don't spend too much time describing your plans and dreams to other people.
Daily Predictions for Virgo:
A good day for journeys in the midst of the eclipses. Of course be careful if you are driving, but I wouldn't expect any serious problems. Inner journeys and journeys to other realms are also favoured. Be a little more cautious when interacting with the realm of the dead, and all will be good.
Daily Predictions for Libra:
A sexual rejuvenation of your relationship or marriage can happen today. Actually try to do that. If not, the frustration that is building up for some time now will erupt unpleasantly. Those not in a relationship, unfortunately, will have to deal with this frustration. Try to be calm and fantasise the relationship you want to have.
Daily Predictions for Scorpio:
Work, and partnerships is the main focus for today. Business partnerships mostly, rather than life ones. Things are either better than they look, or the promises of a bettering are more unfounded than they appear. Confusing, I know, so don't decide on anything, don't give any promises. Keep the informations and analyse them on your own time.
Daily Predictions for Sagittarius:
The pleasant feeling continues lurking inside you. Some times without an actual outwardly cause. That's ok. You feel nice with your life and your self and this is more than a cause on its own. Of course you see things that need improvement, but you don't feel overwhelmed by them. So, at the very least enjoy the day, and if you can plan your future actions in order to better your life.
Daily Predictions for Capricorn:
Simple and small things can make us really happy sometimes. This is a day you'll find yourself face to face with this truth. This "things" can exist inside you or outside of you. For most of you this will be a pleasant experience and realisation. Maybe even more than pleasant. But if you make a habit out of finding problems all around you, you may reach the same realisation the hard way.
Daily Predictions for Aquarius:
Family and siblings will probably fill your day. This includes people who you consider as family and siblings. I'm not expecting problems in your relationships with them to surface, so it will be a pleasant day in most cases. Any unpleasant feeling will be caused by them sharing some of their problems with you.
Daily Predictions for Pisces:
People you consider important have spend money and time for you. You want to repay them today. That's a very good thing to do – of course. Just be careful so that you won't overspend unnecessarily. You may also feel the need to spend money on gadgets. Unless you actually need something right now, don't do that. Search, and then wait until the 5th of September before actually buying it.
Astrology and Magic:
Calming, balancing, and awakening your inner joy and energy are today's fortes
That's all. Have fun and enjoy your day.