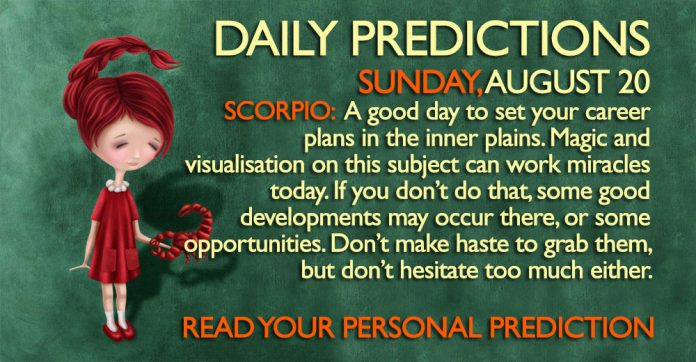 General Daily Predictions: Today the Moon is in Leo, and the major aspects it forms are… None! So, the only interesting thing on the sky is the perfect hexagon between Mars in Leo and Jupiter in Libra. Of course this aspect was active since at least 10 days ago and will be so for another 10 days or so. Well, practically it started activating even earlier and will remain active for even more days, but it's influence, then was and will be very week. This aspect encourages us to act, and take important decisions. It also brings us the necessary luck for success. The problem is that the Solar Eclipse is in full power now, and therefore we should be more careful in our taking decisions, while the progress and success can be either even grater, or close to nothing. In some cases, where we rush to take the wrong decision, the results can be also very negative. So, enjoy its power, but don't go over your head.
Read the predictions for the day, but also refer to the predictions for the Eclipse, to have a better idea of what's going to happen.
Obviously Leo and Libra, receiving this hexagon's energies in the fullest, are the luckiest zodiacs of the day. Aries and Aquarius will be the less lucky ones.
Daily Predictions for Aries:
Love life, both for the singles and for those in a marriage or in a relationship is very much favoured today. Happy things can happen there, including meeting a new, important, someone. Children or children figures may also meet an important someone or have happy developments in their current relationships.
Daily Predictions for Taurus:
Some changes happen in your daily life. You may try to change your home's decoration or something of the like. This is a good day to do so. Home and family are mostly influenced by the Eclipse, so if you can take care this business now, or some of it, things will be luckier.
Daily Predictions for Gemini:
A mostly happy day for you. You are, after all, one of the lucky zodiacs of the Eclipse. The important people around you give you joy and so does your lover. This may or may not be as true for the married ones. A new lover through your social circle may appear.
Daily Predictions for Cancer:
You may find your self spending a little too much in your home or family. Probably home, though. There are things you need to change, and do so. And of course, in order to do that, you may need to spend some money. What I'm saying is try to avoid overspending. Other than that, enjoy the procedure.
Daily Predictions for Leo:
Your energy levels are very high. Maybe too high. Enjoy the day to the fullest, and preferably with close friends, siblings and people you feel like that. Internet activity, and phone calls are also favoured. But act. If you force yourself to stay put, you'll be irritated.
Daily Predictions for Virgo:
A very good day for money magic for you. Your money intuition is also quite strong. Other than that, not a very active day for your body, but very much so for your imagination. Your emotions though are probably too strong, and so is your empathetic abilities, so try to manage them properly.
Daily Predictions for Libra:
This isn't the day to be alone. Be with friends and engage in activities and conversations. You are inspiring and inspired today. This is a good day to dream big for your life and discuss your plans with others asking for their help. It's also a good day to re-establish a good position amongst you acquaintances.
Daily Predictions for Scorpio:
A good day to set your career plans in the inner plains. Magic and visualisation on this subject can work miracles today. If you don't do that, some good developments may occur there, or some opportunities. Don't make haste to grab them, but don't hesitate too much either.
Daily Predictions for Sagittarius:
There is a tendency or wish to go on an adventure kind of thing. I would suggest to be extra careful if you insist doing such a thing during the ecliptic period. On the other hand, you can do some researching about it and plan it for the near future. Those in colleges, universities, or other forms of school is possible to have some important changes in their plans. But it is for the better.
Daily Predictions for Capricorn:
This is a day calling you for self discovery. If you try to avoid this on your own will, it may be forced upon you in a not so pleasant way. The main subject will probably be on your career and your wishes on your social status. Reach the realisation and then plan how to start acting on it. Spells for success in this area are also favoured.
Daily Predictions for Aquarius:
There is a high possibility to meet somebody important today. Are they work wise or personal wise important, I can't say. Both possibilities are high. Your partnerships, mostly your business rather than your personal ones, are a source of happy news for you today.
Daily Predictions for Pisces:
Be extra careful if you are engaging in sexual activities today. Venereal diseases are quite possible. Other problems with the skin are also possible, but in most cases these problems are there to remind you to take better care of your health and habits. Listen to your body's messages and you'll be benefited on the long run. Jobs about spiritual and health subjects are benefited.
Astrology and Magic:
The Eclipse's influence is too strong today, so the energies are very strong highly unbalanced, so I would advice against magic practices that require an unusual amount of concentration. Here are some spells and articles you can work with.
That's all. Have fun and enjoy your day.