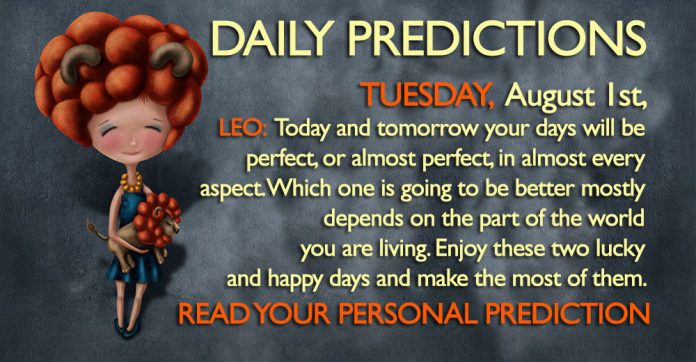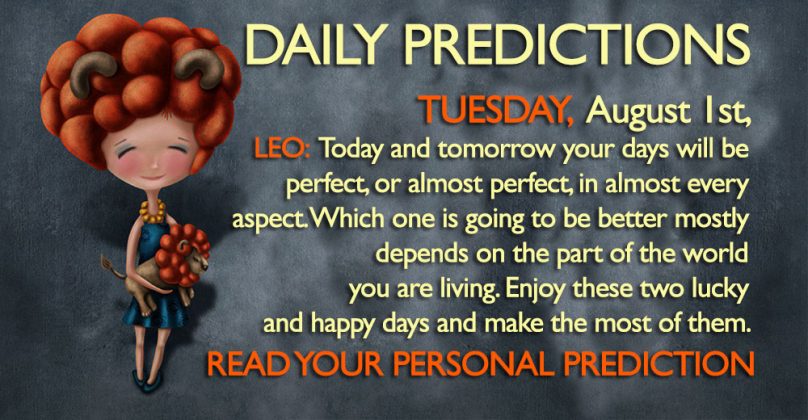 General Daily Predictions: The Moon is relatively "lazy" today. It doesn't form many strong aspects, other than a square with its Nodes and a triangle with Chiron. All these are possible to awake a few karmic events, but this influences may pass unnoticed as well. So, the main influences come from Moon entering Sagittarius, the still strong hexagon of Venus and Uranus and, of course the raising influences of the Eclipse.
We have an optimistic feeling and tendency despite whatever happens and we feel somewhat inspires and motivated. We pay a little less attention to the details and we dream big. In the same time, beautification real or illusionary is still strong.
The luckiest signs will most likely be Sagittarius, Leo and Aries. Gemini, Aquarius and Libra will be the less lucky ones.
Daily Predictions for Aries:
The Fire signs are all somewhat braced right now. And this influence you strongly and, thankfully, positively. Even more, your governor is in the friendly Leo and blessed by the Sun. So, you feel strong, and have the power to achieve your goals and the freedom to be you. Control a tendency to be overly risky, and all is going to be good today.
Daily Predictions for Taurus:
For the generally introvert yet sensual Taurus I think this is a good day to meet people. Your tendency is probably in being alone, but the radiance of the Sagittarian Moon encourage you to meet with other, and there you find yourself being more seductive than usual. Metaphysical studies are favoured today.
Daily Predictions for Gemini:
You feel a need to create a balanced, harmonious and somewhat idealised environment around you. This is a good thing to target, but be a little careful and restrain as you tend to ignite some conflicts around you. This, obviously, doesn't help your cause for the day.
Daily Predictions for Cancer:
You focus more in your job today and it seems it goes mostly nicely. Don't expect major events good or bad, but rather an easy to go day. But if your job is somehow related with beauty, sex, health or mentality, then the day can be really good.
Daily Predictions for Leo:
Today and tomorrow your days will be perfect, or almost perfect, in almost every aspect. Which one is going to be better mostly depends on the part of the world you are living. Enjoy these two lucky and happy days and make the most of them.
Daily Predictions for Virgo:
You want to take care of your home or your family today. But in most cases, it is as we said it. You want to. You are not forced to. So, this isn't going to be a stressful thing, but a pleasant. If you have to do it, then try dealing with it today, as tomorrow will probably be more stressful.
Daily Predictions for Libra:
You feel a little short-tempered today. If you have many things to do, then you probably won't notice that, but if not, you'll be very easily irritated. Try not to take your mood out to the people around you. Instead, find things to do. You are over-energised. Make good use of this energy instead of letting it disturb you.
Daily Predictions for Scorpio:
You need to feel secure today, and you probably turn to your possessions to make you feel so, rather than to your loved ones. Under the optimistic and extravagant Sagittarian Moon, this can mean things like working too much, being too stingy, or spending too much. Try to avoid the too's and things will be better.
Daily Predictions for Sagittarius:
You feel much like yourself today. Strong, optimistic and lucky. People who love you have missed this side of you under the Saturnian influence and now they are happy seeing you like this. Your need to express yourself and be amongst the important people of your life is strong too, so do both.
Daily Predictions for Capricorn:
A very spiritual day for Capricorn. You refocus on your life dreams and have a better and more complete picture of them. Even if you don't know what you should do to achieve them right now, keep this image clear, and the information will come. Better yet, write it down for future reference.
Daily Predictions for Aquarius:
You feel the need to be with people with whom you share similar ideas, today more than usually. If you have such people in your environment and can meet with them, then the day will be a nice one. If not, the longing for such people will be too present.
Daily Predictions for Pisces:
Today you seek the recognition of either the important people around you or even the world. Their opinion seems very important to you now. And as it seems, you are going to receive their support. Authors, writers, poets may find this day even better.
Astrology and Magic:
Today's influence favours magic about beauty, sex-appeal and illusions.
That's all. Have fun and enjoy your day.