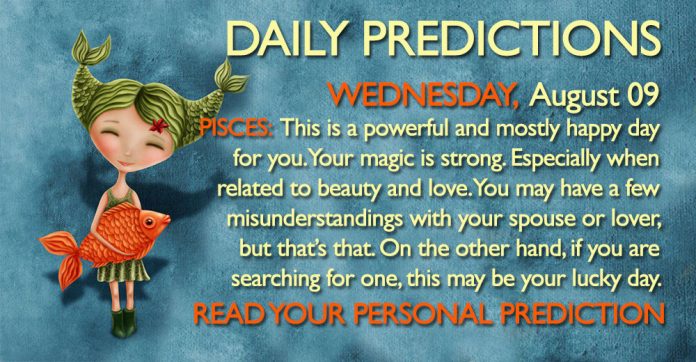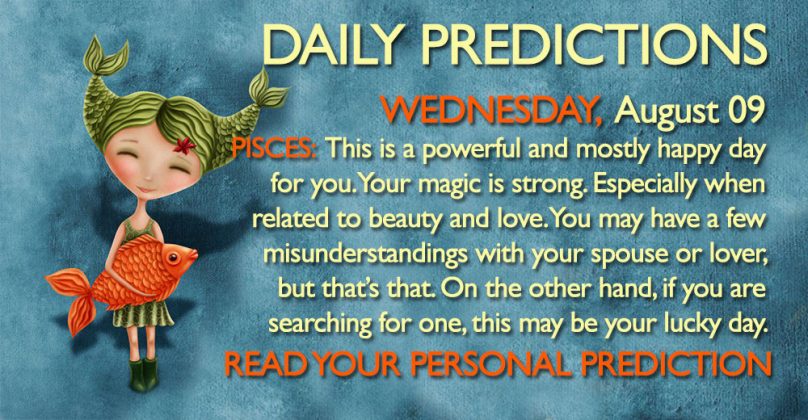 General Daily Predictions: Moon is now in Pisces and from there will form a triangle with Venus in Cancer. It will also oppose Mercury in Virgo and later on it will conjunct the retrograde Neptune, obviously in Pisces. And all these under the still strong influence of the Lunar Eclipse, and the raising influence of the upcoming Solar Eclipse. So, this isn't an easy day, but it has its good points. Beauty, health and magic will be highlighted today.
Pisces, Cancer and then Scorpio will be the luckiest zodiacs. Virgo, Capricorn and then Taurus will be the most problematic ones.
Daily Predictions for Aries:
Your astral energy is very active. This means, dreams are vivid, astral projection is more possible, your intuition is stronger, but also your emotions are more intense and unbalanced. Take good care of yourself and pay attention to your intuition. The latter will help you avoid most of the problems.
Daily Predictions for Taurus:
This is an important day for you. It's neither easy nor necessarily happy, but an important day. You want to be surrounded by friends, but this seems difficult for some reasons. If you manage to do it, it will be a nice thing. You also are concerned about your spouse or lover. Misunderstandings, delays, and bad communication can be more than distressing for you. Be patient.
Daily Predictions for Gemini:
Money issues from the Lunar Eclipse are still present. They seem to start settling and getting better. Your home and family will stress you though. Probably more than a little. Arguments, quarrels there, as well as an effort by them to stop, delay or reduce your goals can happen.
Daily Predictions for Cancer:
That's a good day to offer to yourself and a bad day for travelling. I wouldn't suggest even scheduling it. Not so much for accidents, but cancellations, delays, and unnecessary obstacles are very possible to happen. You may meet or at least come in contact with a friend from afar.
Daily Predictions for Leo:
If there is a sign that has its spiritual powers raised today, this is you. Sexual energy is also raised. You'll probably feel really lucky today. Not necessarily for the long run, but simple little things go your way without any obvious effort from your part. Greater thing can also happen, but not as often. Avoid money deals, and you'll probably have no other problem today.
Daily Predictions for Virgo:
This is probably a very stress day. Thing is that the stress is mostly generated by yourself and by the way you face the situations, and not so much by the situations themselves. You are not in peace with yourself and this unbalances your feelings, but also the world around you. So, balance yourself.
Daily Predictions for Libra:
Pay attention to your psychological well being, as well as to water influenced health. Other than that it is a very good day to work your magic in job related subjects. Redecoration or other changes of your everyday environment may happen, either by your initiating them, or by the situations doing this for you.
Daily Predictions for Scorpio:
Love life is interesting today. Are your other half a like-minded person? Then things will go really well. If not, then things can go really bad. Mental compatibility is very important today. There is a possibility to find a new lover, or to have to deal with problems with an ex.
Daily Predictions for Sagittarius:
You feel a better and deeper connection with your family and closed ones now. Some money, though, may have to be spent on home issues. Avoid work and career related subjects of discussion with your important people, family included. It's unlikely they will share your enthusiasm, or support you.
Daily Predictions for Capricorn:
Avoid travelling, unless you really can't. Also, avoid deep philosophical conversations. Are you in spiritual studies? Something changes there for better or worse. Your important people though, seem closer than usual and more supporting than usual.
Daily Predictions for Aquarius:
Money, and whatever has to do with it will catch your attention today. This includes work, and also money you own to others. Do not take hasty decisions on these subjects. Don't try to forget them, but think twice before deciding.
Daily Predictions for Pisces:
This is a powerful and mostly happy day for you. Your magic is strong. Especially when related to beauty and love. You may have a few misunderstandings with your spouse or lover, but that's that. On the other hand, if you are searching for one, this may be your lucky day.
Astrology and Magic:
Astral travelling, divination, health and beauty are strong today. Here are just a few of these spells. Search our site for more.
That's all. Have fun and enjoy your day.