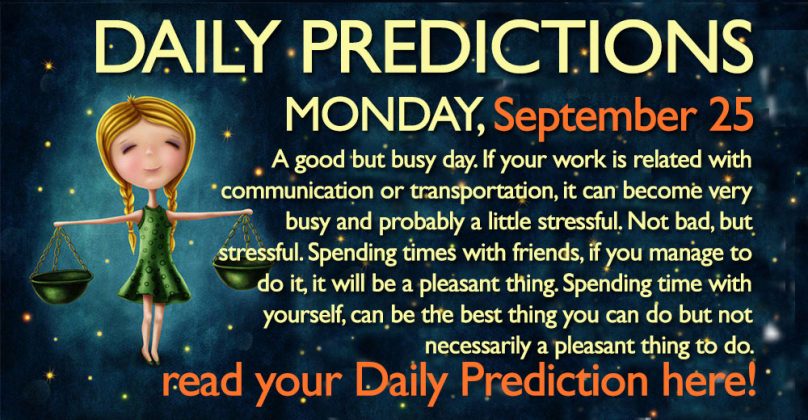 General Daily Predictions: Today Moon is in Sagittarius and from there it forms a hexagon with Sun in Libra and a square with Venus in Virgo. Mercury from Virgo squares Saturn in Sagittarius. The latter aspect will unsettle, in several ways, the beneficial aspects of the hexagon between Saturn and Jupiter, but not much. Mercury is still in a triangle with Pluto, and in a zodiac it rules, so it brings out its gentle face. Just be a little extra careful on whatever has to do with long term contracts and things like these. But just be extra careful. Not fearful. Other than that, yes, it will be a stressed day for the most of it. Not bad altogether, but stressed.
The luckiest zodiacs of the day will be Libra, Gemini and Pisces. Aries and Virgo will be quite stressed but even more stressed will be Sagittarius.
Daily Predictions for Aries:
Love life is still important. Today though it's not the sexual instinct and energy that play the major role. It's the mind. So, things are calmer. And luckier, for some. Work and health are not as good though. Health needs some attention and care. Don't overlook the "insignificant" symptoms.
Daily Predictions for Taurus:
Work goes nicely. Financials seem promising. Still, something feels wrong. For some reason you don't understand your mood is worse than the situations call for. Look at the article about Chiron's activity and you'll probably find the cause there. If you are in a relationship or a marriage, you'll probably be oversensitive to whatever your partner says and does. Even if they do it with the best intentions.
Daily Predictions for Gemini:
Love life is good. Maybe, there are some happy developments there. Maybe it's your children's love life that advances happily for them. But whether you feel the same way as they do, this is an other issue. If you are looking for a soul mate, this is a difficult day. If you intent to meet somebody for an arranged match, don't hold your hopes too high. But other than those occasions, and some minor issues with your family, you'll probably have a good day overall.
Daily Predictions for Cancer:
A good day for work and family. Siblings may have some issues they want to share with you. Probably nothing that important to stress you much. If you have had some health issues, today you'll probably feel much better. If you are working in a health related profession, this day can be busy, but satisfyingly so.
Daily Predictions for Leo:
A mostly good and happy day. Work and financials look good. Work probably better than financials. But, even more importantly for some of you, love life seems rather promising and happy. A friend can become something more than just a friend today. Friends and siblings can have some problems and ask for your help or advice.
Daily Predictions for Virgo:
This is a somehow pleasant day for you. Family can take much of your time, though. You want to take care of your home. You'll probably spend some money on it, but happy money. Some news, on your financial issues may stress you a little or more, but they are, in fact, in your capabilities.
Daily Predictions for Libra:
A good but busy day. If your work is related with communication or transportation, it can become very busy and probably a little stressful. Not bad, but stressful. Spending times with friends, if you manage to do it, it will be a pleasant thing. Spending time with yourself, can be the best thing you can do but not necessarily a pleasant thing to do.
Daily Predictions for Scorpio:
Money is a main focus of the day. Money you have, money you want to cover your needs and satisfy your wishes, money you own, money you have to spend. In some cases the negative feelings can even refer to money you fear you'll have to spend. Be realistic and optimistic. Focus on what you have to do, and prioritise. In most cases, this is all you need to do.
Daily Predictions for Sagittarius:
Today things can be better better but still stressed. Being better and feeling better are two different thing, though. You feel like you are fighting even when there is no fight taking place. You try too hard, harder than you need, to express your opinions or to prove yourself and your value. Relax. Be active and creative, but relax.
Daily Predictions for Capricorn:
This is a good day to think, dream, and schedule your goals, long term and short term ones. Your career goals may feel insecure and in some cases you may feel pessimistic about ever realising them, but if you give it a more careful and objective look, you'll see you are probably more worried than you should be.
Daily Predictions for Aquarius:
A good day for international trade, and any kind of business that offers goods and services to other countries or people from other countries. Are you travelling abroad for business reasons? This can be a very successful trip. Studying abroad receives similar influences. If your other half lives in an other country, this can be a stressful day.
Daily Predictions for Pisces:
Career and money look very promising today. In some cases more promising than they really are, but they are proceeding good. A lover can be supportive to your dreams, but a spouse can be the exact opposite. Probably in both cases the intentions are good, though. Keep this in mind. Sex life can be less than happy. On the contrary, if you are in the sex industry, this will be a good to very good day.
Astrology and Magic:
Love magic will be strong until the 22nd of October. Healing, self-healing and self changing and empowering are still strong today.
That's all. Have fun and enjoy your day.