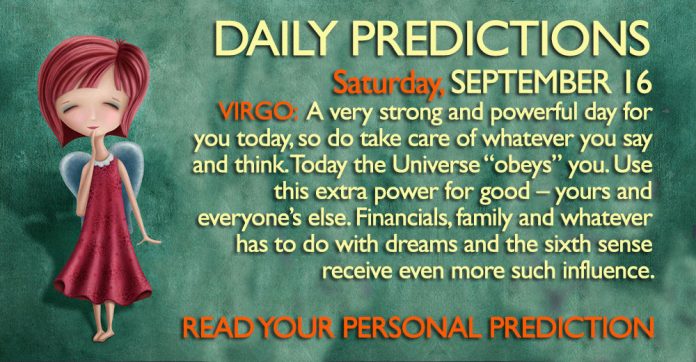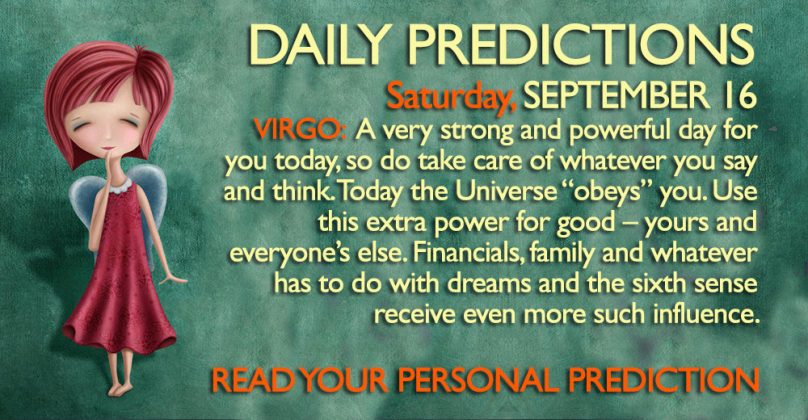 General Daily Predictions: Today Moon enters Leo and other than that, it doesn't form any strong aspects all day long. On the other hand, Mercury's and Mars' conjunction today becomes perfect for the second time, now in Virgo, as we have seen. Since there are no lunar major aspects, we are going to feel this beneficial aspect quite strongly today. Also the hexagon between Jupiter and Saturn is fully active, with Venus supporting both of the planets strongly.
This is an important day. Very strong energies benefit us. We should do our best to make the most of it. For the most of it, it will be a lucky day as well. The strong Mars can cause some anxiousness or a little edginess, but we should take this as a reminder that we don't make the most use of the day.
Virgo, Leo, and then Sagittarius and Libra will be the luckiest zodiacs of the day. Pisces and Aquarius will be the ones less lucky than the rest. Still a good day for them as well, though.
Daily Predictions for Aries:
A mostly happy day in all aspects of it. You feel more joyful and outgoing even without a good reason, but such good reasons tend to appear during the day. Health is improved, if there was any problem, but headaches are possible if you just sit around doing nothing.
Daily Predictions for Taurus:
Home and family may take some of your time. Maybe more than some. But still, in a happy way. You try to reorganise your place of living or working. Love and magic are very strong. Use this day for love spells, if you need one, regardless it's a Saturn's day during a waning Moon. Work also receives a joyful ray of light.
Daily Predictions for Gemini:
Home, family and friends seek for your time and attention – not in a bad way. The problem is that this day is only a day long, so you probably can fit everything and everyone in your schedule. A new love interest, or some renewal in your love life, or your kids' love life may happen.
Daily Predictions for Cancer:
A calm day mostly. Not necessarily quite, but calm. You may simply have organised things perfectly so that this day flows easily. Tidying up or taking care of small needs of your place of living or working are in order too. Expect some good news regarding your financials if you are working from home. This can be true for others too in some cases.
Daily Predictions for Leo:
Money is a strong focus of yours but you feel confident about them. Good things can happen, regarding your financials, especially if you promote yourself and charms in your work. Friends and lover(s) want and enjoy being with you. Maybe a "silly" romantic relationship becomes somewhat more important?
Daily Predictions for Virgo:
A very strong and powerful day for you today, so do take care of whatever you say and think. Today the Universe "obeys" you. Use this extra power for good – yours and everyone's else. Financials, family and whatever has to do with dreams and the sixth sense receive even more such influence.
Daily Predictions for Libra:
Internet based businesses as well as show performances receive most of today's blessings. It will be good for work related matters for all of Libras, but much more for the ones mentioned. Expanding your social circle is also possible. This can happen by acquiring at the same time a number of new friends, or just one, but a very important one.
Daily Predictions for Scorpio:
Very good day for advancing your business. If what you are doing is not what you want, it's a good day for advancing your business dreams. Financials can receive some of the blessings of the day, but be a little sceptical when they promise you a huge profit, bonus, or something like that.
Daily Predictions for Sagittarius:
Travelling is favoured today. Even more so if it happens for business reasons. International trade as well as other kind of business deals that include people from other countries are also under the beneficial influences of the day. This is also a very good day to build or fortify your self-confidence and self-esteem.
Daily Predictions for Capricorn:
Stabilising kind of magic is extra strong for you today. That means, magic that improves or secures good luck, blesses a good relationship and things like these. This also means marriages happening today receive much blessings. There are some blessings in your work as well. Jobs related with the metaphysics, sex, the soul and philosophical matters receive even more of these blessings.
Daily Predictions for Aquarius:
Your current relationship or marriage receive many beneficial influences today. Sex life between the two of you can be improved too. Even more so if the Aquarius is a male. If you are in the procedure of divorcing, things can either change or turn much more beneficial for you. On work related subjects, this is more of a day to dream, plan and schedule, than of one to act.
Daily Predictions for Pisces:
A little rapidly, but in a beneficial manner, some things can change today. Most probably regarding you work's situations or your relationship's situations. Also a good day to find a new lover. Encounters that can promote your business are possible too. Magic is also strong today, but maybe a little hard to control if you haven't mastered the art.
Astrology and Magic:
Every kind of magic is favoured today. Fire and Air based magic even more so.
That's all. Have fun and enjoy your day.