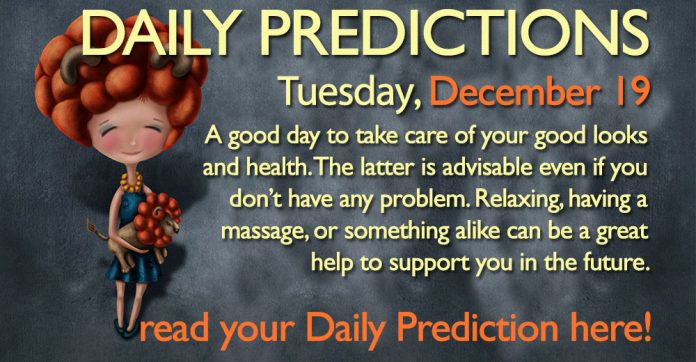 General Daily Predictions: Today, the Moon from Capricorn will form hexagons with each, Mars and Jupiter in Scorpio and Neptune in Pisces.
In short, this is going to be an easy day, with lots of potential, lots of magic and much energy. Maybe a bit too much, so make use of it. Refer to the New Moon's zodiac predictions as this will be a light edition of what we should expect during this lunar Month.
Capricorn, Scorpio and Pisces will be the luckiest zodiacs of the day. Cancer, Taurus and Virgo will be the most stressed ones.
Daily Predictions for Aries:
Getting satisfaction from your work, or whatever you do, is really important for you today. Although, for the day, the emphasis is not on your love life, even from there, make sure you'll give and receive some satisfaction, carnal, or not.
Daily Predictions for Taurus:
This day will be full of inspiration and, also, a need of communication. Exchanging ideas and visions with partners, friends and lovers is what you need to do. The more you do this, the happier your day will be.
Daily Predictions for Gemini:
If your work gives you satisfaction and a feeling of fulfilment, then this is going to be a nice day for you, and quite productive. Otherwise, you may be a little easily irritated. Walking, jogging, dancing, and any kind of bodily exercise can help you keep your balance. Do it, but, of course, be careful.
Daily Predictions for Cancer:
Love life receives some very nice vibes today. Try to enjoy it as much as possible. A nice conversation can be proved the best aphrodisiac, too. Students can have a happy day both regarding their studies, and otherwise.
Daily Predictions for Leo:
A good day to take care of your good looks and health. The latter is advisable even if you don't have any problem. Relaxing, having a massage, or something alike can be a great help to support you in the future.
Daily Predictions for Virgo:
Friends, co-workers and partners play a positive role in your life today. It will be mostly pleasant, too. In some case, only pleasant. Your special someone, also will bring you joy, if you manage to find time to be together.
Daily Predictions for Libra:
Work can be easier than you expect, today. More profitable, too, where this is applicable. You may need to take care of some family obligations. Seasonal shopping can be one such an example. As Mercury is still retrograde, be cautious with any shopping, and even more with online orders.
Daily Predictions for Scorpio:
An optimistic feeling is present in you this day. Good luck supports this feeling, too. Being with friends will be a pleasure, but also, it can become creative. If you have something you need help with, this is a good day to ask for this help.
Daily Predictions for Sagittarius:
There is a focus in money today. For example, rearranging your priorities, or scheduling future investments and expenses. Things like those are coming in your mind, and it is a good day to decide. Just make sure your planning is feasible and flexible.
Daily Predictions for Capricorn:
You feel people's focus on you today. Although this is a generally pleasant feeling, in some case it may stress you a little as well. Many, or too many, people seek your time, either in person, or through phone, mail, chat, etc. Nevertheless, this is also a very good day to invest your time in such ways.
Daily Predictions for Aquarius:
If you like setting your goals for the New Year, this is a very good day to do this, however early as it may be. Your inner self is talkative and, most of the time, quite clearly so, so whatever needs their help, is something you should try to take care of, today.
Daily Predictions for Pisces:
Studies and all types of learning receive very beneficial energies today. Therefore, Invest as much time as possible on the subject if you are a student, or you are trying to learn something. Creativity is also very strong, and so is inspiration.
Astrology and Magic:
All Water Element magic is strong today. Potions included.
That's all. Have fun and enjoy your day.