General Daily Predictions: Today, as the Moon will enter Sagittarius, we open our hearts to happiness. Good news are coming especially to the ones who thirst for a shinning break from a series of unfortunate events.
We've got extra good news today as Mercury from Scorpio forms a sextile with Saturn in Capricorn. Hard work and patience pays off.
And also today, the Retrograde Venus from Scorpio squares Mars in Sagittarius.
As from yesterday, the young Crescent Moon conjuncted with Jupiter giving us the opportunity to summon all the forces of Good Luck and Magic to empower us. This influence will keep on affecting us tomorrow.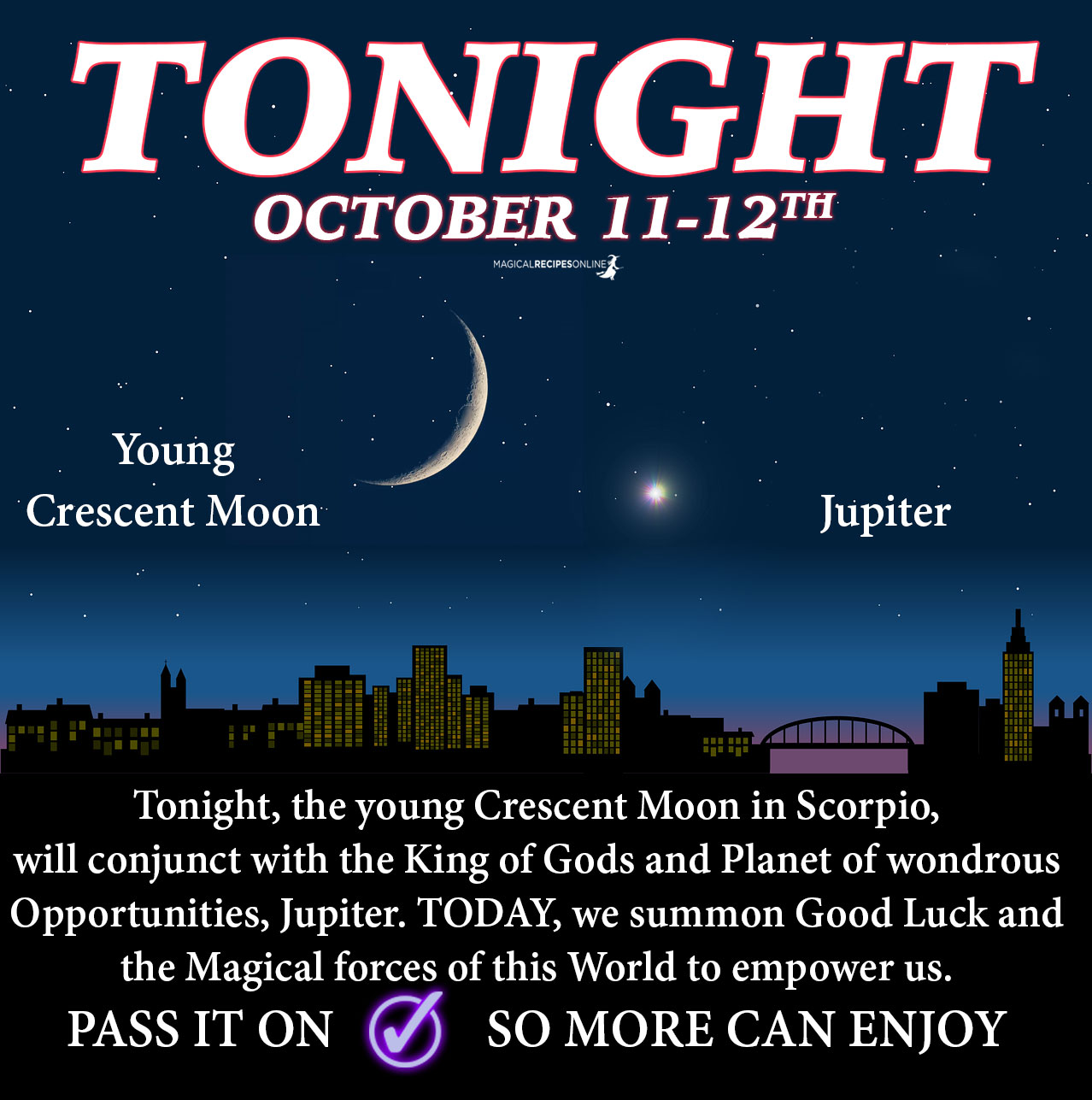 Aries, Leo and Sagittarius, (Virgo) and Gemini will be the luckiest zodiacs of the day. Leo will be the less lucky one.
Daily Predictions for Aries:
A promising day begins for you my dear as the Moon from Sagittarius will give you a strong and happy emotional boost. Well, this day can also surprise you with an unexpected proposal that can make you re-think of your long-term plans and goals. Are you open to something new?
Daily Predictions for Taurus:
Your relationships suffered from a rather hard and challenging influence during the last 3 days and now it's time to find some quality time for you. In the meantime, take good care of your professional life as interesting advances may happen in the next 48hours.
Daily Predictions for Gemini:
Today you are going to feel like other people are pushing you and trying to affect your judgement. However, good news are coming as your governor is actually sending you a very interesting feedback, reassuring you that hard work finally pays off!
Daily Predictions for Cancer:
The Moon has now entered Sagittairius, thus your focus in now altered towards your professional life and your daily schedule. Now, it's time to make room for something new and interesting in your everyday life. Even a new job may be waiting for you.
Daily Predictions for Leo:
You've been so much yet today good news are coming from the Realm of the Stars. The Moon will give you good news which are meant to mend your broken heart. Moreover, Mercury's trine with Saturn in your 6th house brings optimism to your everyday life.
Daily Predictions for Virgo:
The day begins with a focus on your family and your home. However, good news are coming towards you as Mercury leaves the challenging influence brought to you by his opposition with Uranus and gives you a rather constructive one with Saturn. Now you can hope that your efforts will pay off!
Daily Predictions for Libra:
Now that Luna progresses already in Sagittarius the influence of the challenging new moon fades away. Happiness finds a way to come back to your heart and people you love are here to help you feel better. Good news may also come from your financial status.
Daily Predictions for Scorpio:
The Moon sheds some light in your financial status as advances may occur in this part of your life. Thankfully Mercury will help you anticipate all changes and get rewarded from all the hard work. Moreover, friends seem to provide stability and reassurance along with any help you might need.
Daily Predictions for Sagittarius:
This day is all about you and how you can reshape your life and your goals. Today you can actually set and promote your own personal agenda, fixing and enhancing your personal and professional life. Your emotions are calming down and your financial status is also receiving a benevolent influence. Great news, right?
Daily Predictions for Capricorn:
Something amazing is happening in your heart as good things approach. Your governor, Saturn in your sign, today receives a benevolent influence from Mercury in Scorpio. As a result, you feel back on you feet, stronger than before, ready to face anything that comes your way. Friends and social circles also receive good influence.
Daily Predictions for Aquarius:
It feels that now you are ready to abandon the 'introvert' mode you've been through for at least 6 months. Today, is a great chance to open your heart and mind to the endless possibilities. Thankfully, your traditional governor – Saturn – receives good influence which actually makes your day!
Daily Predictions for Pisces:
As the day progresses you are reassured that your attention should be focused on your professional life and your career. Since there is so much at stake right now, you should keep calm and be ready to anticipate all the upcoming advances, challenges and opportunities.
Astrology and Magic:
Good luck and money magic are strong and promising. Philtres, potions, magical oils and perfumes, as well as charms, are also very promising.
That's all. Have fun, enjoy your day!