General Daily Predictions: Today, the Moon from Scorpio conjuncts Jupiter there and forms a triangle with the Retrograde Neptune in Pisces and a hexagon with Pluton in Capricorn. Also, form 23:12 UT the Moon goes void of course until 09:53 of the 12th of the month.
And also today, the Retrograde Venus from Scorpio squares Mars in Sagittarius.
So, this is a mostly good day. The Moon reduces somewhat the stress, but not the focus on Pluto and this is a good thing by all means.
Later, the a day progresses, the young Crescent Moon will conjunct with Jupiter giving us the opportunity to summon all the forces of Good Luck and Magic to empower us. This influence will affect both today and tomorrow.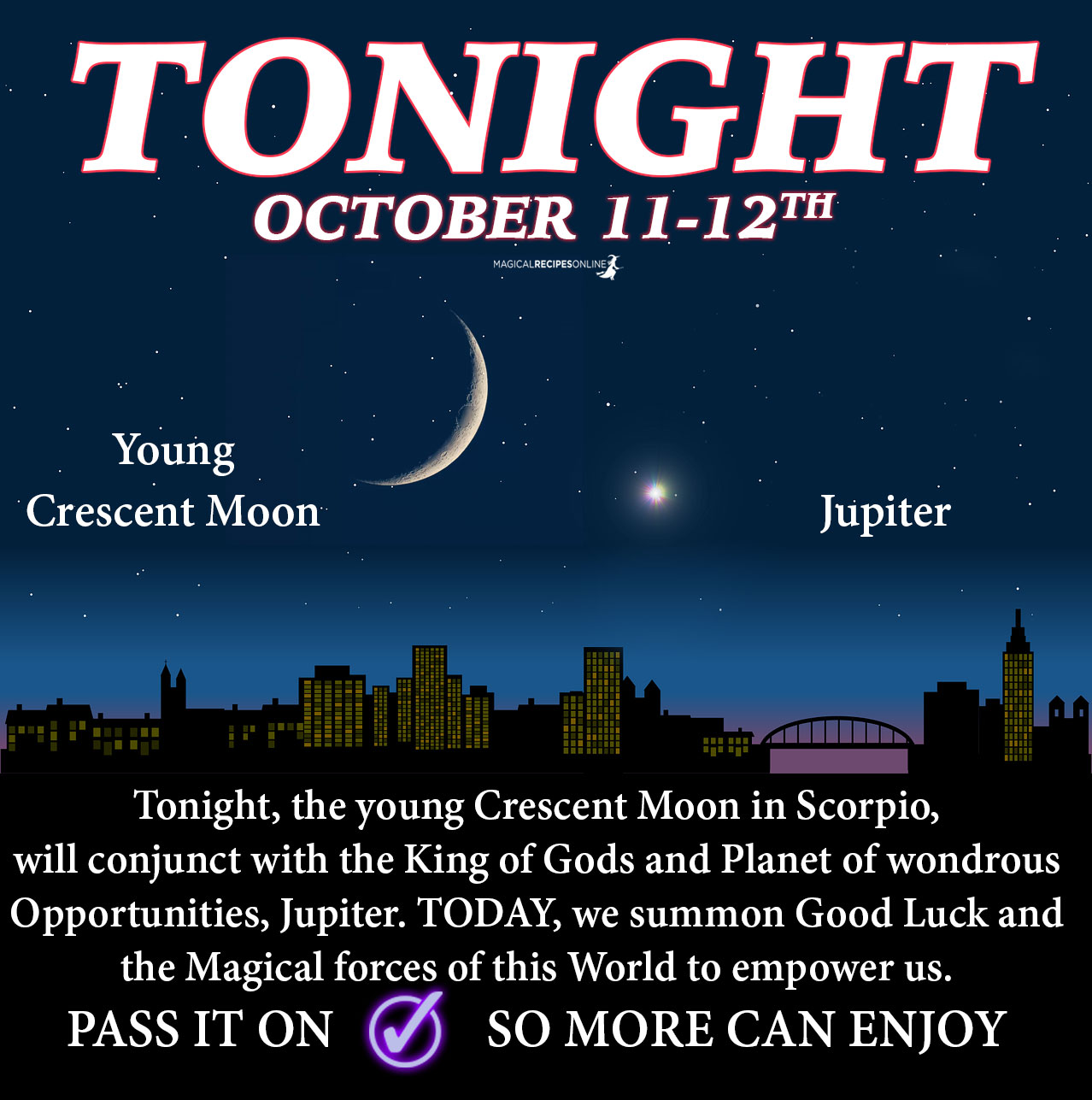 Scorpio, Pisces and then Capricorn will be the luckiest zodiacs of the day. Leo will be the less lucky one.
Daily Predictions for Aries:
Today both your magical and spiritual powers are quite strong. Creating and charging magical oils and charms for every purpose and especially for business success is very promising. In the mundane world, this is a good day for business and career matters.
Daily Predictions for Taurus:
This is one of the best days for love matters during this waxing Moon period. If you are single, go hunting – or play the prey if you prefer. If you are in a relationship, focus on your other half and your relationship. Healing and deeper understanding can happen there.
Daily Predictions for Gemini:
All work and career matters receive beneficial and supporting influences today. Health, too. Healers of every kind and especially of the alternative methods can have a very successful and profitable day. At the same time, alternative methods of healing can work very well on you, if you need them.
Daily Predictions for Cancer:
Today love life can be as lucky as possible under the influences of the Retrograde Venus in square with Mars. Problems with the current love or an ex can resurface, but mostly to be healed and released. Other than that this is a mostly pleasant day for you.
Daily Predictions for Leo:
Your home or family may take much of your time today. If this happen it will be mostly for better, but you may need to change your original schedule. Other than that, this is a good day both for work and for health matters.
Daily Predictions for Virgo:
Your social circle, and especially your spouse, your current love, your closest friends and probably some relatives, is what you set your focus on, today. Expanding your social circle is possible, too. As Venus is stressed, this won't come without an effort, but if that's what you want, do this effort today.
Daily Predictions for Libra:
Work and money matters receive some beneficial influences. A bonus or an other form of extra income can come to you, today. This is probably a one-time or a temporal thing, but it is a good thing, nonetheless.
Daily Predictions for Scorpio:
Jupiter won't be in your zodiac for long, so, today that it is strong and bright, do your best to take advantage of the blessings it offers to you. Also, this is a good day for love affairs. Fresh relationships and almost-relationships will enjoy the blessings of the day more than steady and old relationships.
Daily Predictions for Sagittarius:
This is a mostly lucky day for you. You seem to be receiving much support from the people around you, whether they are doing it intensionally or not. Also, family seems supportive, but probably at the same time need your support as well.
Daily Predictions for Capricorn:
Trade of all kinds receives much support today. This will be true equally whether you are the seller or the buyer. And the same goes for services of trade. Communication devices and high-tech equipment are those who are the most auspicious.
Daily Predictions for Aquarius:
This is a good day for career and money matters. Careers based on fame are the luckiest ones. If you want to increase your fame, this is also a very helpful day for you. Do your best even if you thing – or know – that 24 hours are not enough. Whatever you do today will keep on pushing you further for some time.
Daily Predictions for Pisces:
Travelling is auspicious. Especially travelling for studying, researching and working. Also, this is a good day to advance your plans for studies and whatever else you want to achieve. Mostly though for whatever has to do with mental goals rather than spiritual and practical goals.
Astrology and Magic:
Good luck and money magic are strong and promising. Philtres, potions, magical oils and perfumes, as well as charms, are also very promising.
That's all. Have fun, enjoy your day!