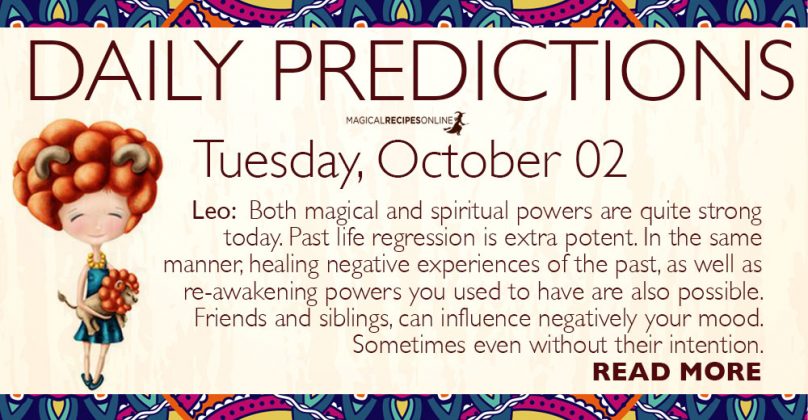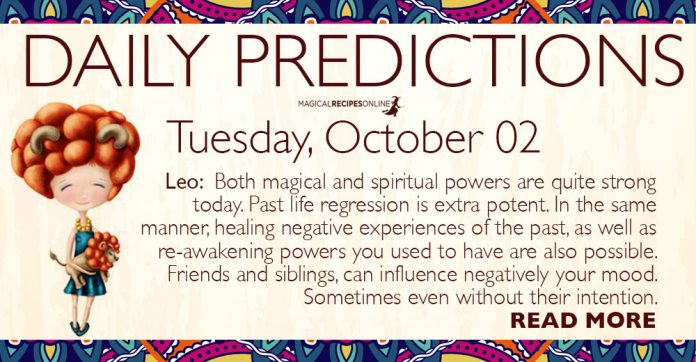 General Daily Predictions: Today, the Moon from Cancer squares the Sun in Libra. It also forms a triangle with each Venus is Scorpio and the Retrograde Neptune in Pisces.
So this is going to be a mostly good day with some difficulties.
Cancer, Scorpio and Pisces will be the luckiest zodiacs of the day. Libra and probably Gemini and Aquarius will be the ones facing the most stress.
Daily Predictions for Aries:
Your intuition today can be quite strong and reliable. Other than that, your family most probably takes most of your focus and attention. And this is a good thing for the most of it. Nonetheless, your interactions with your spouse or current love may bring you some stress.
Daily Predictions for Taurus:
This is a good day for all social activities. It can also become a good day for meeting new people, including new potential lovers. Your health, though, can be a little sensitive, so do pay attention to it and rest and relax well.
Daily Predictions for Gemini:
All work and money matters proceed nicely. Employing magical and spiritual methods to help them further can also work very well. Avoid, though, unnecessary expenses where possible. Also, the way you are feeling about your financial situation may be a little worse than how it really is.
Daily Predictions for Cancer:
This is a generally happy day for you. Love life will be mostly happy and even lucky, especially for those seeking a new relationship. Your home and family, though, can give you some reasons to worry about.
Daily Predictions for Leo:
Both magical and spiritual powers are quite strong today. Past life regression is extra potent. In the same manner, healing negative experiences of the past, as well as re-awakening powers you used to have are also possible. Friends and siblings, can influence negatively your mood. Sometimes even without their intention.
Daily Predictions for Virgo:
This is a very good day for all social activities. Promoting your own business or self is also supported, especially through the internet and social media, but mostly by your own efforts. On the other hand, it's not an auspicious day for closing an advertising deal. Also, it's not a good day for purchasing high-tech equipment.
Daily Predictions for Libra:
All work and career matters receive beneficial influences. Advancing in your career is possible. Jobs about health, emotional health, and beauty will be luckier than the rest. Your greater enemy, today, can be your self, though and your general stress and maybe a low self-esteem or some pessimism. Work on those.
Daily Predictions for Scorpio:
Travelling is auspicious, especially if you are travelling to visit your special someone. Them coming to visit you is also possible. Even for not long distance relationships, this day is good for love matters. Studies, too. The procedure of travelling, though, as well as your school's demands can become stressful.
Daily Predictions for Sagittarius:
Today it's a good day for energy and spiritual healers. Even more so if you are doing this for a living. Also, receiving such kind of healing can be very effective. Psychotherapy is also supported. Phones, computers and the like may malfunction to a degree. Web pages and social media profiles, too.
Daily Predictions for Capricorn:
This is a good day for all social activities. Meeting with friends you have some time to be in contact with is possible and, also, it receives beneficial influences. Business partners, bosses and the law, though, can stress you a little.
Daily Predictions for Aquarius:
This is a good day for work and money matters. Finding a new job is possible, especially for those who have been looking for one for some time now. Advancements, smaller or greater, in your career can happen, too. Teachers, preachers and similar professionals, though, are possible to face some difficulties.
Daily Predictions for Pisces:
This is a generally happy and mostly lucky day for you. Not too lucky, maybe, but still a lucky one. Long distance relationships receive very supportive influences. Other kinds of love relationships also receive some help, just not as much. On the other hand, though, sexual ventures can become troublesome.
Astrology and Magic:
Love and beauty related magic and spiritual activities are quite capable and especially when it comes to cleansing the mental and emotional burdens of these parts of our lives. All purification magic using the Water element is strong too.
That's all. Have fun, enjoy your day!