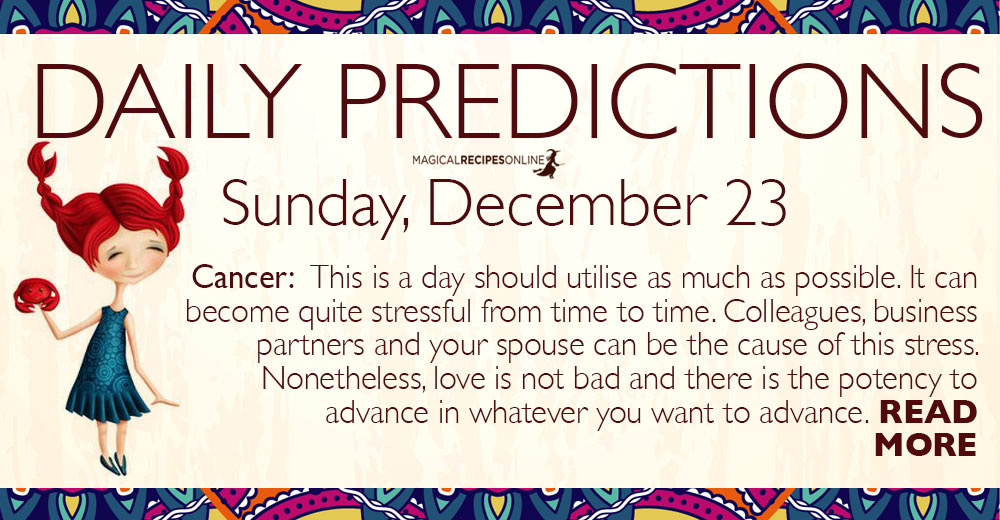 General Daily Predictions: Today, the Moon from Cancer opposes Saturn in Capricorn. It also forms a triangle with each Neptune in Pisces and Venus in Scorpio.
So, this will be a mostly good day with some stress.
Scorpio, Pisces and then Cancer will be the luckiest zodiacs of the day. Capricorn and then Taurus and Virgo will be the ones receiving the most stress.
Daily Predictions for Aries:
Your magical and your spiritual abilities are stronger than usual, today. Also, your personal environment is supportive and pleasant, today. On the other hand, work and the situations there can be a bit stressful.
Daily Predictions for Taurus:
Travelling and transportations need some attention. Also, trade can be a little tricky, although it is good. Also, this is quite a social day for you. Both your close friends and your acquaintances seem to enjoy your company, and you theirs.
Daily Predictions for Gemini:
This is a mostly good day for all work and money matters. The latter can occasionally feel not that good, but it won't be bad. It's mostly that you would like it to be better, or you'd expected it to be better.
Daily Predictions for Cancer:
This is a day should utilise as much as possible. It can become quite stressful from time to time. Colleagues, business partners and your spouse can be the cause of this stress. Nonetheless, love is not bad and there is the potency to advance in whatever you want to advance.
Daily Predictions for Leo:
Your spiritual and magical powers are much stronger than usual, today. Also, for the most of it, this is quite a satisfactory day. Work can become a little troublesome and tiresome, though. Also, health may not be at top condition, or you may not feel like it isn't.
Daily Predictions for Virgo:
Trade receives very pleasant influences. It's also a good day for buying things you want and need. Nonetheless, spend wisely and carefully. Friends and acquaintances play a big role in your day. Mostly a pleasant one, but they can easily stress you, or unsettle you, at times.
Daily Predictions for Libra:
Work and money matters receive very pleasant and creative influences. Nonetheless, it's not the best day to change the place you are living or working. Also, the neighbourhood, or your environment can stress you, a little.
Daily Predictions for Scorpio:
Travelling needs some attention and patience. International travelling, even more so. Transportations also need some attention. If you work in transportations, then this can become a stressful day, work wise. Other than those, though, your day is a mostly pleasant one. It can become a very creative one, too.
Daily Predictions for Sagittarius:
Money need some attention. How you spend it, mostly. In some cases, unexpected and unavoidable expenses may appear. Other than that, though, this day is mostly a satisfactory and pleasant one. Those who you hold dear can help you, or otherwise make you fell happier.
Daily Predictions for Capricorn:
Socialising plays a big role in your day and mostly a pleasant one, if you look at it objectively. But, you may not be in the mood for it, and this can make even a good situation feel like a not so good one. Also, work, and especially trade, seems to proceed nicely.
Daily Predictions for Aquarius:
Your mood is quite sensitive, and so can be your psychological health. Try to support yourself as well as possible. On the other hand, work can be quite pleasant and successful. Money also seems good.
Daily Predictions for Pisces:
This is a mostly pleasant day for you. It can be quite a productive one, too, if you make good use of it. Socialising, though, needs some attention. You are in a mood to meet with people, but it may not be as easy to achieve this, as you would think. In the same time, wrong choices of people can make the experience less pleasant than you'd prefer.
Astrology and Magic:
Love, health and self development are strong, today.
That's all. Have fun and enjoy your day!