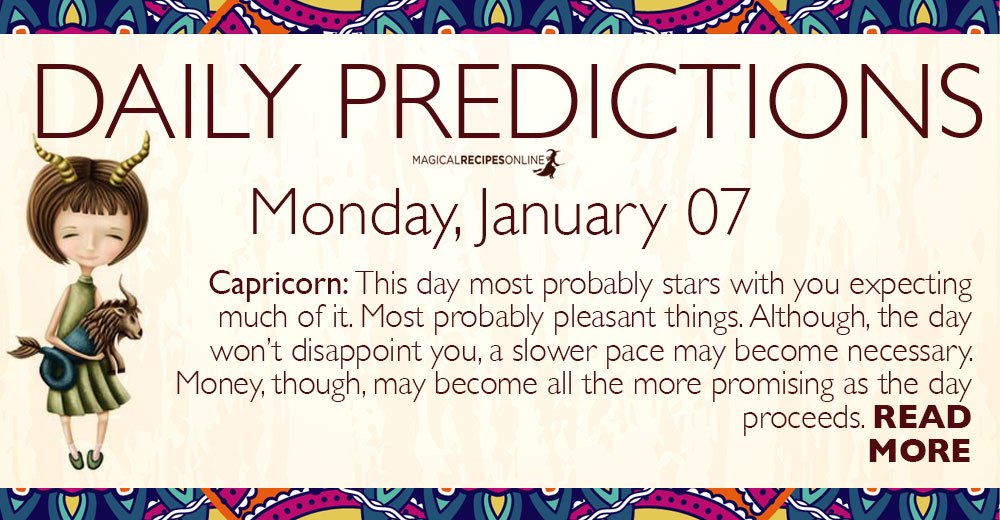 General Daily Predictions: Today, the Moon from Capricorn forms a hexagon with Venus in Scorpio. Then from Aquarius forms a hexagon with Mars in Aries.
Also today, Venus enters Sagittarius.
So, this will be a mostly good day.
Capricorn, Scorpio, Aquarius and Aries will be the luckiest zodiacs of the day.
Daily Predictions for Aries:
Work receives some harmonizing and pleasant influences. Even more importantly, though, you are feeling quite active and certain for yourself, which makes everything easier for you to accomplice.
Daily Predictions for Taurus:
This is a good day for studies, as well as for business decisions. Whatever needs determination and a clear mind, receives favourable vibrations, so, do make the most of the day.
Daily Predictions for Gemini:
This is a good day for work matters. It's also a good favourable day for studies. Travelling may need some more attention, but, other than that, it is auspicious.
Daily Predictions for Cancer:
This is a good day for discussions and decision making, especially when it comes to work matters. It is also a very promising day for all work matters, anyway. Successes there are quite possible, too.
Daily Predictions for Leo:
Work receives mostly pleasant influences, and so do studies and researches. Love life, too, can become quite pleasant, although it can become intense, pleasantly or not so, at moments.
Daily Predictions for Virgo:
This is a mostly pleasant day. Love life is also quite pleasant, especially for those in a relationship. Work also receives beneficial influences. Although it can become quite busy, and at times stressful, it will be productive and successful, too.
Daily Predictions for Libra:
Family, and especially siblings and sibling-like figures can make your day better. Also love life receives very good vibrations. Tension can enter it, but it will be pleasant, in most cases. Or at least, it will bring positive developments.
Daily Predictions for Scorpio:
This will star as a more busy day than it will become later on. Nonetheless, most probably, it won't be a quite day at any time. It will be a productive day, too. Especially for work and money matters.
Daily Predictions for Sagittarius:
Money receives quite pleasant influences, today. Friendships and love affairs, though, receive even better ones. The day holds a good opportunity for the singles to stop being singles, but you have to act towards that end.
Daily Predictions for Capricorn:
This day most probably stars with you expecting much of it. Most probably pleasant things. Although, the day won't disappoint you, a slower pace may become necessary. Money, though, may become all the more promising as the day proceeds.
Daily Predictions for Aquarius:
Work and career receives somewhat beneficial influences. Making decisions about those subjects is favoured by the stars. Acting accordingly, receives even more favourable influences. Nonetheless, we are under the influence of the Solar Eclipse, so act, but do it wisely.
Daily Predictions for Pisces:
Trade receives mostly good influences, today. International trade even more so. Also, your mind is quite active and clear and you are able to decide rightly. Nonetheless, your environment and the opinions of other people can easily influence you. So, keep a good company and ask only the right people for advice.
Astrology and Magic:
Fire magic and love magic are quite strong, today.
That's all. Have fun and enjoy your day!