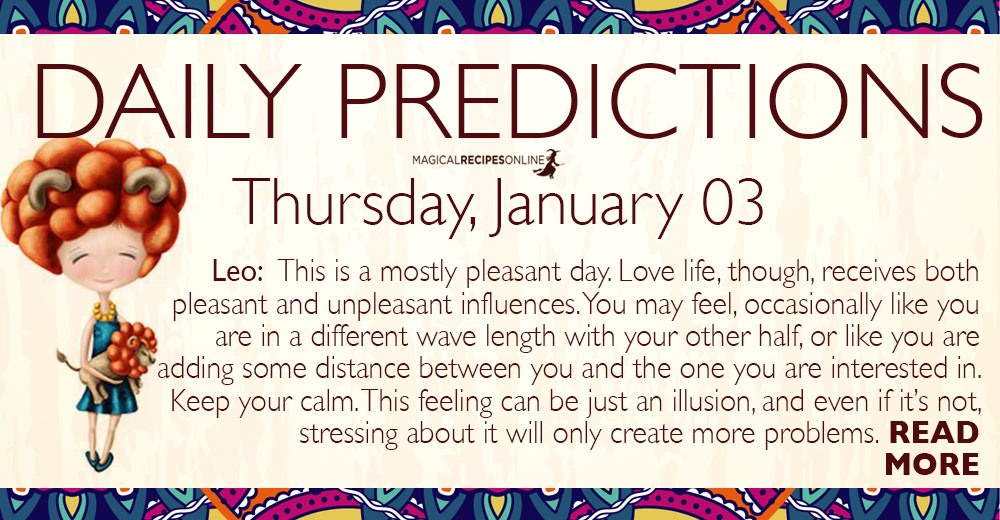 General Daily Predictions: Today, the Moon from Sagittarius conjuncts Jupiter there and squares Neptune in Pisces.
So, this will be a mostly good day. Our emotions, though, may be a little out of balance.
Sagittarius and, probably Aries and Leo, will be the luckiest zodiacs of the day. Pisces will be the one receiving the most stress.
Daily Predictions for Aries:
Everyone, today, may need to support their mood and emotional balance, but this is even more important for you. Also, in some cases, your emotions may cloud your rational thinking. Other than those, though, this can become quite a creative day. Jobs and hobbies of the mind can become quite productive, too.
Daily Predictions for Taurus:
This can become a peculiar day for you. On one hand you feel more social than usual, and you even are more bright and charming than usual. On the other hand, though you aren't satisfied with your today's social interactions. This can affect online socialisation, too, of course.
Daily Predictions for Gemini:
Business and career matters can become a little stressful. Deciding calmingly, and after careful consideration, what you need to decide can help a lot. Nonetheless, it's a good day for work and even for following previous decisions.
Daily Predictions for Cancer:
Work seems to progress nicely today. Works where a clear, rational mind is necessary, though, can become a little stressful and difficult. Also, it's a good day for supporting your health. This is true whether you are facing a health problem, or not.
Daily Predictions for Leo:
This is a mostly pleasant day. Love life, though, receives both pleasant and unpleasant influences. You may feel, occasionally like you are in a different wave length with your other half, or like you are adding some distance between you and the one you are interested in. Keep your calm. This feeling can be just an illusion, and even if it's not, stressing about it will only create more problems.
Daily Predictions for Virgo:
This is a good day to take care of your home and family. Moving in a new place of residence is also quite auspicious, today. Your other half, though, or the parental couple, may stress you a little. Also, if you are working with them, this stress can become a little more intense.
Daily Predictions for Libra:
Health and, especially emotional health can be a little sensitive, today. Also, jobs based on communications, transportations or the means of those can become a bit stressful. Nonetheless, work seems productive. Also, your friends can become quite a pleasant company.
Daily Predictions for Scorpio:
Money matters receive quite beneficial and supportive influences. Finding ways to raise your income is possible. Nonetheless, expenses can also be big. Sometimes, more than necessary. Try to avoid this trap.
Daily Predictions for Sagittarius:
This is quite a good day for you. Advancing on whatever you set your mind and focus on is possible. Some discouragement may come from your environment, but this isn't necessarily the right advice, so don't let it stop you from doing whatever you really want to do.
Daily Predictions for Capricorn:
This can become quite a stressful day, occasionally. Misunderstandings with friends and whomever you consider important, may happen, too. But, for the most of it, it will be a pleasant day. Creative jobs and avocations can become very productive, too.
Daily Predictions for Aquarius:
Trade can have a very good day. It won't be problem free, though, most likely. Try to avoid mistakes and things will be even better. On the other hand, buying things and, especially, whatever needs a considerable, for you, amount of money, is not advisable for the day.
Daily Predictions for Pisces:
This can become quite a stressful day for you. You may feel like you are having too many obligations to take care of. In many cases this won't be just a feeling. Nonetheless, stressing about it won't help, so just do the best you can do. On the other hand, work and business matters receive very supportive influences.
Astrology and Magic:
Good luck and money magic seem promising, today.
That's all. Have fun and enjoy your day!