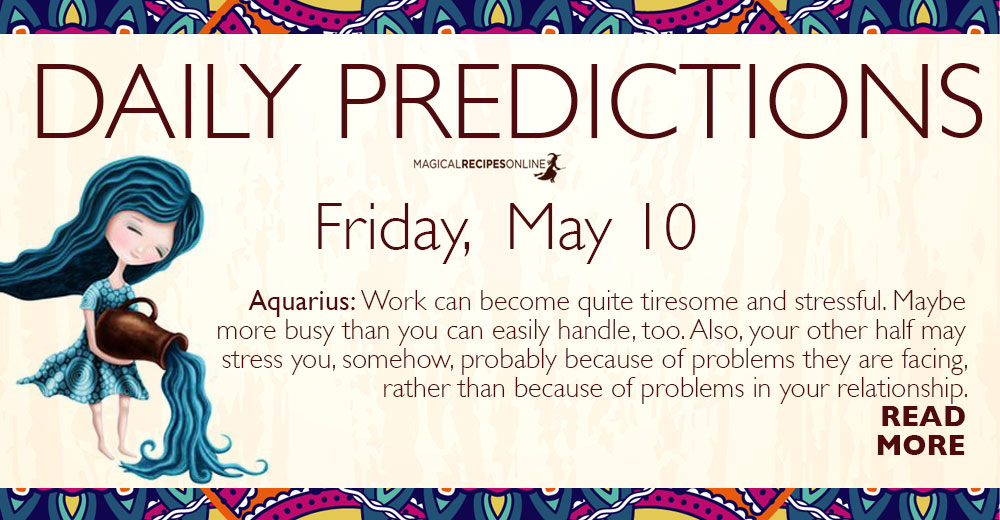 General Daily Predictions: Today, the Moon from Cancer opposes the Retrograde Pluto in Capricorn and squares Venus in Aries. Then from Leo, it squares Uranus in Taurus. Furthermore, from 02:06 until 13:14 UT, the Moon will be void of course.
So, this is going to be a mostly stressful day.
Cancer, Taurus, Aries and Leo will be the will be the zodiacs receiving the most stress. But, in most cases, Aries will be having a much better day after the end of the void of course Moon.
Daily Predictions for Aries:
Some of the order you've been fixing the previous days may be disturbed, today. In some cases you may realise that you've neglected something. Also, some extra expanses may appear.
Daily Predictions for Taurus:
Today your stress levels need some care and attention. Your family can add to this, too, although it won't be the only cause. The best you manage to keep yourself calm, the better the day will be.
Daily Predictions for Gemini:
This is probably quite a stressful day for you. There may be some problems regarding your finances, your purchases, or your deals. Even more importantly, though, your circle and your one thoughts will be the ones stressing you the most.
Daily Predictions for Cancer:
Money and money handling need some attention, today. Expenses related to computers, phones, the internet and the like can occur. If so, try to be as wise about them as possible, according to each individual case.
Daily Predictions for Leo:
Your ability to focus your thoughts on your goals and tasks may be lacking, today. Also it's not the most auspicious day for starting a new business, or a new job. Also, work, in general can be quite stressful.
Daily Predictions for Virgo:
Travelling can be a little stressful, today. Astral travelling, even more so. If you don't have much experience on this, it's better not to try it, today. Also, your social circle may cause you some stress.
Daily Predictions for Libra:
Work can be quite stressful, today. Meetings with business partners and important clients can become quite tiresome and unsettling, too. In a lesser degree, your family and your other half may stress you, too.
Daily Predictions for Scorpio:
Travelling and transportations can become quite stressful, today. If you are driving, it's advisable to be extra careful, too. Also, business partners, superiors and colleagues can unsettle you, or stress you, one way or another.
Daily Predictions for Sagittarius:
Love life receives some stressful influences. Misunderstandings are possible. Giving greater value to things and situations that don't have as much, is also possible. Furthermore, work can have some unpleasant moments.
Daily Predictions for Capricorn:
Love receives much stress, today. Both for those in a relationship and for those seeking one. Purely sexual relationships can be even more stressful. Furthermore, pay more attention in safety when engaging in sex.
Daily Predictions for Aquarius:
Work can become quite tiresome and stressful. Maybe more busy than you can easily handle, too. Also, your other half may stress you, somehow, probably because of problems they are facing, rather than because of problems in your relationship.
Daily Predictions for Pisces:
Work seems to be quite busy, in a stressful way. If you've neglected some obligations there, today they can become more pressing. Also, money can be a little challenging, today. Reducing, or rethinking your expenses can help.
Astrology and Magic:
Meditation, philtres and charms are strong during the whole waxing Moon period. Today, though, most practices need caution and attention.
That's all. Have fun and enjoy your day!