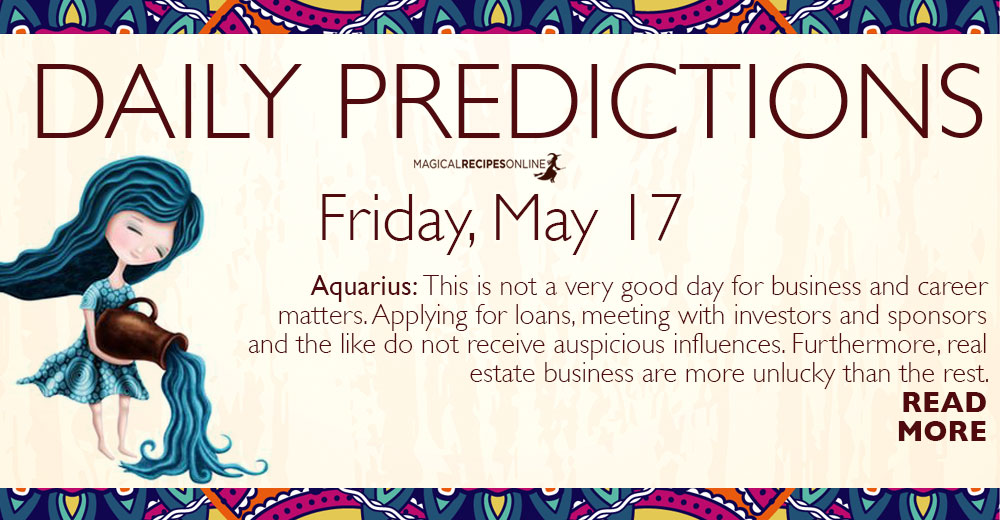 General Daily Predictions: Today, the Moon from Scorpio opposes Venus and Uranus, both in Taurus.
So, this is going to be a mostly difficult day.
Cancer will probably be the luckiest zodiac of the day. Scorpio and Taurus will be the ones receiving the most stress.
Daily Predictions for Aries:
Money can become a little troublesome and stressful. An extra attention is necessary when it comes to payments, money transactions, investments, and whenever you handle a considerable amount of money. If this is your job, then you have all the more reason to be extra careful.
Daily Predictions for Taurus:
Business associates, partners, and business meetings can cause you some stress, today. Furthermore, the latter can be fruitless, or the time and energy you spend on them can be much more than what you'd normally need to.
Daily Predictions for Gemini:
Work can become somewhat stressful and unfulfilling, today. Health, both physical and emotional can be even more stressful. In most cases, nothing more than that. Nonetheless, pay it the proper attention.
Daily Predictions for Cancer:
Social life can be somewhat unpleasant, today. Your plans can change in ways that you wouldn't choose, too. Furthermore, jobs where excessive interactions with clients is necessary can become quite stressful. The same goes for internet based ones.
Daily Predictions for Leo:
Career and business matters can stress you considerably, today. If your family is involved with these, in any way, then things can become even more stressful. Also, this is not the best day to ask your family's support and opinion about your business and career plans.
Daily Predictions for Virgo:
Travelling and transportation need some extra attention and preparation. In some cases, though, even if you are well prepared, some obstacles or delays may take place, nonetheless.
Daily Predictions for Libra:
Money seems to be quite stressful, today. Income can be less satisfactory than you'd expect. In the same time, some expenses and obligations can make things even more difficult. Jobs where you handle and invest other people's money can be quite stressful, too.
Daily Predictions for Scorpio:
This is not the best day to hold business meetings, work interviews and similar events. Wrong decisions are possible. In the same time, you may need to spend much more time and energy to achieve what you'd normally achieve in far less time.
Daily Predictions for Sagittarius:
Physical health can be sensitive, today. Emotional health, even more so. In both cases do take the best care of your health. Also, work can be quite stressful and quite unpleasant.
Daily Predictions for Capricorn:
Love life can be quite unlucky, today. Those seeking a relationship and those in an open relationship will experience this more intensively than the rest. Also, social obligations can become stressful, while entertainment can become… not really entertaining.
Daily Predictions for Aquarius:
This is not a very good day for business and career matters. Applying for loans, meeting with investors and sponsors and the like do not receive auspicious influences. Furthermore, real estate business are more unlucky than the rest.
Daily Predictions for Pisces:
Travelling and transportations some stressful influences. Delays and unnecessary difficulties can occur. Also, studies of all kinds and all occupations and avocations where your mind plays the most significant role, can face some problems.
Astrology and Magic:
Meditation, philtres and charms are strong during the whole waxing Moon period. This day's energies are quite troublesome, so avoid whatever you don't have previous experience on.
That's all. Have fun and enjoy your day!