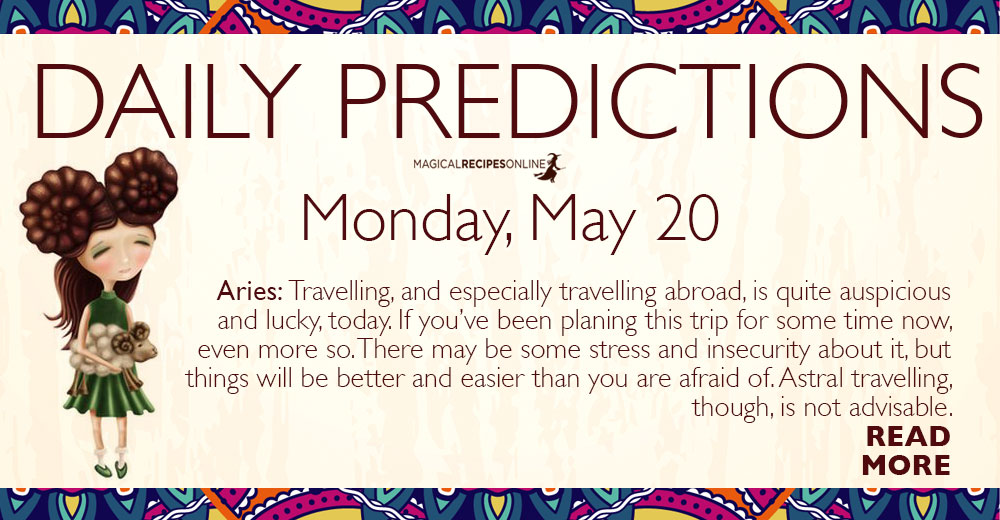 General Daily Predictions: Today, the Moon from Sagittarius squares Neptune in Pisces. It also conjuncts the Retrograde Jupiter in Sagittarius. Furthermore, from 17:05 UT until 07:56 UT of the 21st, the Moon will be void of course.
So, this is going to be a relatively good day with some difficulties.
Sagittarius, Aries and Leo will be the luckiest zodiacs of the day. Pisces will be the one receiving the most stress
Daily Predictions for Aries:
Travelling, and especially travelling abroad, is quite auspicious and lucky, today. If you've been planing this trip for some time now, even more so. There may be some stress and insecurity about it, but things will be better and easier than you are afraid of. Astral travelling, though, is not advisable.
Daily Predictions for Taurus:
This can become a successful and satisfactory day. In some cases progress can be achieved by cutting off, or reducing, rather than adding and multiplying. Avoid expenses regarding high-tech equipment, whenever possible.
Daily Predictions for Gemini:
Love life receives mostly pleasant influences, today. Your other half may cause you some stress, but nothing too much. Your business partners, on the other hand, can become more unsettling.
Daily Predictions for Cancer:
Work seems rather good. Health is also mostly good. Work related trips and travelling, though, can become somewhat stressful. Also, your mood and emotional condition may need some attention.
Daily Predictions for Leo:
Love life seems quite lucky and pleasant. Finding a new love is also possible. Relationships where sex, or some kind of profit is the main purpose will have some difficult moments, though.
Daily Predictions for Virgo:
Home and family will play a pleasant role in your day, today. Your spouse, though, may cause you some unsettlement. Try not to react before understanding the situation completely, as misunderstandings are possible.
Daily Predictions for Libra:
Your social life will be rather active, today, and pleasantly so. On the other hand, those whose job demands good interactions with clients can have a somewhat stressful day, work-wise. Also, health may needs some attention.
Daily Predictions for Scorpio:
Money seems rather good, today. Profit can become more than you'd expect, wherever this is applicable. Expenses, though can also become more than you'd prefer. If so, think the situations twice. Maybe some of these expenses are not necessary, or you can reduce them considerably.
Daily Predictions for Sagittarius:
This is a mostly good day, for you. Family can be stressful and, in cases, discouraging. Other than that, though, most things proceed the way you'd prefer.
Daily Predictions for Capricorn:
This is a good day for decision making, but don't decide hastily. When in a hurry, or under pressure it's quite easy to take the wrong decisions. Also, misunderstandings and miscommunications can take place.
Daily Predictions for Aquarius:
Social life and social interactions can become quite pleasant and beneficial, today. Also, trade of services and trade of high-tech equipment are rather lucky. On the other hand, purchasing such services and equipment is not advisable, for the day.
Daily Predictions for Pisces:
Most career and business matters receive beneficial and supportive influences, today. At times you may feel less than confident. The situations can drive you there, too. Nonetheless, believe in yourself, your decisions and your abilities and you can achieve much.
Astrology and Magic:
Meditation, philtres, charms, potions and healing are strong during the whole waning Moon period. Reversing bad luck and increasing good luck are quite strong, today, too.
That's all. Have fun and enjoy your day!