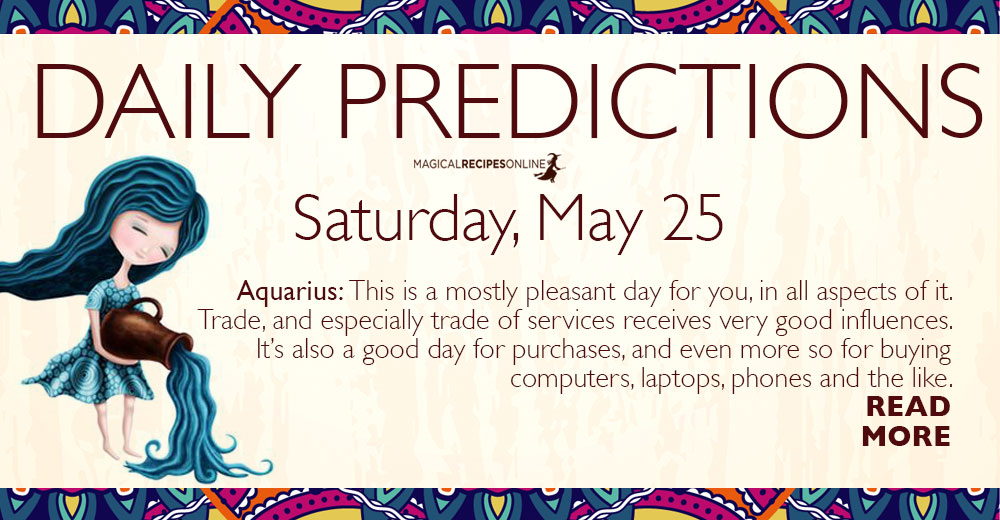 General Daily Predictions: Today, the Moon from Aquarius forms a hexagon with the Retrograde Jupiter in Sagittarius. Furthermore, from 12:50 UT until 06:07 UT of the 26th, the Moon will be void of course.
So, this is going to be a mostly good day.
Aquarius and Sagittarius will be the luckiest zodiacs of the day. Cancer and Capricorn will probably be the less lucky ones.
Daily Predictions for Aries:
Studies and learning of all kinds receives beneficial influences. International trade, too, and the same is true for everything that has to do with other countries, or people from other countries.
Daily Predictions for Taurus:
Work and career seem successful and satisfactory, today. It's also a good day to expand your business, strengthen your social status and finding new jobs.
Daily Predictions for Gemini:
Love life seems quite pleasant, today. Also co-workers, business partners and the like are more friendly and more cooperative than usual. Studies and researches receive some supporting influences, too.
Daily Predictions for Cancer:
All work matters receive beneficial and supporting influences. Work can also be profitable, or satisfactory in other ways. Furthermore, health and healing are quite strong.
Daily Predictions for Leo:
This is a good and lucky day love-wise. Reconciliation with your current love, or an ex, reappearances of exes, meeting with new people reminding you of them, and even finding a new love are all possible.
Daily Predictions for Virgo:
Work receives some supportive influences. It's also a good day to put things in order. Furthermore, those working from home and those working in a family business will enjoy the beneficial influences more than the rest.
Daily Predictions for Libra:
Love life receives some very pleasant and lucky influences. Your friends' and kids' love life may do the same. Furthermore, your social life seems quite active in a pleasant way.
Daily Predictions for Scorpio:
This is a mostly pleasant day. Probably more peaceful than active, but pleasant, nonetheless. Also, money receives some good influences. If your income depends on real estate exploitation this can become a more profitable day than you'd expect.
Daily Predictions for Sagittarius:
Your enthusiasm, determination and creativity are quite strong, today. Your social skills, too, are in a very good condition. Therefore, every aspect of your day can be benefited.
Daily Predictions for Capricorn:
Money receives good influences, today. Decisions about your finances and how to handle them, too. Furthermore, artists and those using their imagination in their work can have a profitable and successful day.
Daily Predictions for Aquarius:
This is a mostly pleasant day for you, in all aspects of it. Trade, and especially trade of services receives very good influences. It's also a good day for purchases, and even more so for buying computers, laptops, phones and the like.
Daily Predictions for Pisces:
This is a good day, business and career wise. Psychotherapists, psychics and artists can have an even better one. The same is true for those whose career depends on the opinion of the public.
Astrology and Magic:
Meditation, philtres, charms, potions and healing are strong during the whole waning Moon period. Good luck and money magic are even stronger.
That's all. Have fun and enjoy your day!